Day 1
Moor Life Chronicles: So Our Trippy Tribe decides to go on a family trip, first line of business catch our flight from NY to Cancun.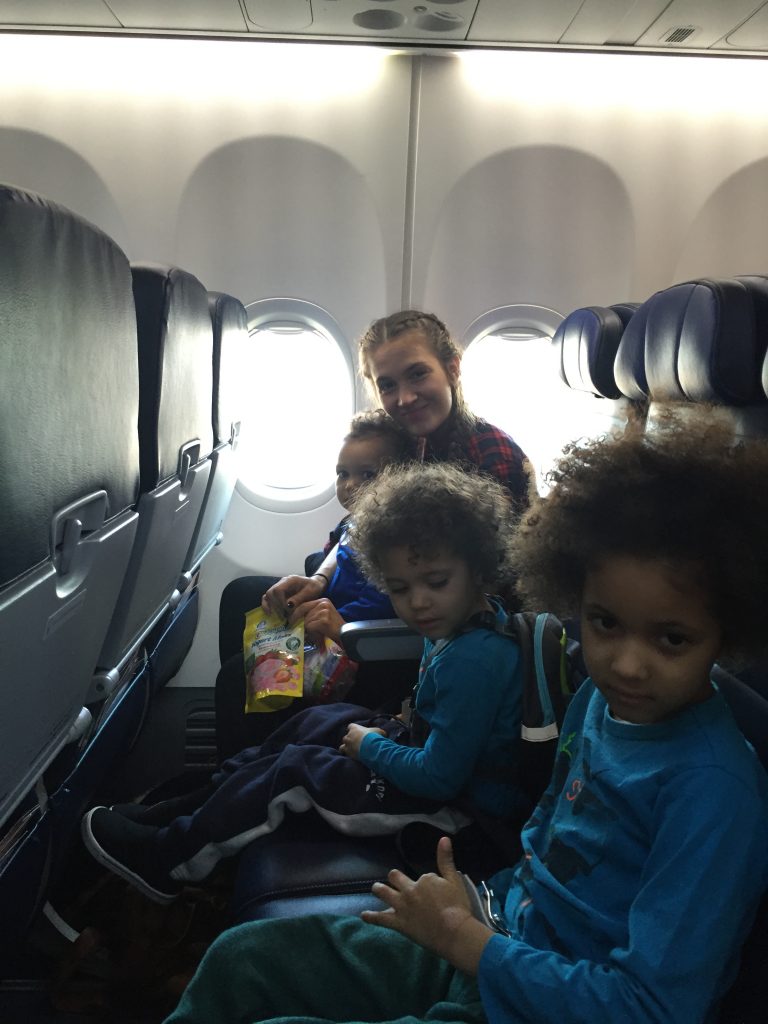 After an awesome plane ride with our 3 boys, We arrived in Cancun! The rent a car service shuttled us from the airport to our car, we settled in spending the night in a little hotel in downtown Cancun.

We took a little stroll around the surrounding area basically playing it cool that night… well as cool as you can be in that Mexican heat. The journey ahead was sure to be an epic one. We woke up suuuper early the following morning, our thoughts, "beat the crowds of people to Chichen Itza". At about 200 km from Cancun, a 2hr drive was all that stood between us and one of the 7 wonders of the known world; The Pyramid Complex and Ruins of Chichen Itza. We checked out of the hotel and hit the road.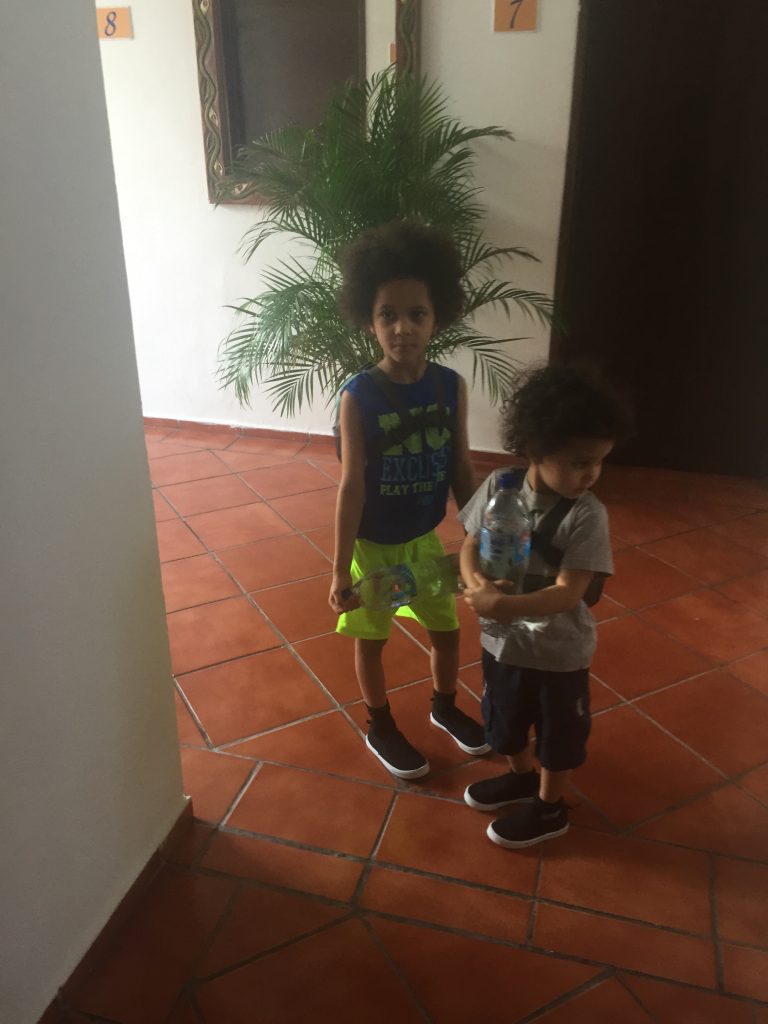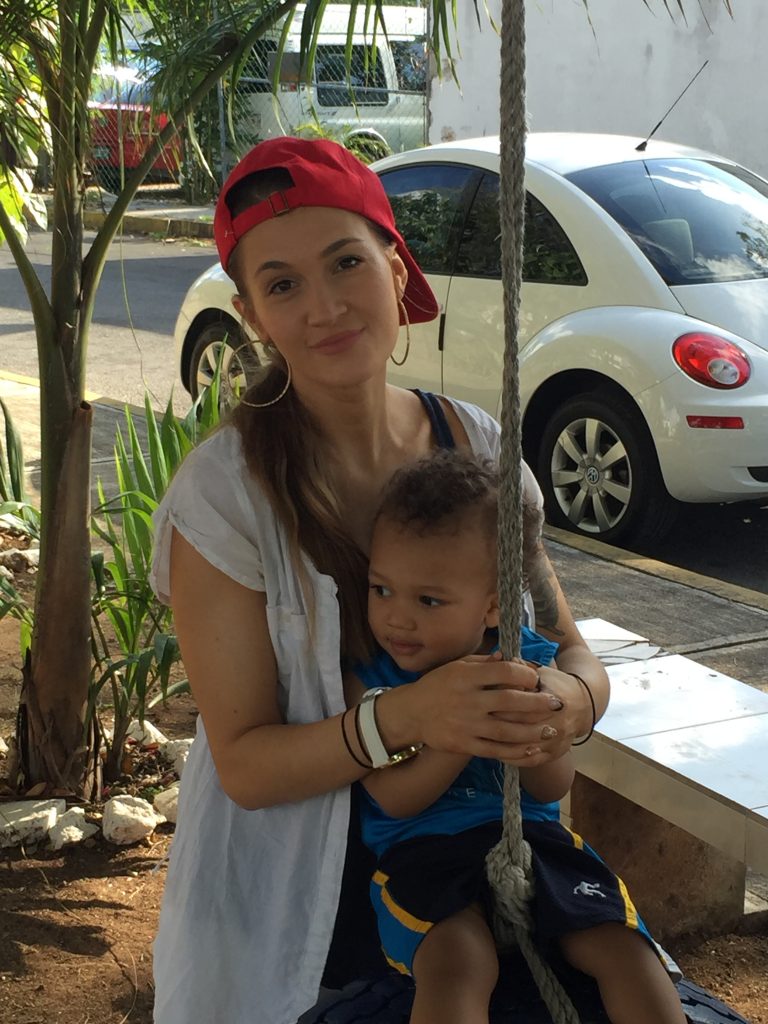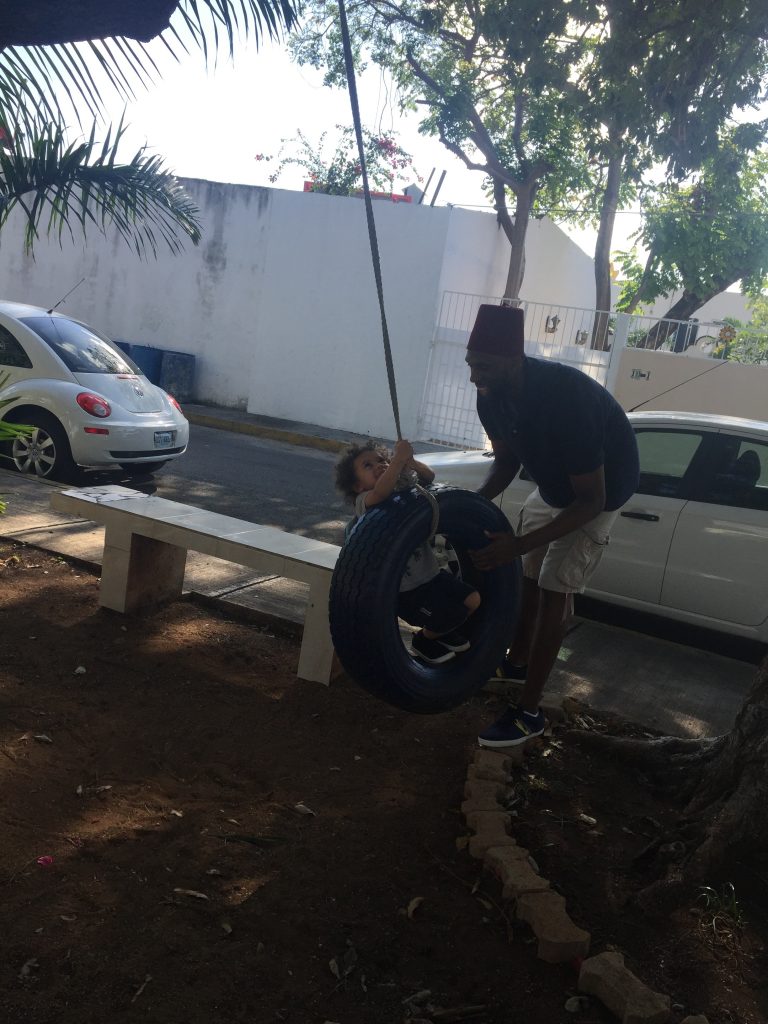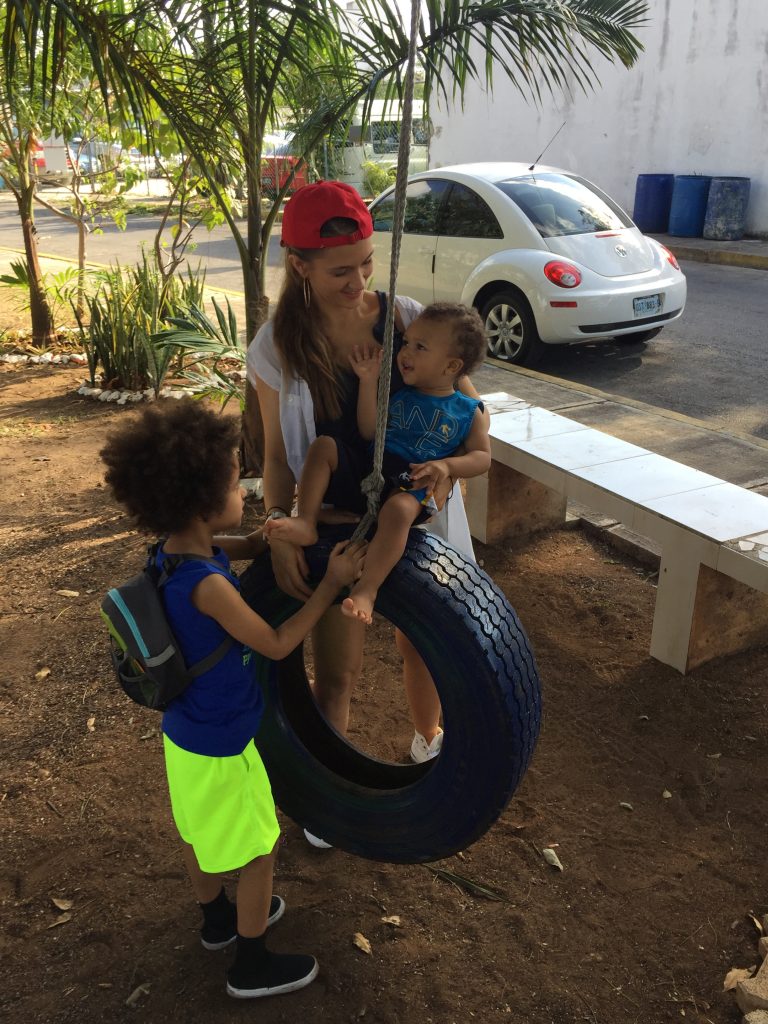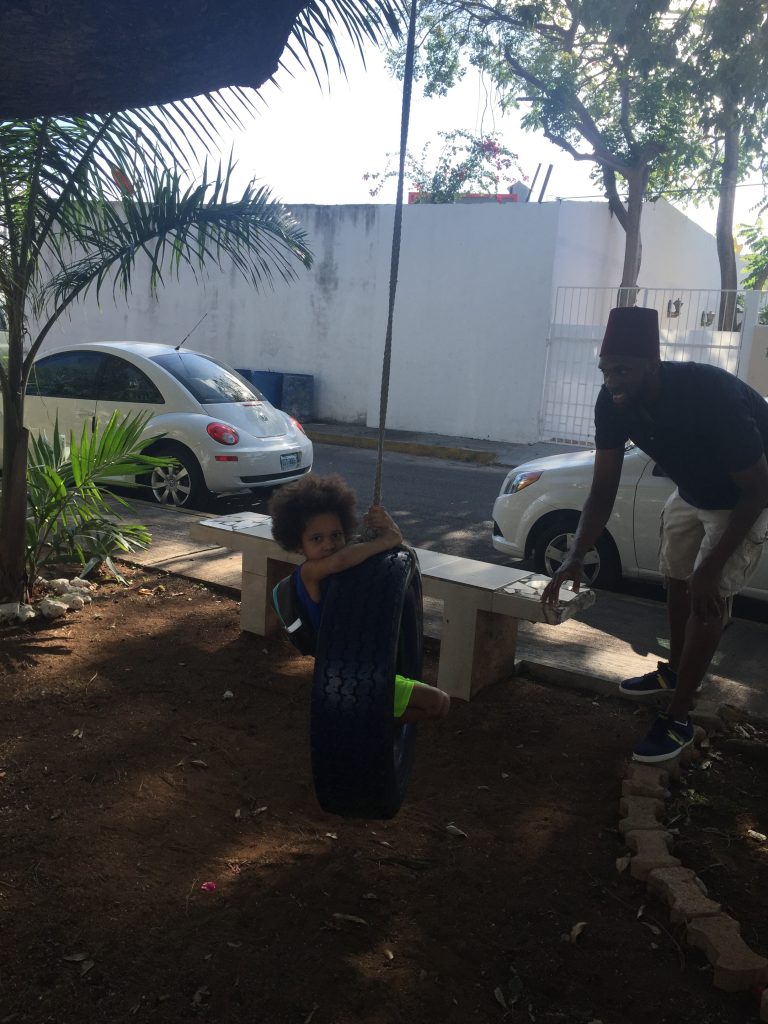 Not even 15 minutes into our trip we are flagged down and pulled over by a police officer, he was driving some moped/scooter type vehicle. He insisted we were going over the speed limit and said that a fine of 3,ooo Pesos would be required to proceed or we could pick the drivers license up at the ticket office the following day after paying some hefty fines. JUST GREAT here we go, I actually read online prior to our trip to Mexico that this was a common occurrence but Clay and his smooth speaking Spanish skills saved us from having to pay anything at all. Fortunately, we were allowed to go on our merry way. Even to this day, I'm not exactly sure what Clay said to the officer and he won't even tell me lol 🙁  either way after a small hiccup we were back on our path.  The boys held it together pretty good in the car thanks to a 'for kids' coding app we downloaded for LaPharaoh and Amoor's edutainment. Now when traveling in Mexico there are not many gas stations on the highways, on our 2 hr trip there would be only 1. So we took this opportunity to get gas, food, and get everyone squared away. There was a little restaurant at this rest stop with some AMAZING food, it would turn out to be some of the best food we had on our entire trip. With no further delays…next stop CHICHEN ITZA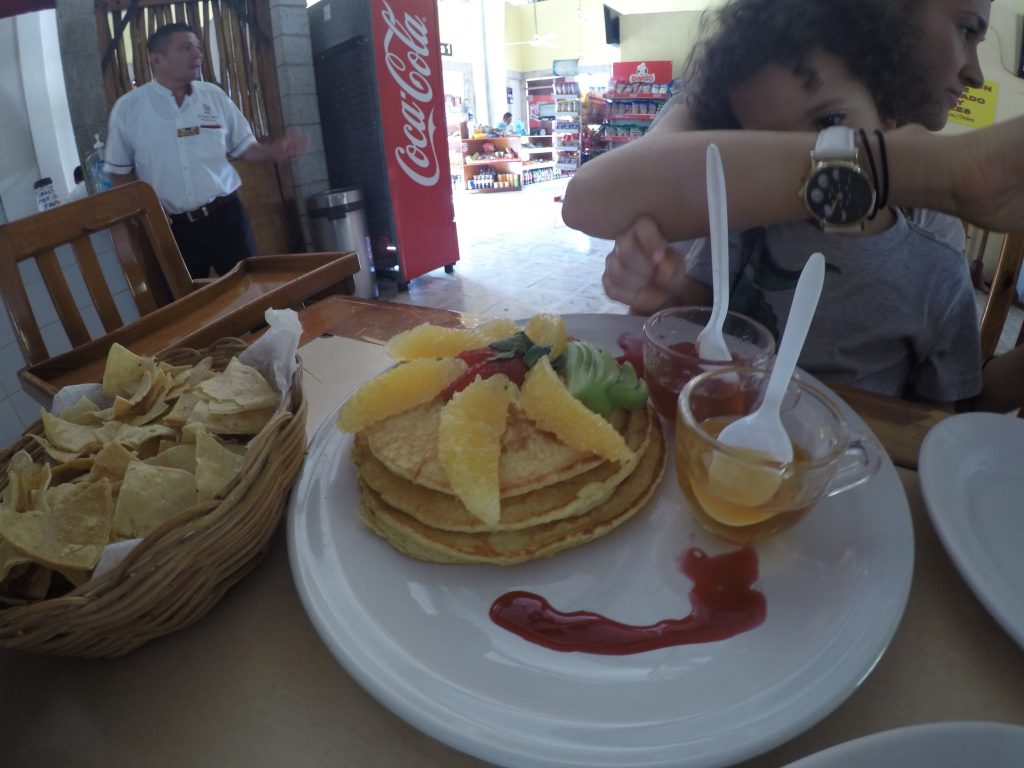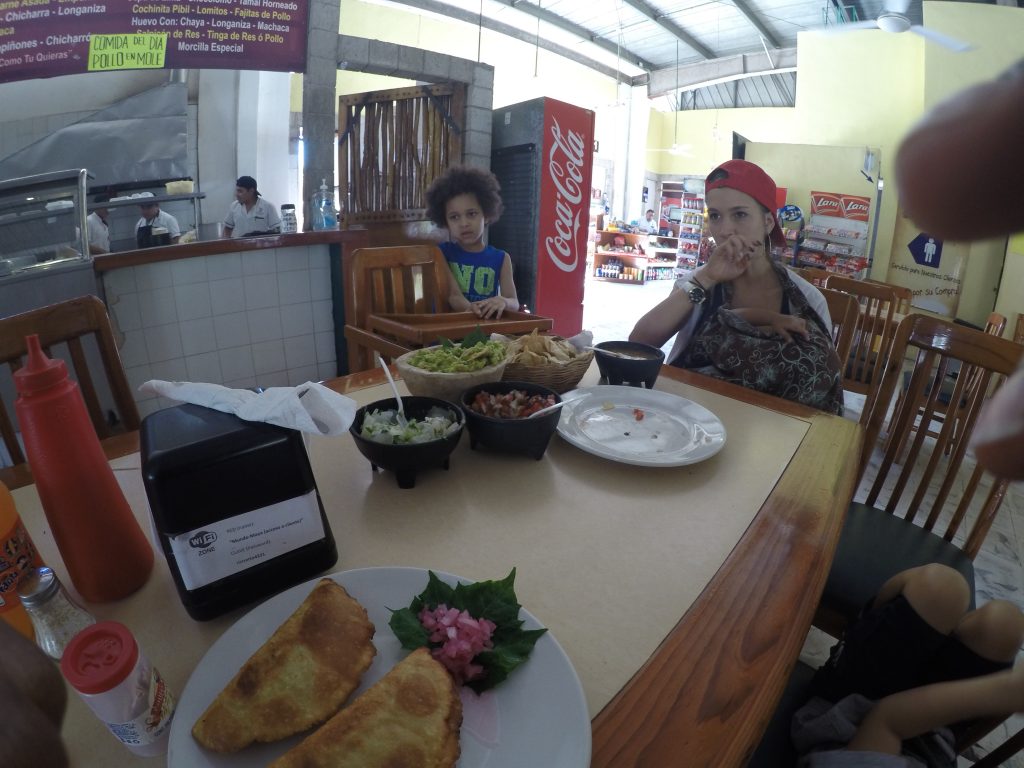 After paying tolls and passing checkpoints with heavily armed federal agents :-O  we finally arrived at Chichen Itza. The first thing we encountered were people flagging us down to park, and trying to sell us souvenirs. Upon further investigation, we realized this was sort of a make-shift parking and that there was actually a parking lot with a liiiiiiiiiiiiiittle more security for our belongings which were packed in the car. We decided to play it safe and pay to park in the OFFICIAL Chichen Itza parking lot.
Although we tried to beat the crowds we CLEARLY underestimated how popular a tourist destination Chichen Itza really was. It was very Hot,(surprise, surprise), somewhere in the area of 92 degrees and the place was jam-packed, there were tourists everywhere. There were so many guides and merchants soliciting their products and services every step of the way, Literally! So there was a lot going on all around us.
We snatched up a couple bucket hats to protect from the blazing sun and opted to have at it, unassisted, to explore the wonders of the Maya, the pyramids, and the ancient ruins.

At the entrance, there was a long dirt path with vendors set up on both sides. We had to follow along this path to get to the Mayan ruins and the pyramid complex. Now our family is no stranger to attention, you could say it's all in the cards, but this, this was different. I can honestly say I was a little annoyed by the different tourist all around who were just snapping pictures of US…apparently I didn't get the memo that we were a part of the tourist attractions. It got to the point that I maaaaay have pulled a Kanye and pushed a camera out of our face and said no more pictures, it became almost overbearing. Clay who had grown somewhat accustomed to this in his travels to foreign countries, he thought this was the funniest thing in the world. I can still hear him saying "Baby, why do you think all these celebrities love France, no paparazzi". I'm sure this was far from a paparazzi scenario but for a moment I could sympathize with some of these celebrities.  After my moment with the camera woman, the point was taken and as the day progressed people did at least had the common courtesy to ask if we wouldn't mind posing for a photo, I guess all's well that ends well!
​
When we arrived at the pyramid complex it was one of the most incredible things I have ever seen in person. All these huge structures carved in stone and built in alignment with the sun, moon, and stars; just the concept alone is out of this world and puts such a crazy perspective on things.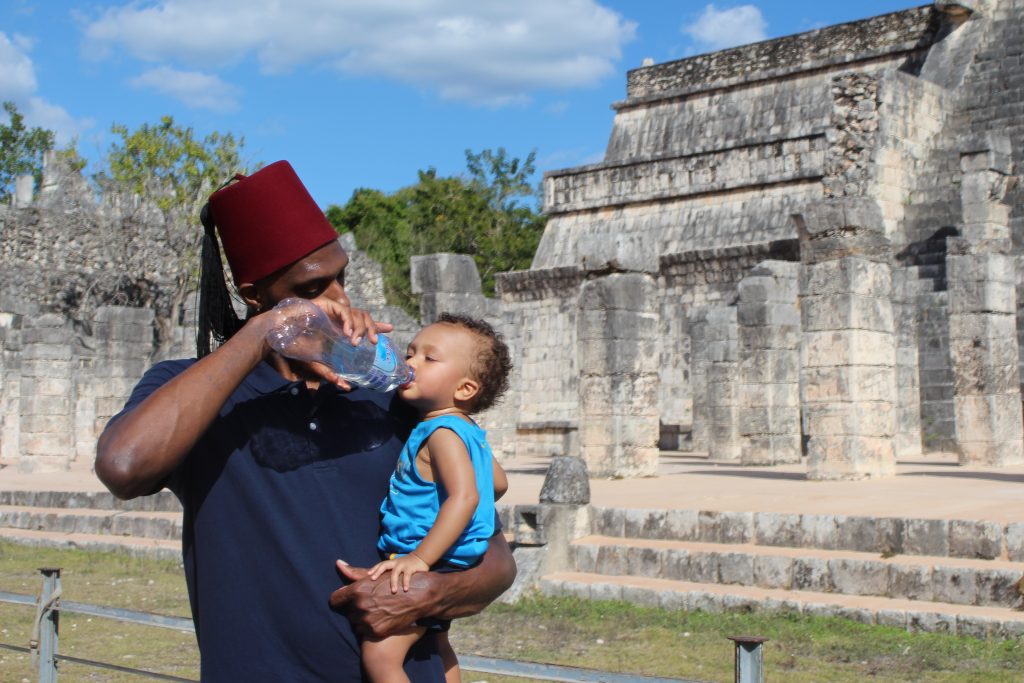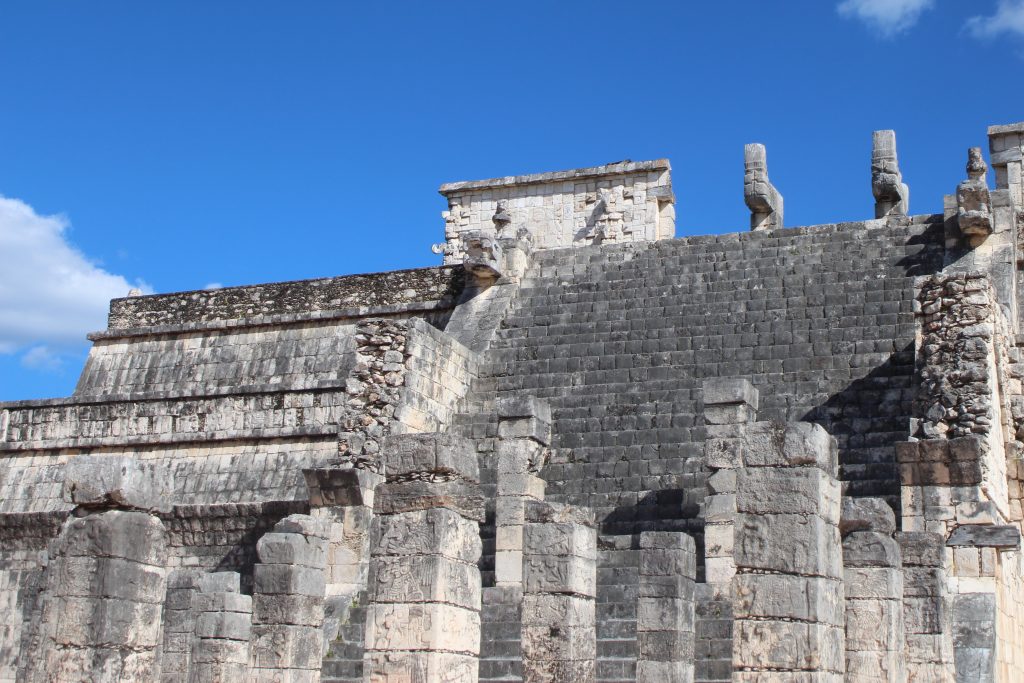 From the Temples to the Mayan ball court, to the cenotes, this was an experience I'm so thankful and grateful to have been able to share with my entire family.

After an Ammmazing day at Chichen Itza, we still had some traveling to do. We got the boys in the car and set out sites and our GPS to the next destination Merida, the capital of the Yucatan. Merida is the largest city in the Yucatan, it was about a 1.5 hr drive from Chichen Itza.
​
The scenery on the ride was so beautiful and peaceful, green everywhere and beautiful sun-filled skies. The boys had their fill of sun and fun and got some much-needed rest during the ride.
​
Long car rides are like our designated time to read, and discuss lifes many mysteries. On this trip, we read from one of our favs, Pablo Coelho's "The Alchemist". A quote from the book basically had us talking the whole ride, it read as follows…  "to realize one's destiny is a person's only real obligation, when you want something all the universe conspires in helping you to achieve it". You just have to love that. It speaks to me in such a profound way.
Clay has a real philosophical mind and my imagination and curiosity is such that if the mood is right we can get lost in conversation together for hours. This was such a happy and profound moment for me because this IS a part of my destiny, this IS something I want. Traveling and exploring world culture and experiencing beauty in its many forms and fashions is something I've dreamed about since as far back as I can remember. Not only was it a reality for me in this moment but I was sharing it with those I love the most. Ugggggh, to bottle that feeling haha take me back nooooooow!

We arrived safely at out hotel, Los Flamboyanes Suites in Merida, Yucatan, we checked in, unloaded the car, settled in, ordered some pizza and called it a night. This was an event filled day and loooooong one at that. Staying in Merida for a week would allow us to travel a little lighter andmore  freely. This would be our home away from home and we couldn't be more happy to be there.
Save
Save
Save
Save
Save
Save
Save
We Trip ⧫ We Tribe ⧫ We Vibe