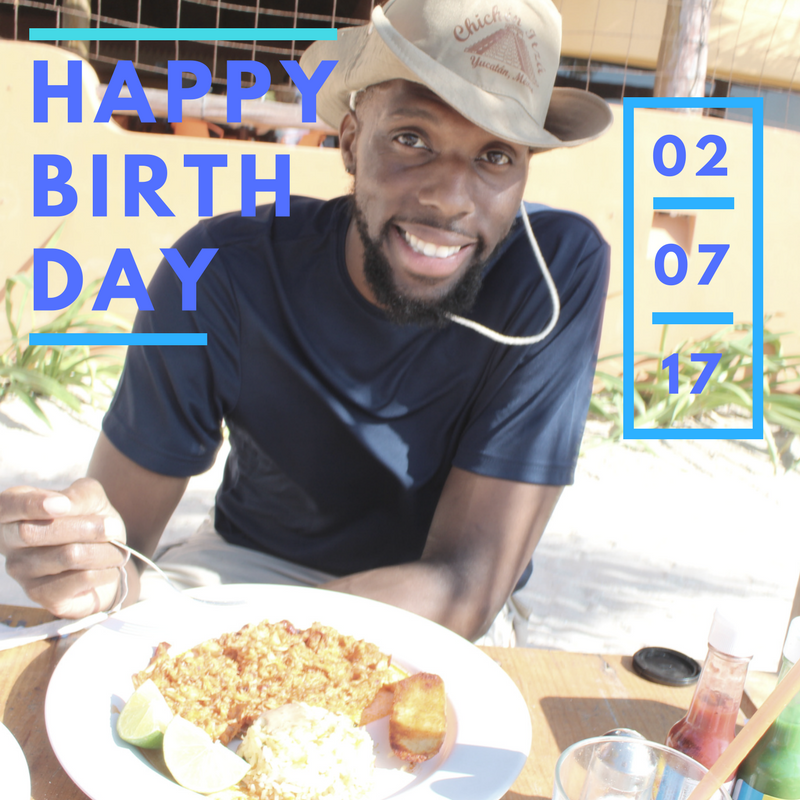 Daaaaaaaaaaaaaaaaay Threeeeeeeeeeeeeeeeee!!!!!!!!!!!
ABSOLUTELY ONE OF MY ALL TIME FAVORITE DAYS EVER
It's really hard to describe how excited I actually was for our trip to Celestun. For starters, we had not been to the beach yet and Celestun was known for its absolutely stunning beaches; Located on the Western Coast of the Yucatan Peninsula, this place was literally a PARADISE, Heaven on Earth.

Our day started early that morning around 6am, We packed everything up for our day trip and programmed our GPS and hit the road. Celestun was about a 1.5 hour drive from our hotel in Merida. The ride was great, the boys played games on the tablet and we enjoyed the beautiful scenery and the sunny cloudless blue skies.
We passed through some small little towns in route to Celestun. It was almost as if Celestun was something of a dream world (at least for a margarita loving, taco champion, beach bum like myself). Celestun was a small town of simple living, we had done research that revealed to us that Celestun was one of the only places in the world you can see flamingos in their natural habitat….So our first line of business, hitch a boat ride and check these flamingos out up close and personal.

When we arrived in Celestun we actually had some issues finding the docks where the boat tours were located. One thing about Mexico, due to the influx of tourism there is always an official and "unofficial" tour available. Initially we drove up on a man flagging us over pointing out a spot where we could park for the flamingo tours. This gentleman had a broken arm and what appeared to be a serious case of sun burn on his face and neck, there was just something about his vibe that made me think maaaaaaaaaybe this wasn't the right place after all. But after about 20 minutes of driving in complete circles we found the proper dock, got our tickets and were ready to take off. On the boat my heart was racing and my mind was all over the place, it was so beautiful. I mean come on, it was the dead middle of winter, It was 90 degree outside, and me and my family were on a private boat excursion meandering around bayous, headed directly into the heartland of the worlds largest population of Flamingos on the entire planet. Its was unreal. We saw locals casting their nets for fish and shrimp, literally thousands of flamingos and giant pelicans annnnd it was off peak season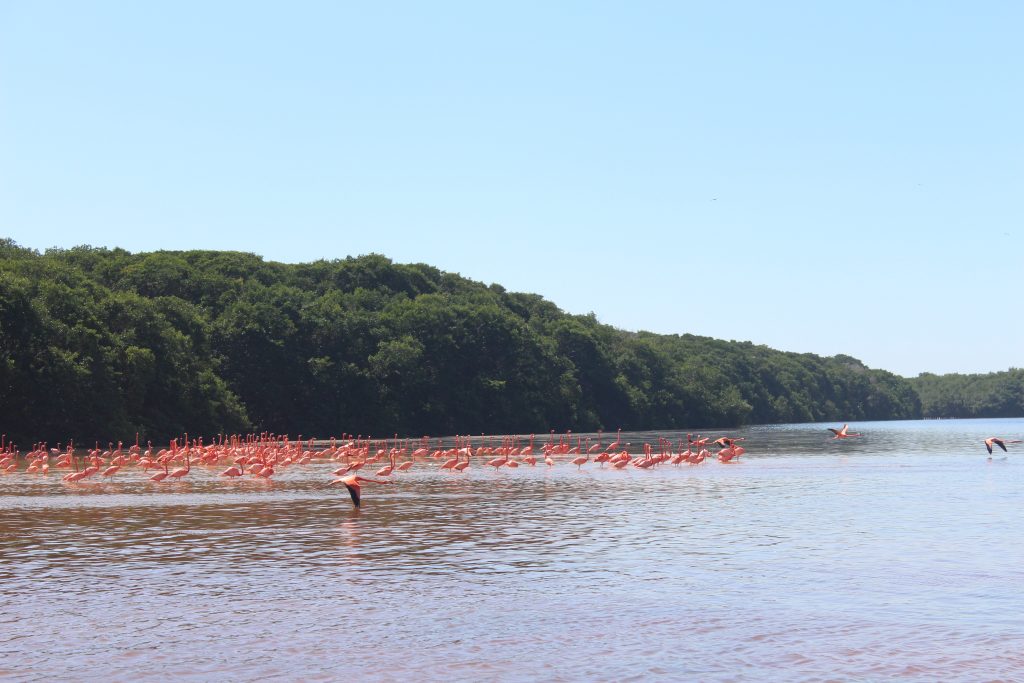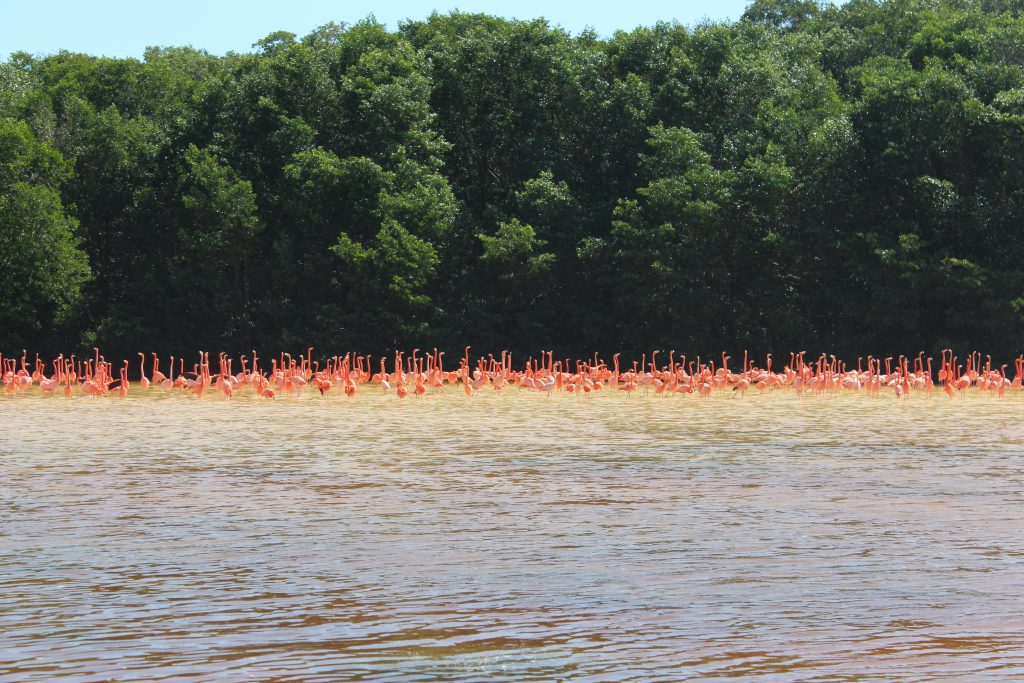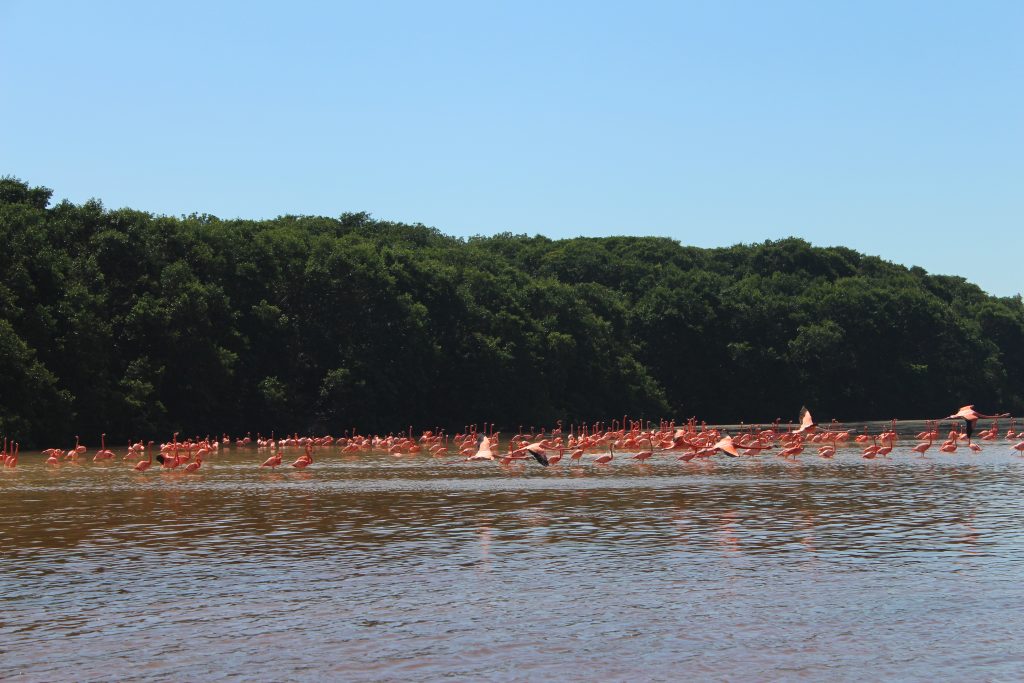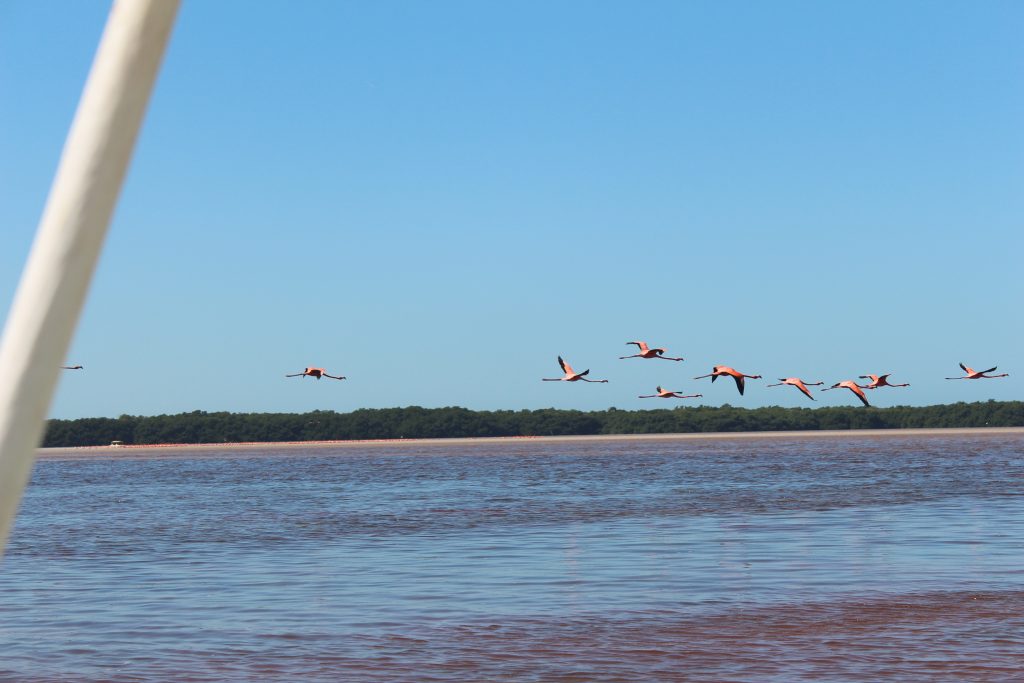 We had an opportunity to hear about the natural wild life there, speaking of which, a Fun Facts about Flamingos: the babies are white/grey, they don't get their pink color until they reach adulthood. The Flamingos vibrant pink color comes from eating the shrimp larva the locals call "sea monkeys" not from eating the adult shrimp.

We took tons of pictures of the local flora and fauna and captured some really nice shots of these majestic birds. The beauty of the natural world is so inspiring.
 The boys were awesome on the boat, LaPharaoh was even able to persuade our guide Jose to take us on a special detour into the marshes to look for crocodiles. Although we didn't get to see any crocodiles, this side trip added a floating petrified forest to our itinerary which had these huuuuuuuuuge termite mounds, just the thought of it kinda makes my skin crawl haha.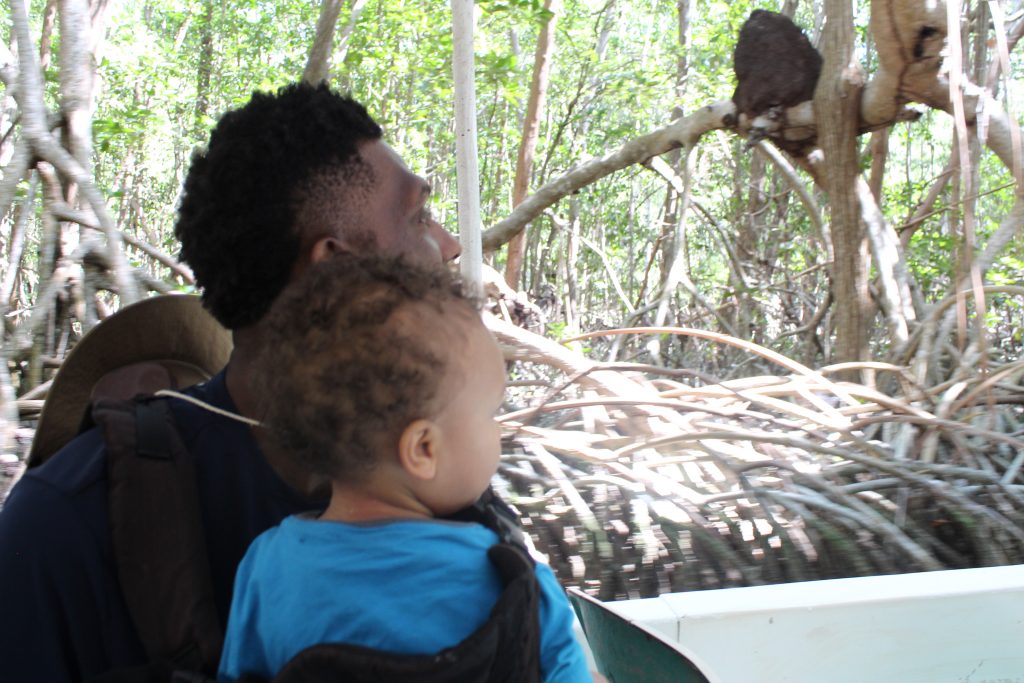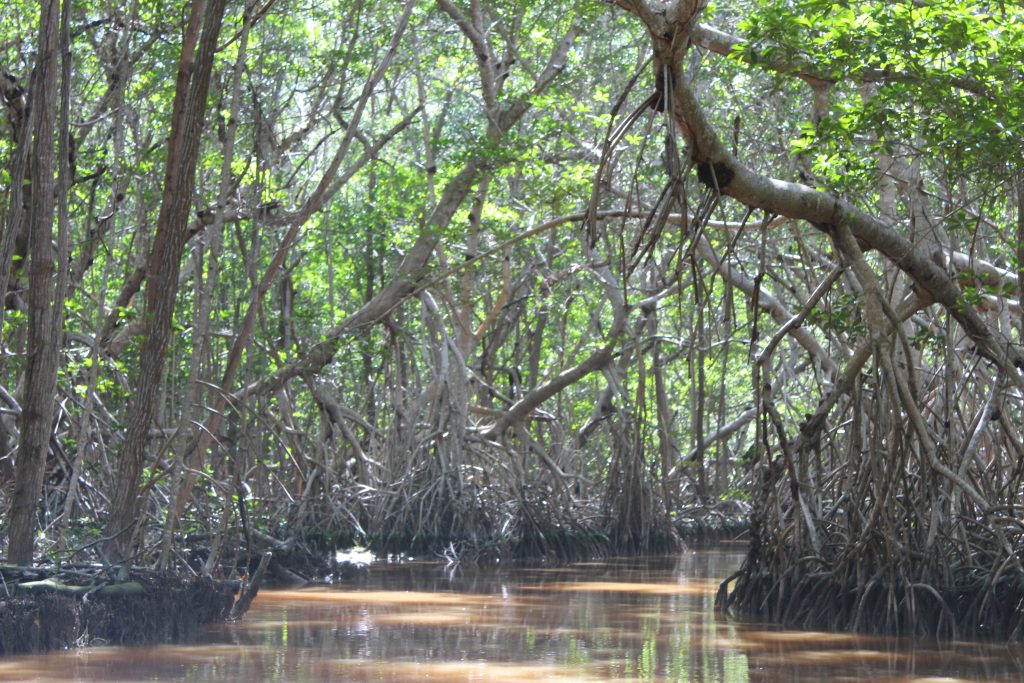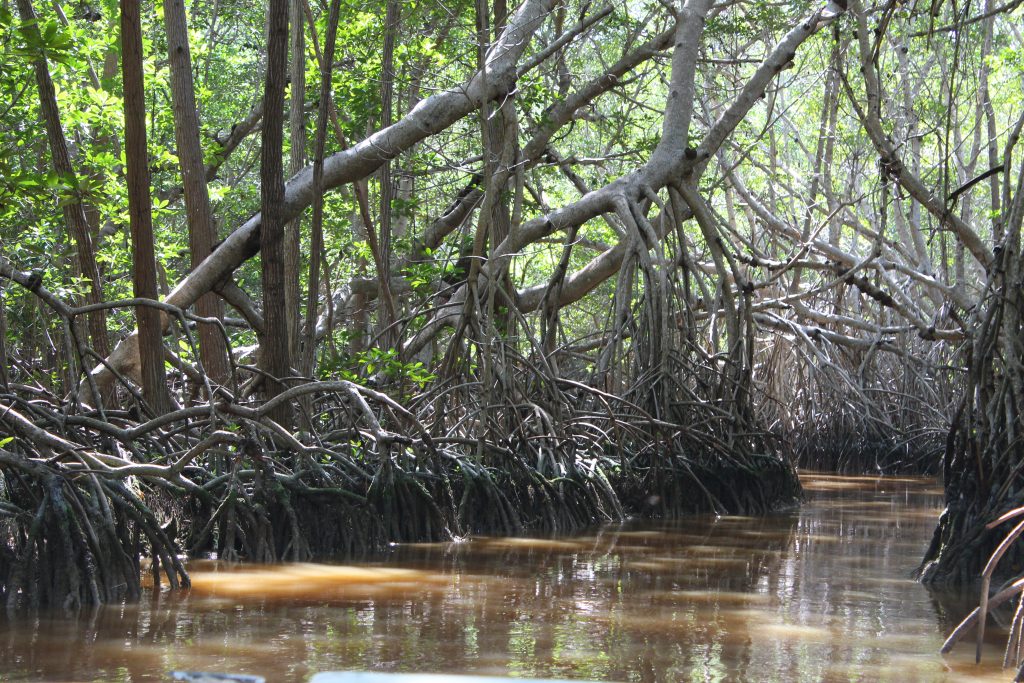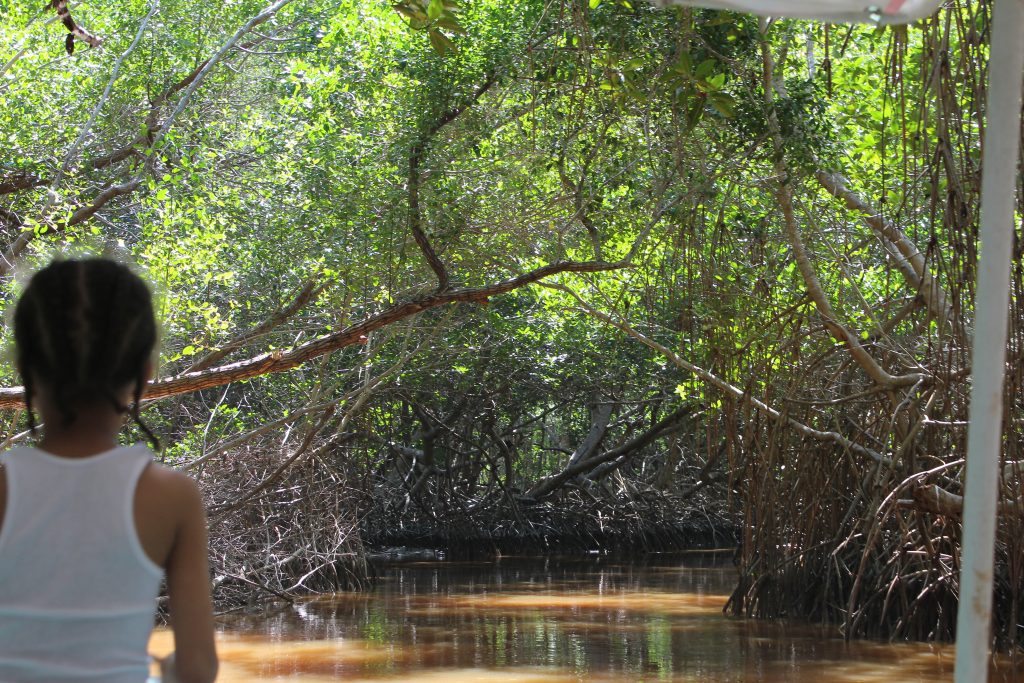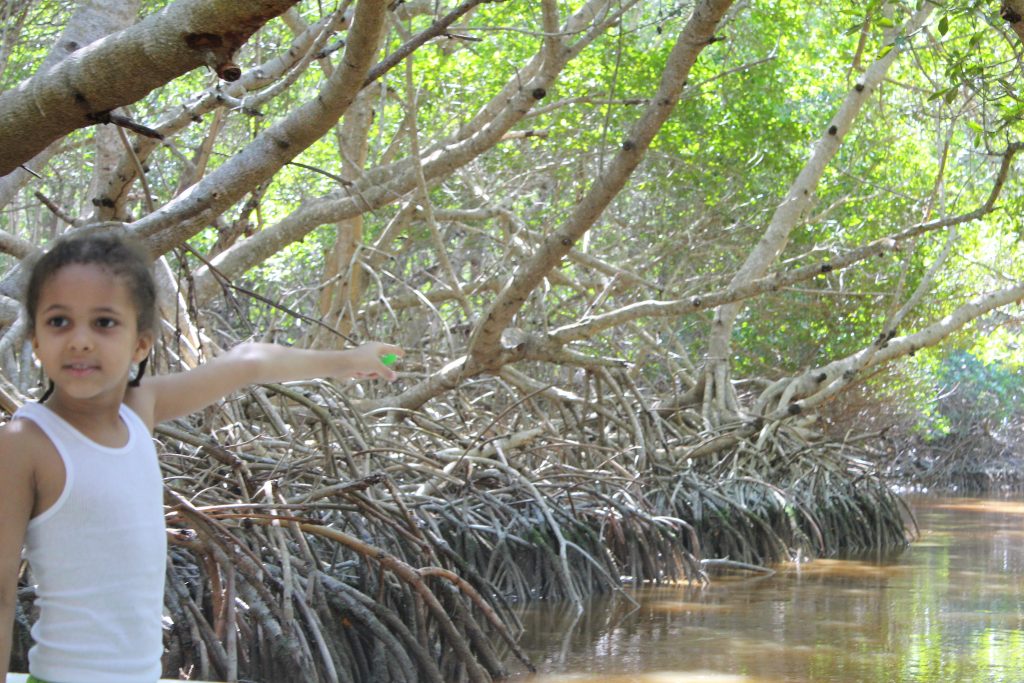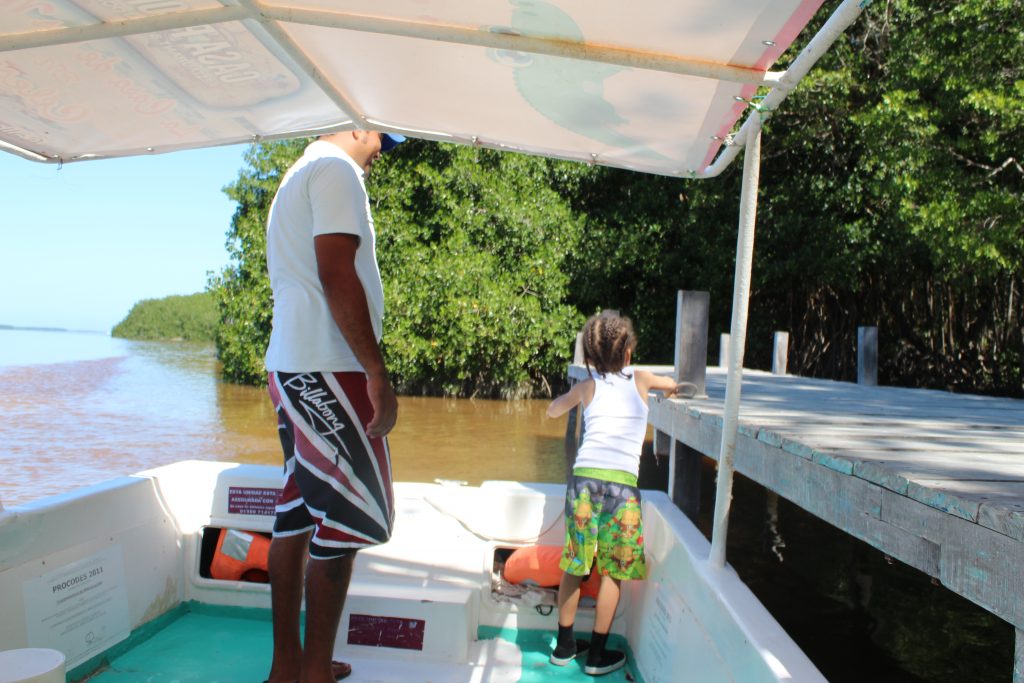 The last little stop on our trip was to a fresh water natural spring where we could get out and take a dip. There was a dock and a long deck that stretched all the way around this natural forming spring.
 
This was really nice, the water was clear and you could even see the jets of fresh water shooting up.

ALL THE BOYS chickened out, the water is too cold they said, but it didnt stop me from diving in and doing my best Baywatch impersonation, maybe its the Aries in me 😉 !!!
 
After about 10 minutes of swimming the buzz had gotten out about us being there and the mosquitoes were on a mission, we had to get out of there and fast.

The boat took us back to the original dock, LaPharaoh repeated what Daddy told him "Muchos Gracias Por Todos", tipped our guide and we went on our way. Just an absolutely amazing way to start off our day in Celestun. Hours of family fun and unforgettable memories for $60 (1,200 pesos)…You just can't beat that.
 
We worked up quite an appetite from our excursion, it was now time to head to the beach, order some lunch, and take in some of that good ol' sol food. We found a few restaurants on the beach and ultimately decided on La Palapa.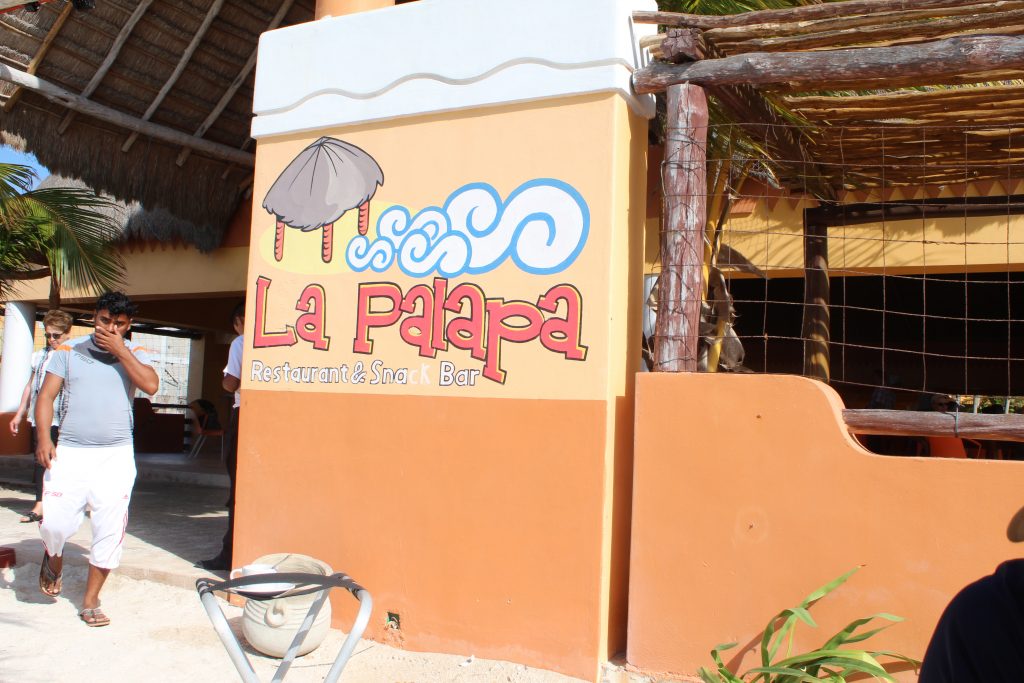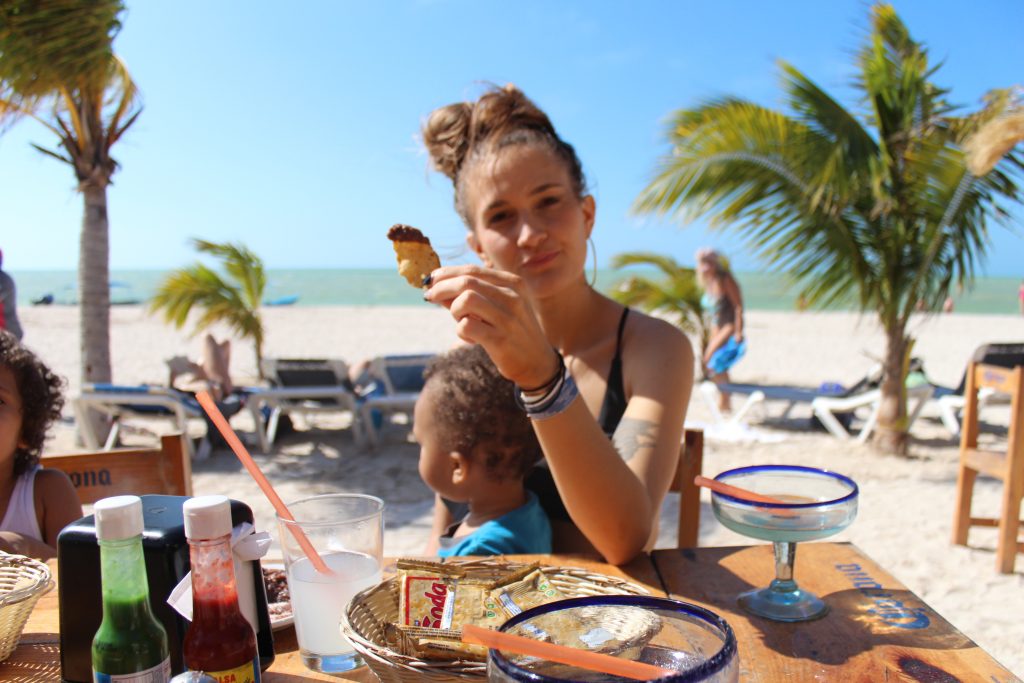 Kicking my feet up with some chips, guacamole, and a black bean puree…..AND $2 margaritas (40 pesos), #winning!!!

The encore dish was literally THE BEST CAJUN BLUE CRAB QUESADILLAS IN THE WORLD.   Dear La Palapa, you have a special place in my heart forever, See you soon…..love Hannah.
 
We decided this would be the day designated as Clay's official 33rd Solar Return celebration.
 We enjoyed a wonderful lunch on the beach, soaked up the rays of the sun, and just enjoyed being in full life. Our day concluded around sunset, we ran up on a beach vendor and snatched up some ice cream, I gathered a few more sea shells, and  we took one last dip into the gulf of Mexico.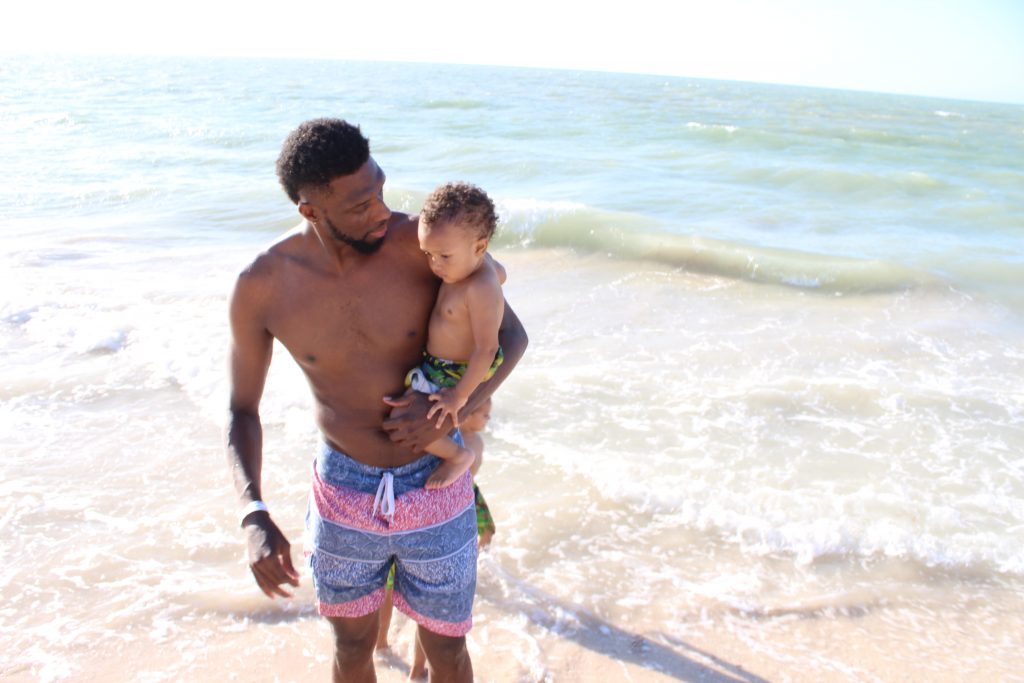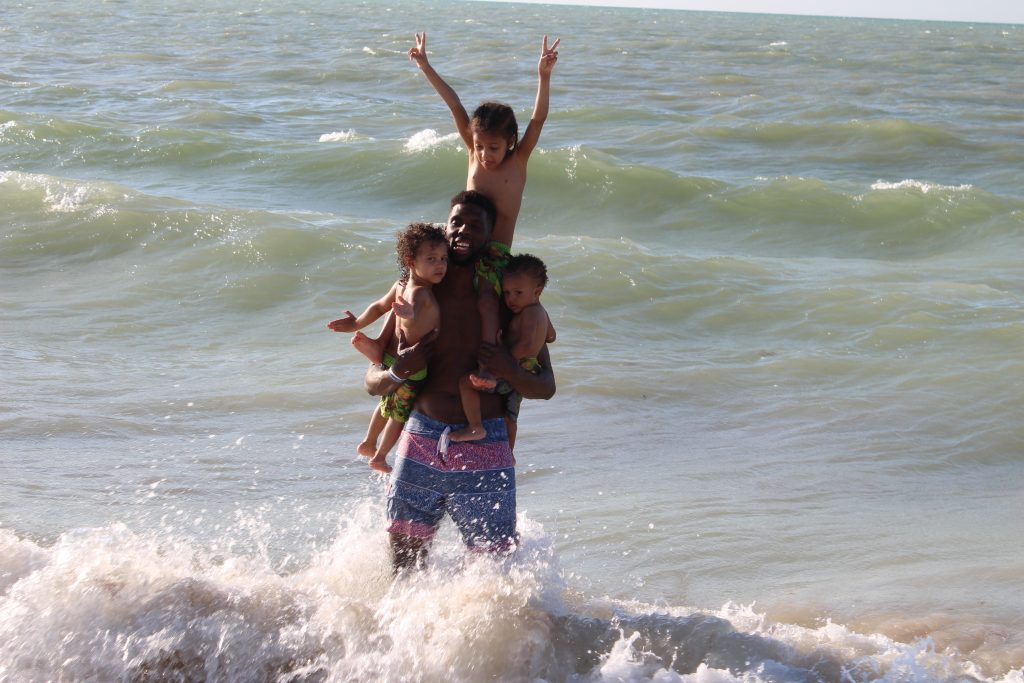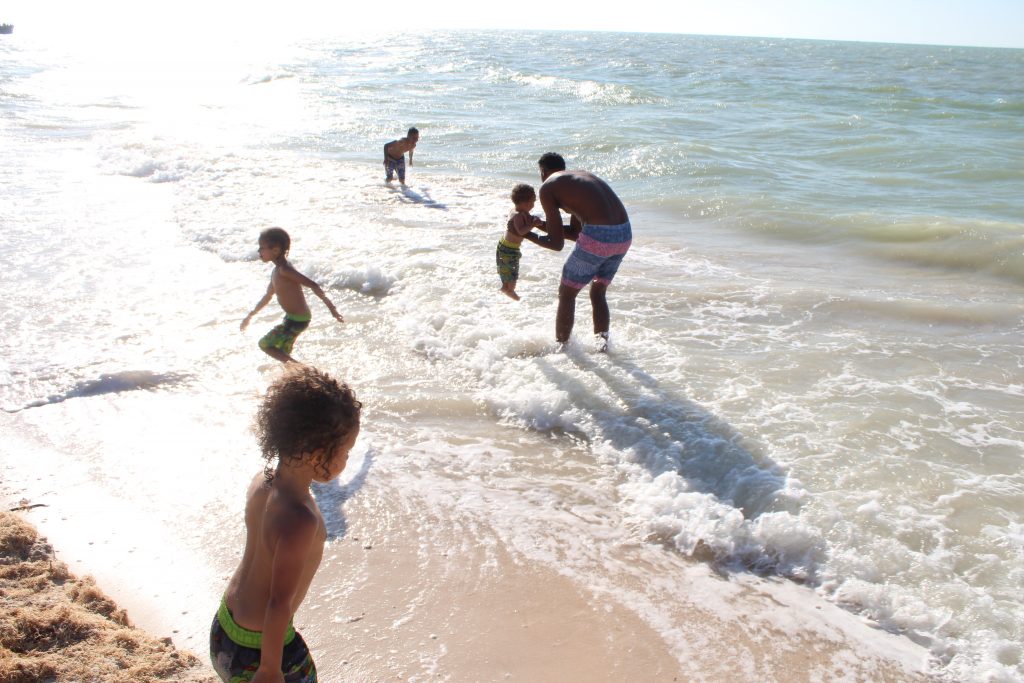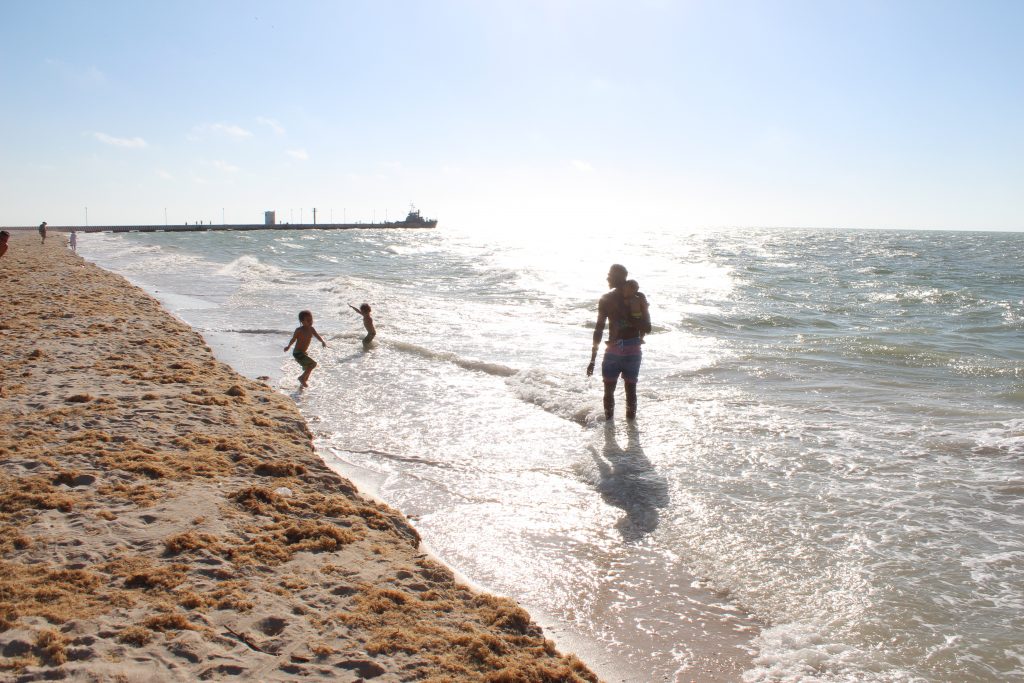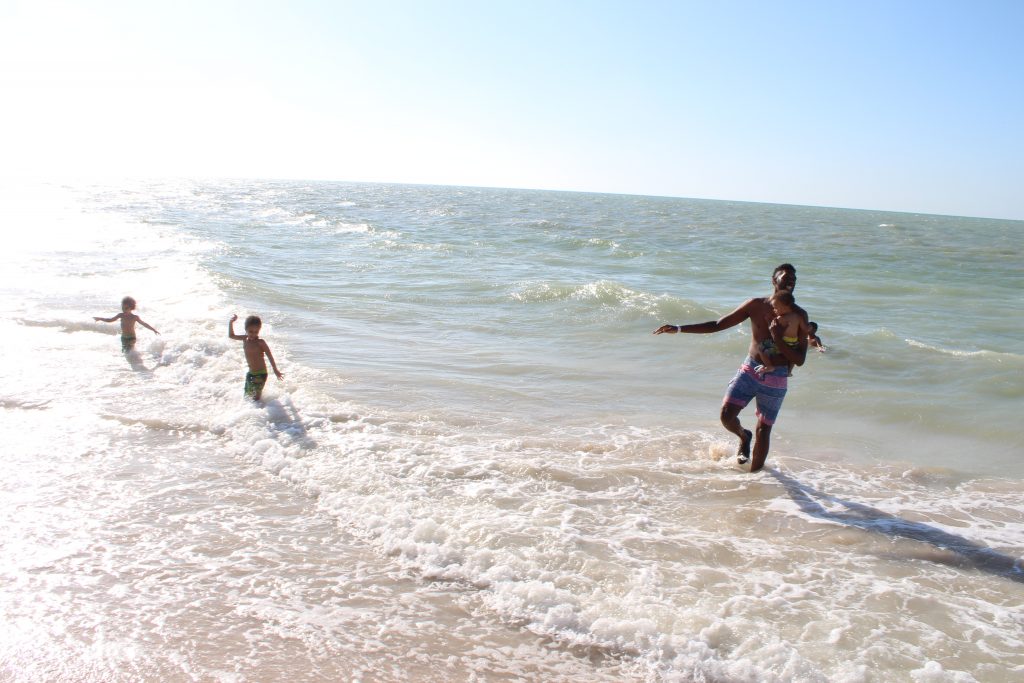 By far the hardest part of the entire trip to Mexico was leaving Celestun. Our next trip to Mexico we will definitely be spending some significant time in Celestun,  I really cant say enough fantastic things about this place.
 
The ride home was a quiet one, the boys fell asleep and I rested my eyes for a bit as well. A full moon/lunar eclipse would add the perfect element  of beauty to wrap up our night. Back at the hotel, we relaxed and reflected on a day that will be deposited in our memory banks forever. In these moments all I can think of is God is Good!
Save
Save
Save
Save
Save
Save
We Trip ⧫ We Tribe ⧫ We Vibe