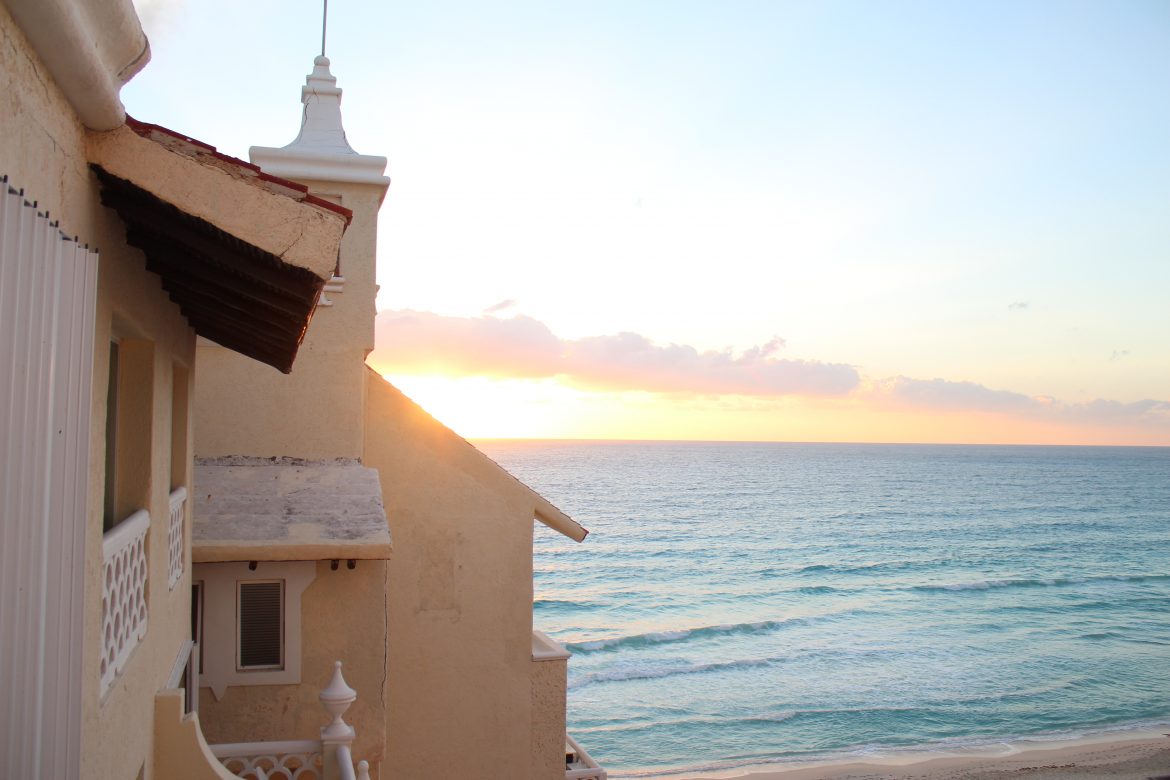 This next morning was the best! Waking up to the sun peeking up over the water and the cool breeze of ocean… just an absolutely stunning view.

What a  great way to start the day! We were on a mission today, first thing on our itinerary was  to catch a ferry to Isla Mujeres. After some research we found that there were 3 separate ferry's that could take us to the island. There were tons of corporations and organizations willing to take you there as a part of their excursion package. We had already done many of the things they were offering so we decided to look for the local public ferry.
This is one of the snags we encountered with driving because we actually found the ferry docking location and probably should have just parked and got our tickets. We missed the ferry we had our mind set on and had a choice on our hands. We would have to either wait 1 hour for the next ferry or drive 15 minutes to get another ferry (said ferry was set to leave in 30 minutes). The streets were tiny and we were in the middle of a high traffic time, we ended up on a wild goose chase. After wasting a few hours we yielded to the circumstances and found ourselves on the main strip in downtown Cancun. At this point we figured it was time to wave the white flag on our attempts to catch the ferry to Isla Mujeres. We chose to park and test out one of Cancun's public beaches- Mandala Beach.
Before going to the beach we had to check out the famous Surfin Burrito to grab some food. One of the most popular spots on the strip, Surfin Burrito is open 24hrs. It was a tiny tiny place maybe seating a total of 10 people comfortably. They served awesome burritos, huge margaritas and the infamous coco loco (a young coconut fresh from the tree with the top sliced off so you can drink it straight from the source. I am a taco/burrito connoisseur so I got the works; tempura fish, Salsa Verde, baja and BBQ sauce. Topped with rice, beans, guac and cheese my burrito master piece was complete. These burritos were huge and we were munching the whole time we were on the beach.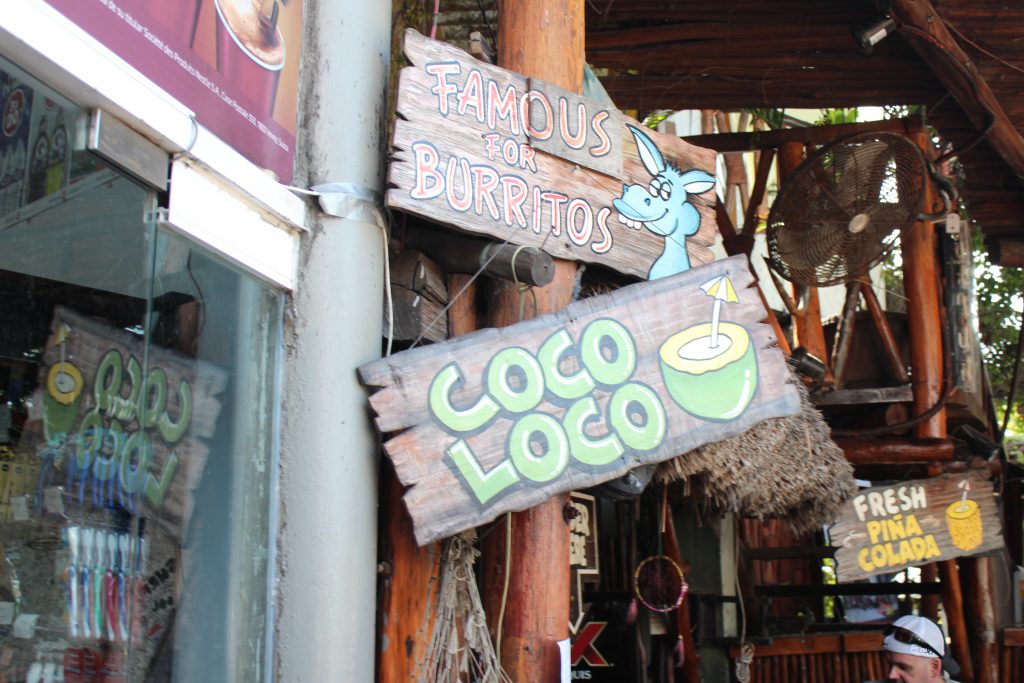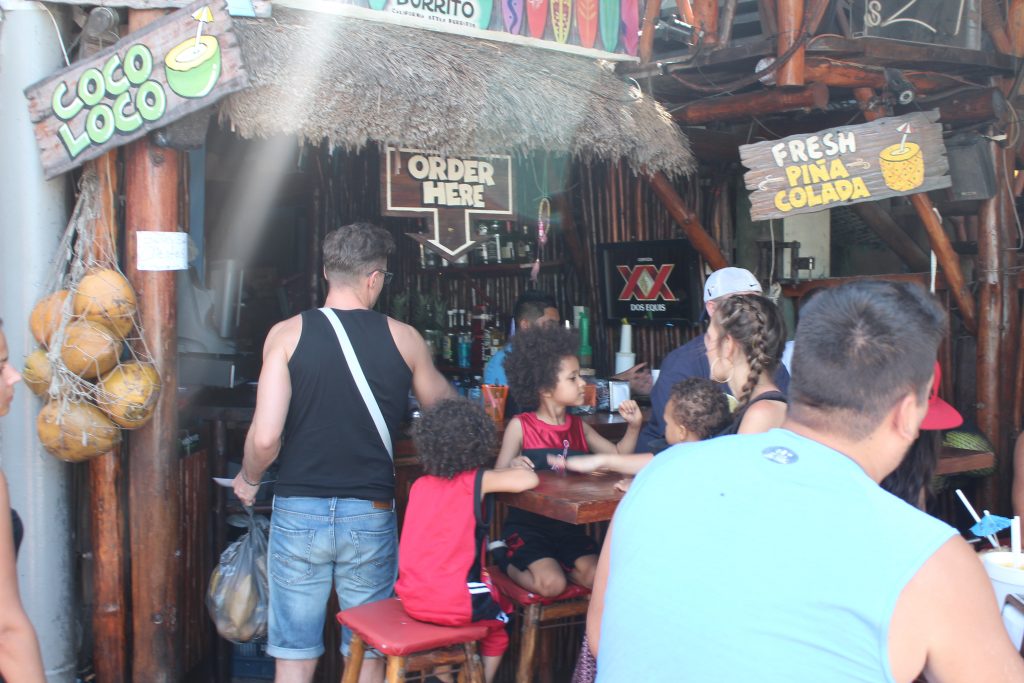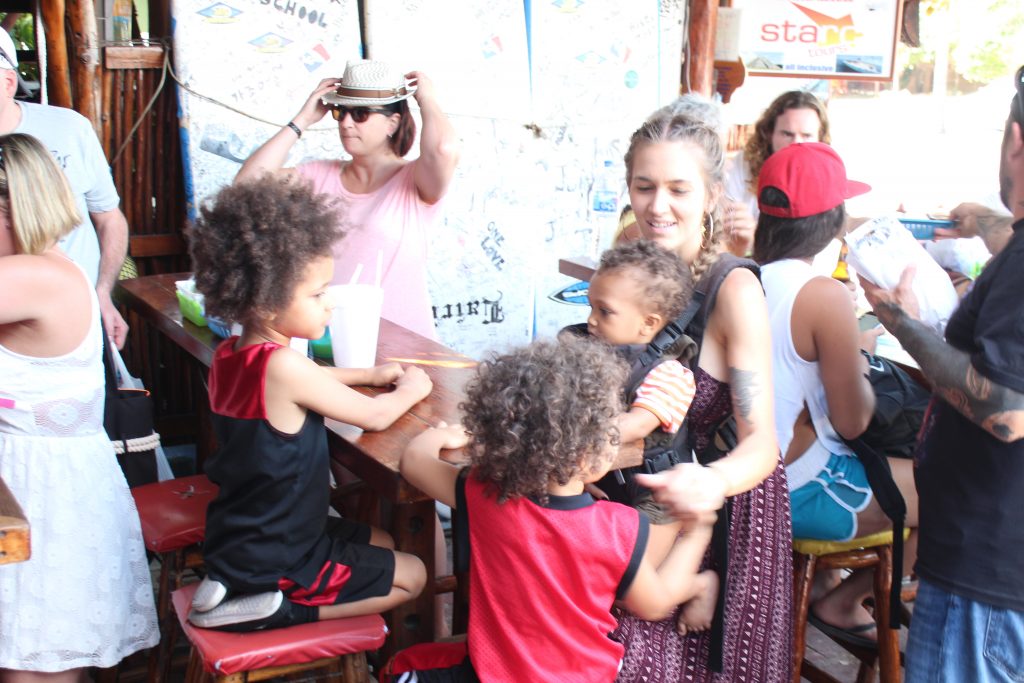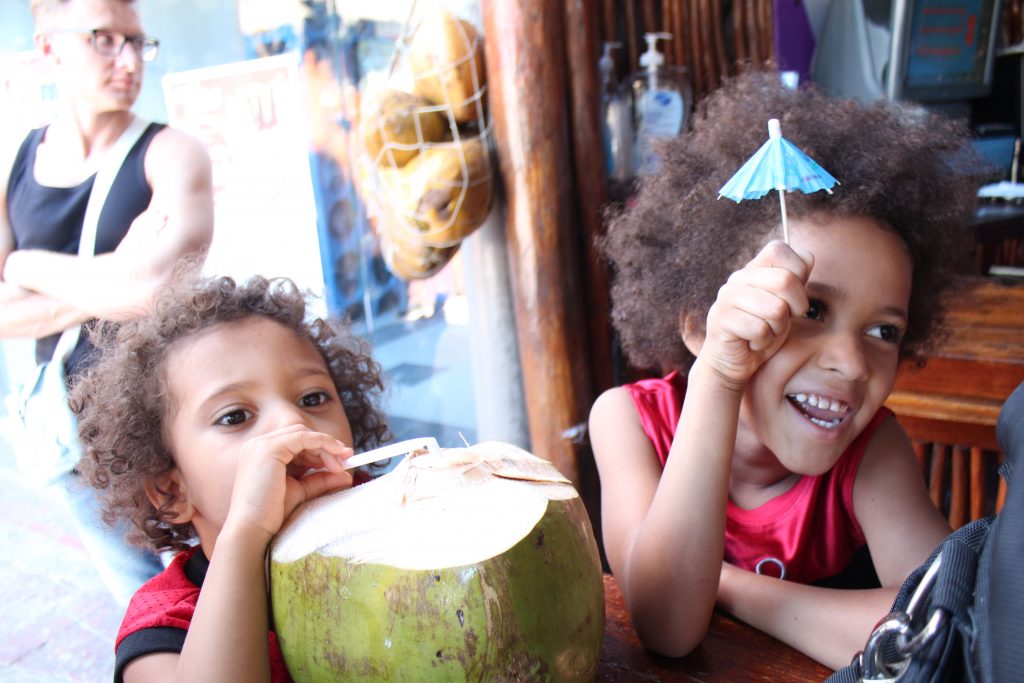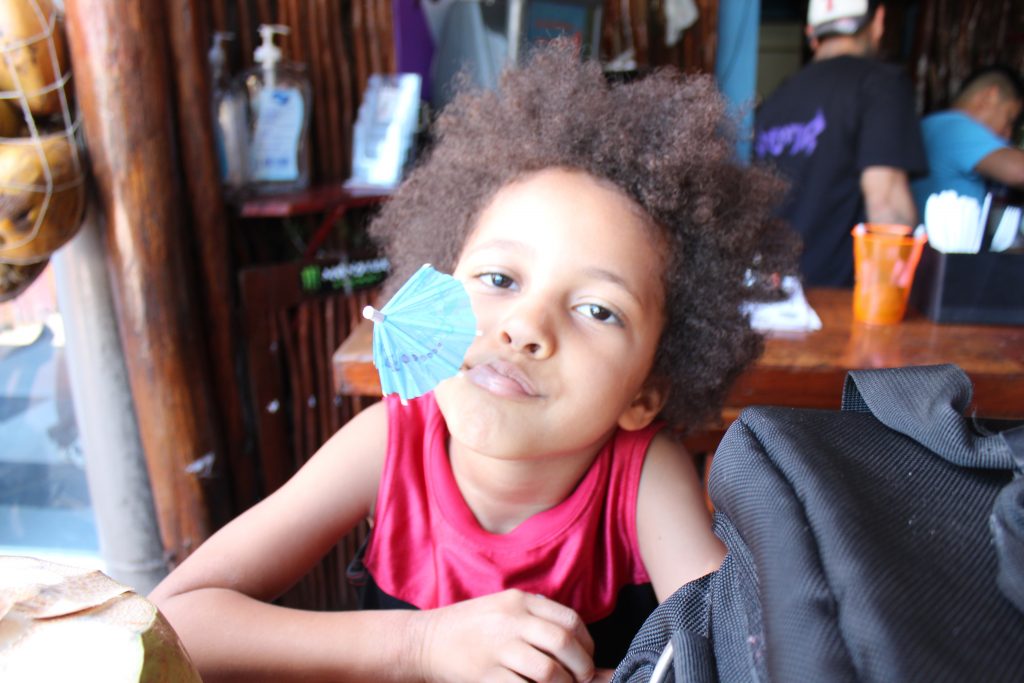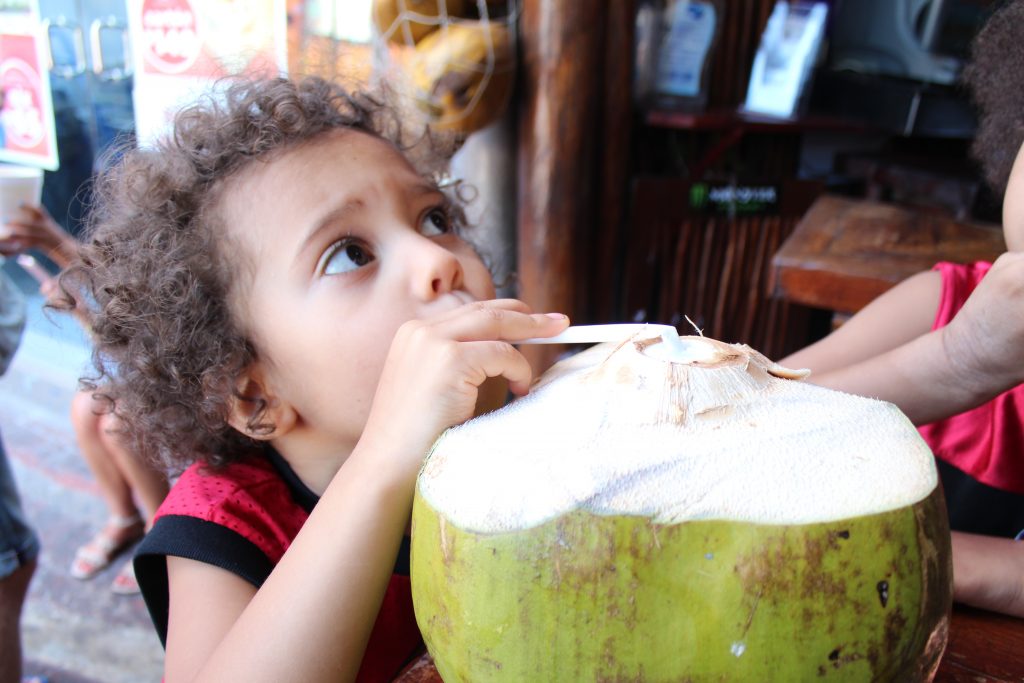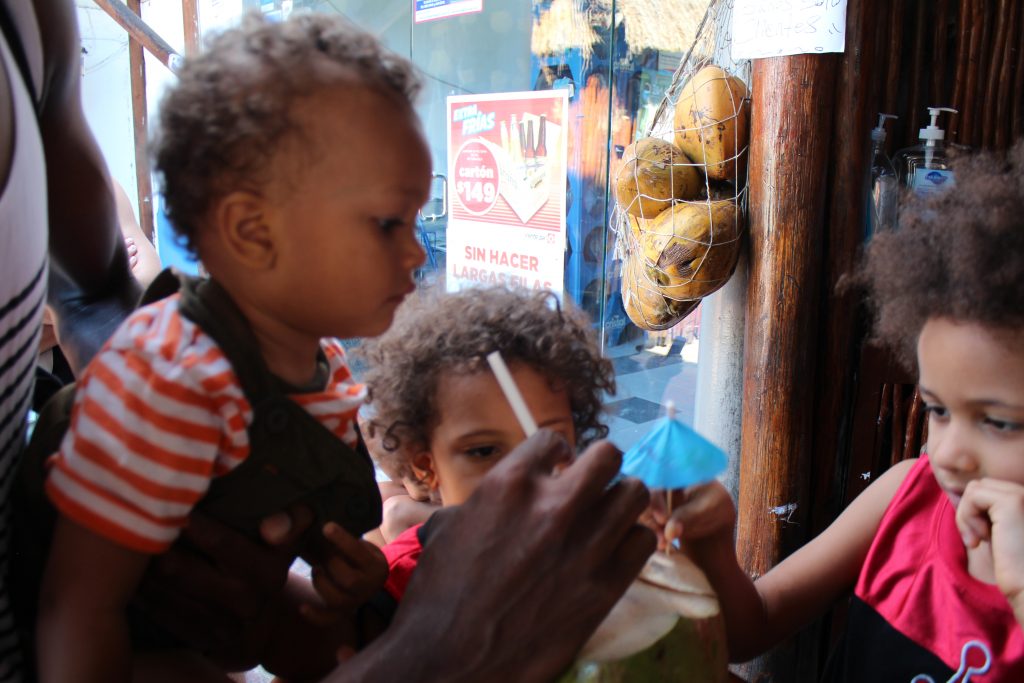 Mandala beach was crowdedddddd but very beautiful. We had the option of a private beach club you could pay to have access to which included a day bed, pool bar and tiki lights. With the little ones we knew they wanted to be right up on the beach so we opted for the shore line with an umbrella and day bed right on the beach which costs us 200 peso (about $10 based on the exchange rate at the time). We played on the beach until we got tired, then retrieved the car and drove back to the hotel.
On the way back we found another beach that had a playground for kids, it even had an awesome little beach that was especially for young children. We stopped at the playground and let the boys play until they had their fill of the fun and sun.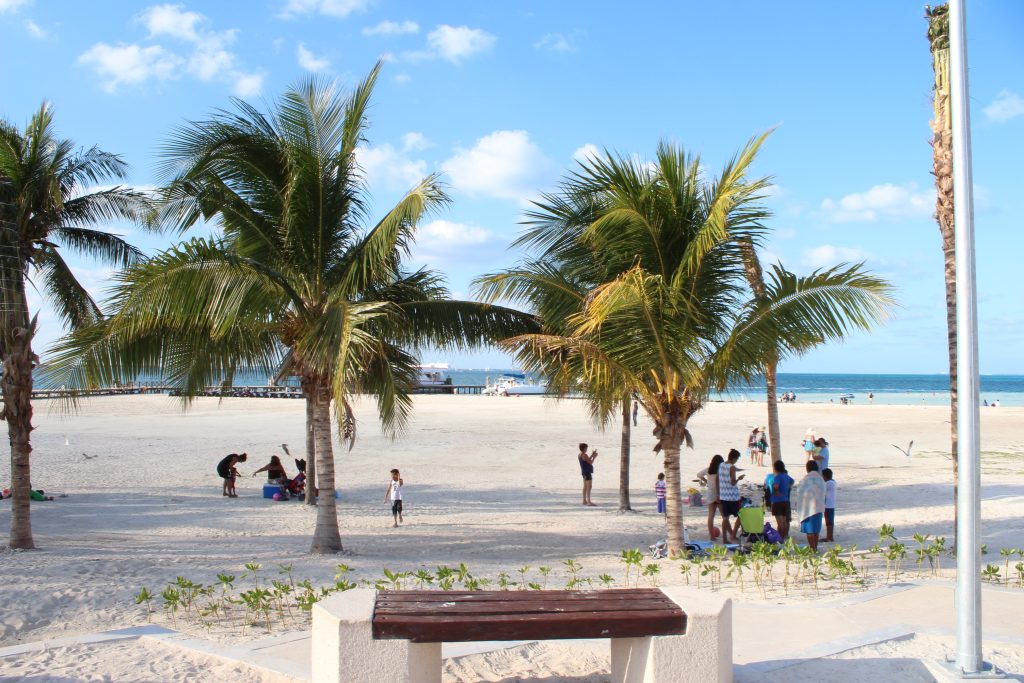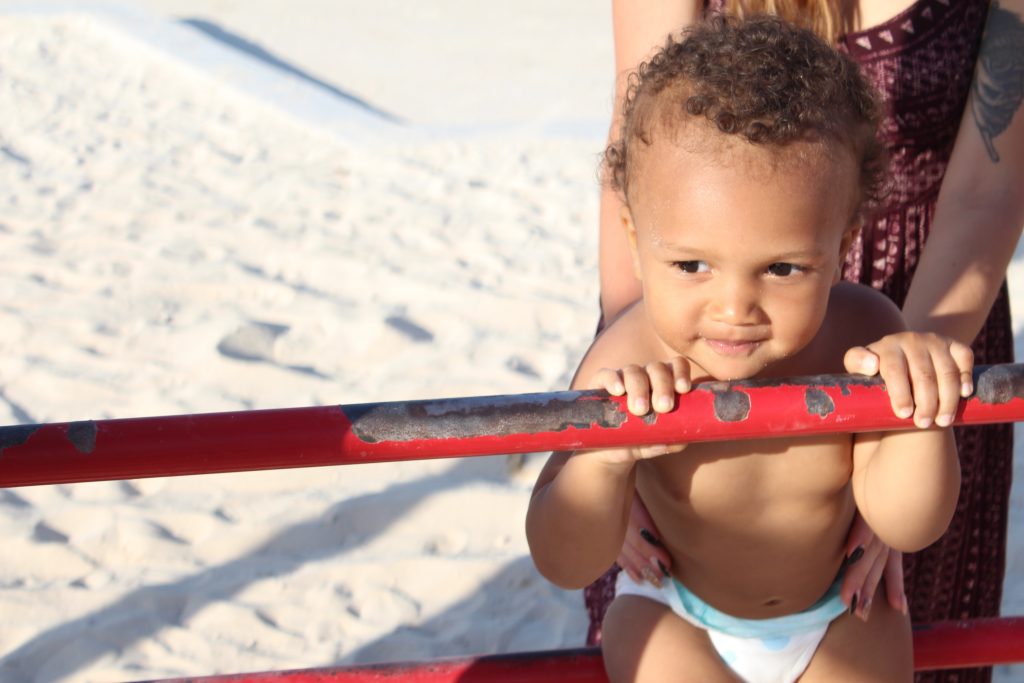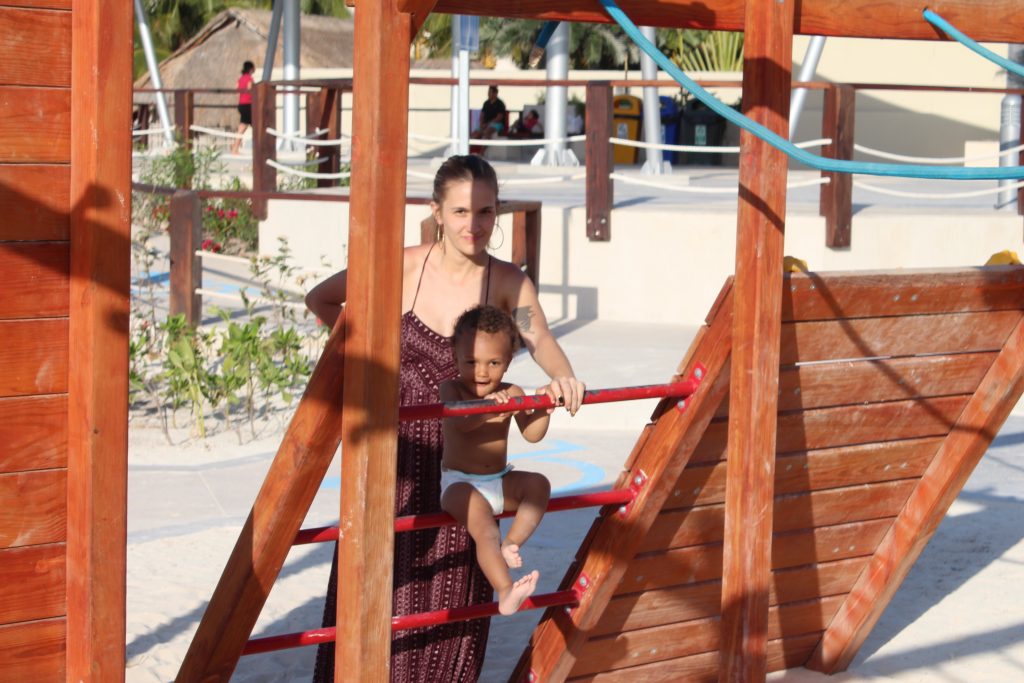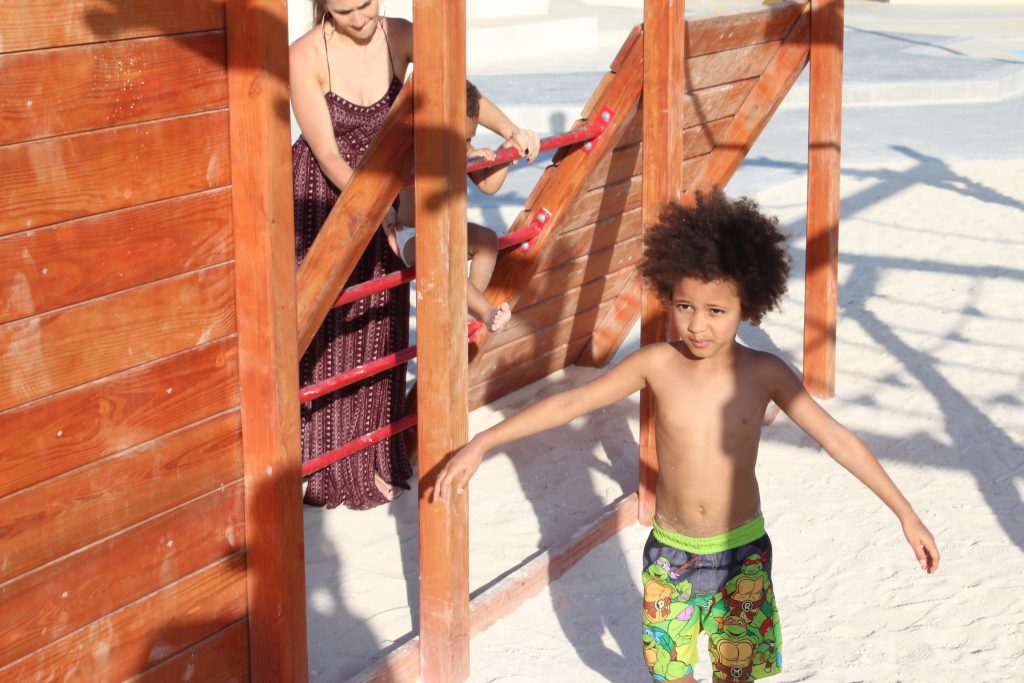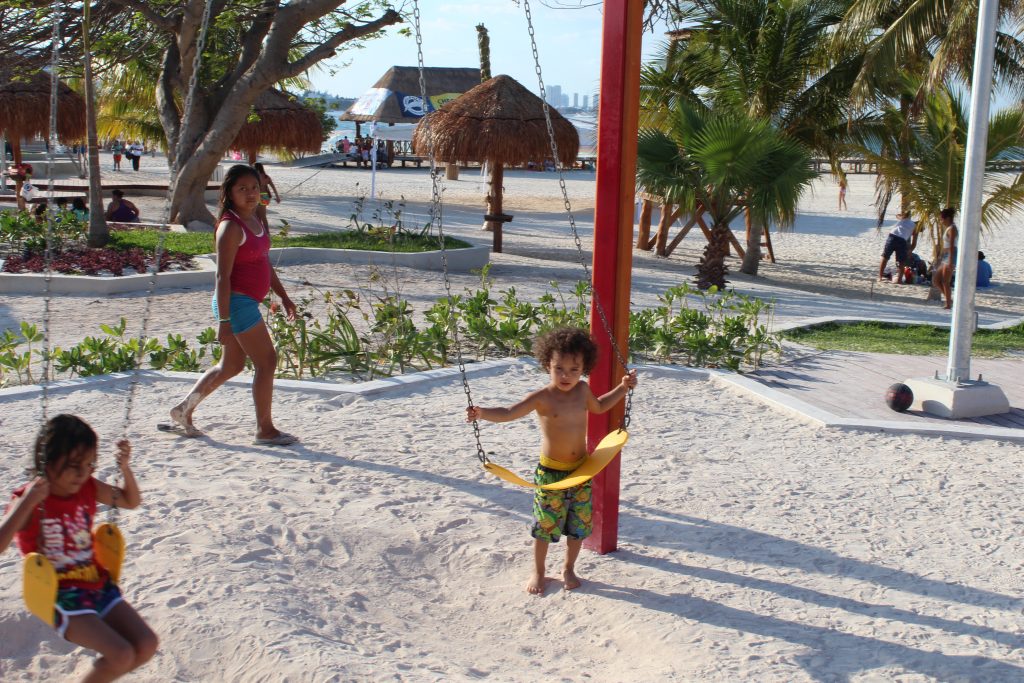 A little later that night Clay wanted to test out a theory that put me in a casino in Cancun…After donating 2,000 pesos to the casino it was time to go, meh!
On the way home we ordered Friday's…boy o boy what a terrible idea. It was quick and easy but just terrible quality food, we usually make a conscious effort to stay far away from the vast majority of chain restaurants for exactly this reason.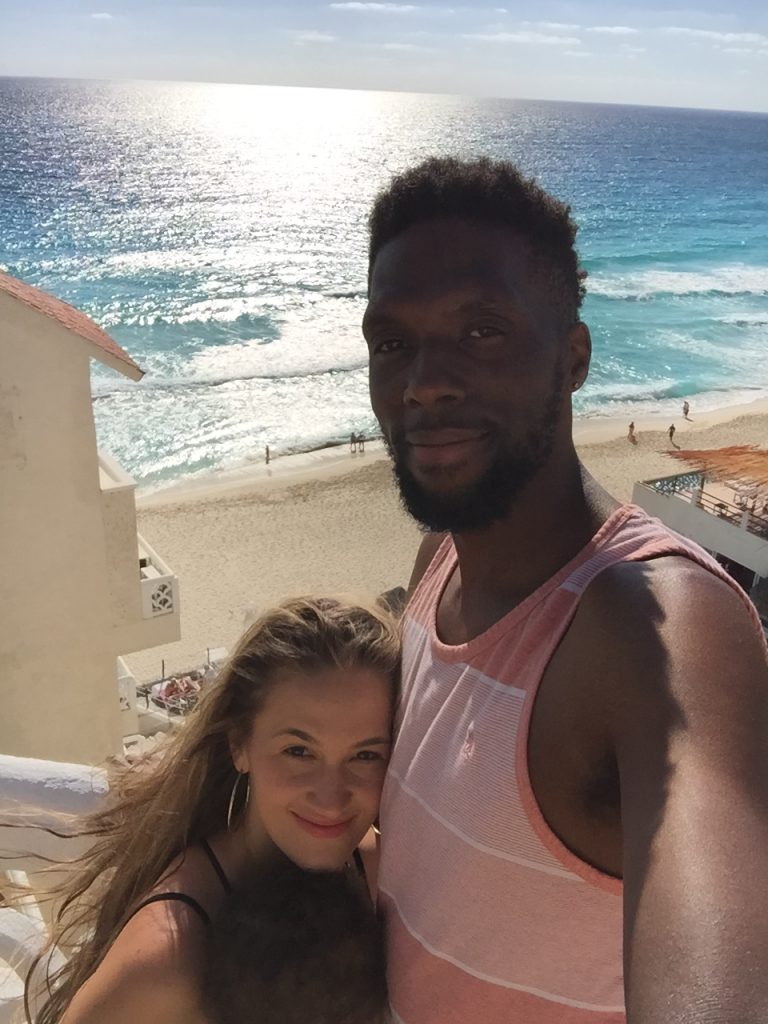 The boys fell asleep early that night which gave Clay and I some much needed alone time on our patio with snacks and margaritas. Definitely a night to remember.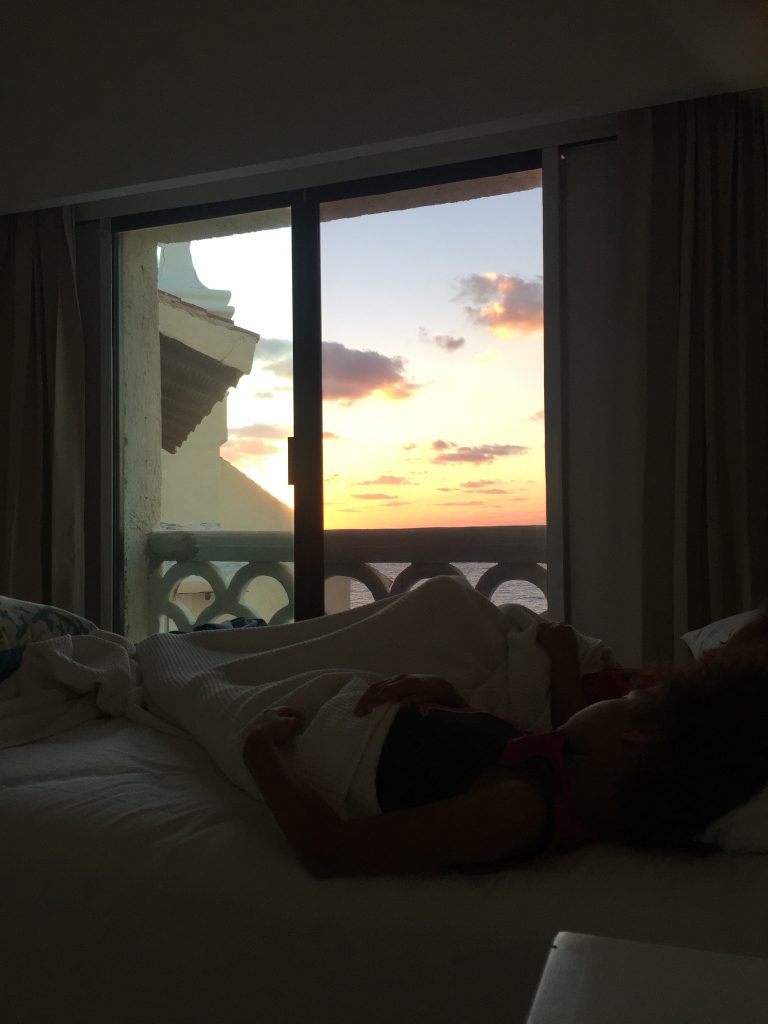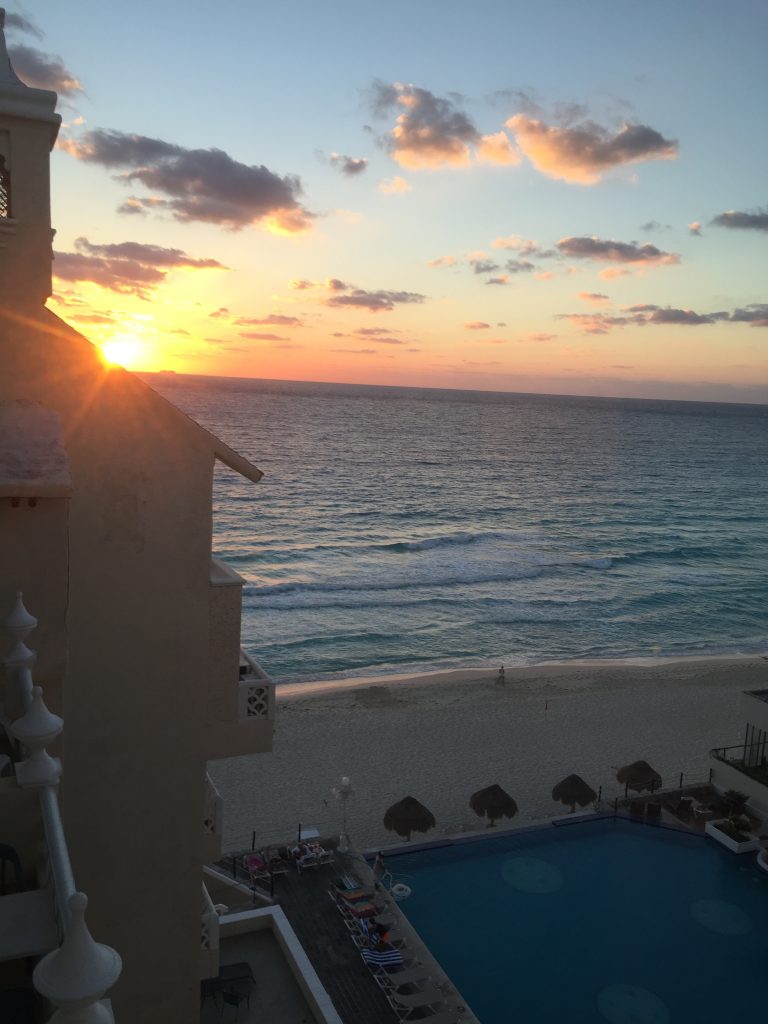 The next morning we had a late check out (around 3pm) , We knew this was gonna be a long day of traveling since we had an evening flight from Mexico that wouldn't get us to Newark until 11pm. We gathered all our stuff, packed it accordingly and loaded up the car. We decided once everything was packed and ready we would have one last rendezvous with the pool.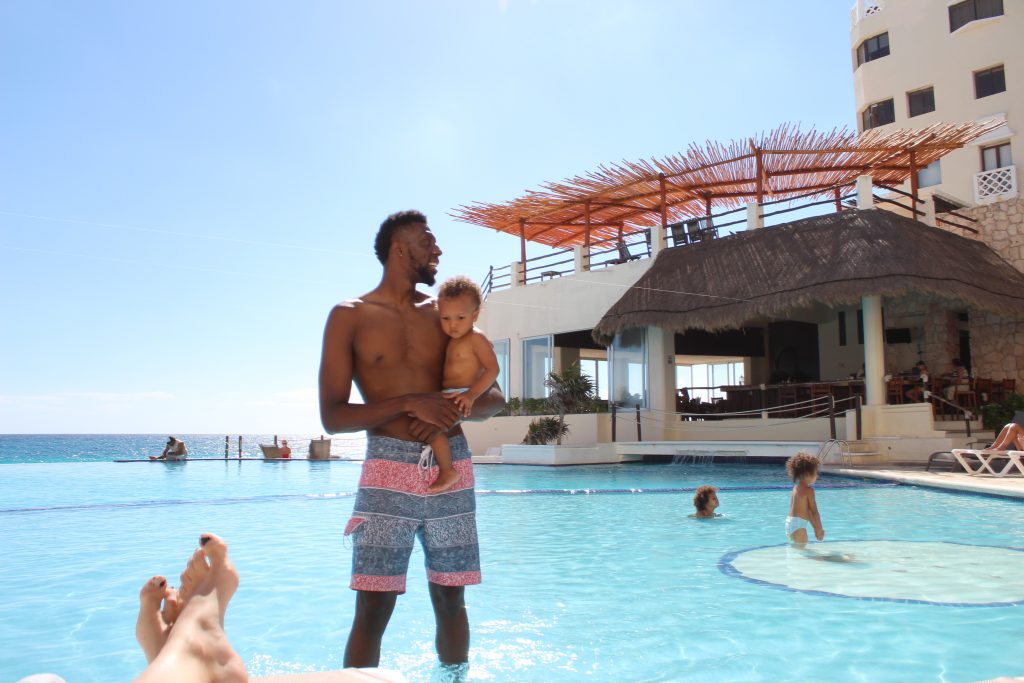 The boys had a blast in the pool,  LaPharaoh did some filming with the GoPro and they met a little boy who only spoke Spanish. It was  absolutely hilarious to watch them try to communicate and interact, the language barrier was irrelevant… they were all loving it.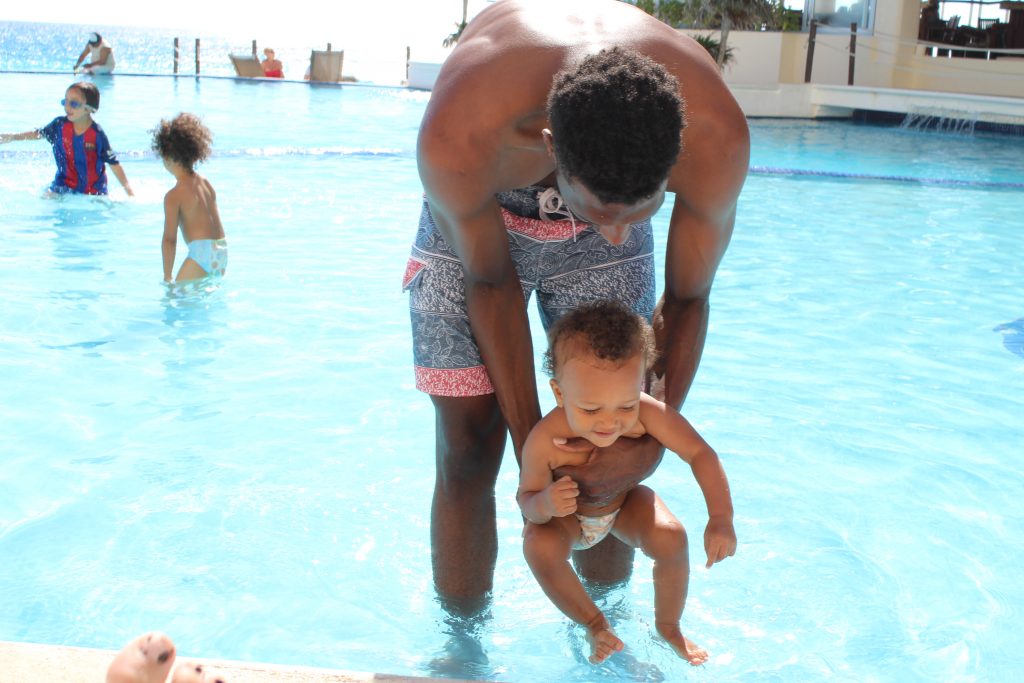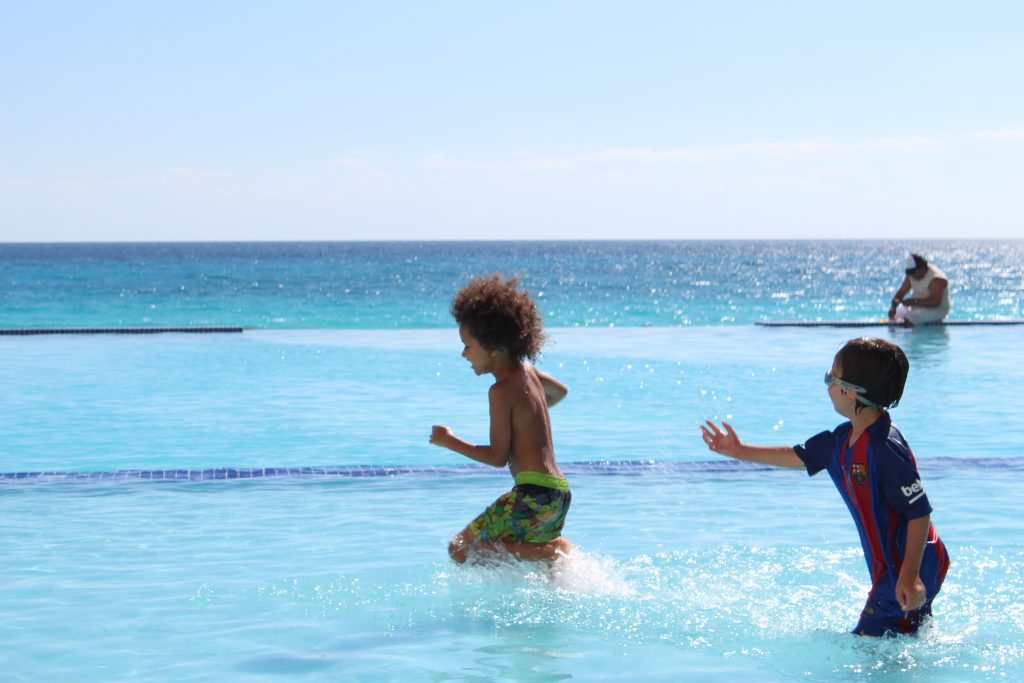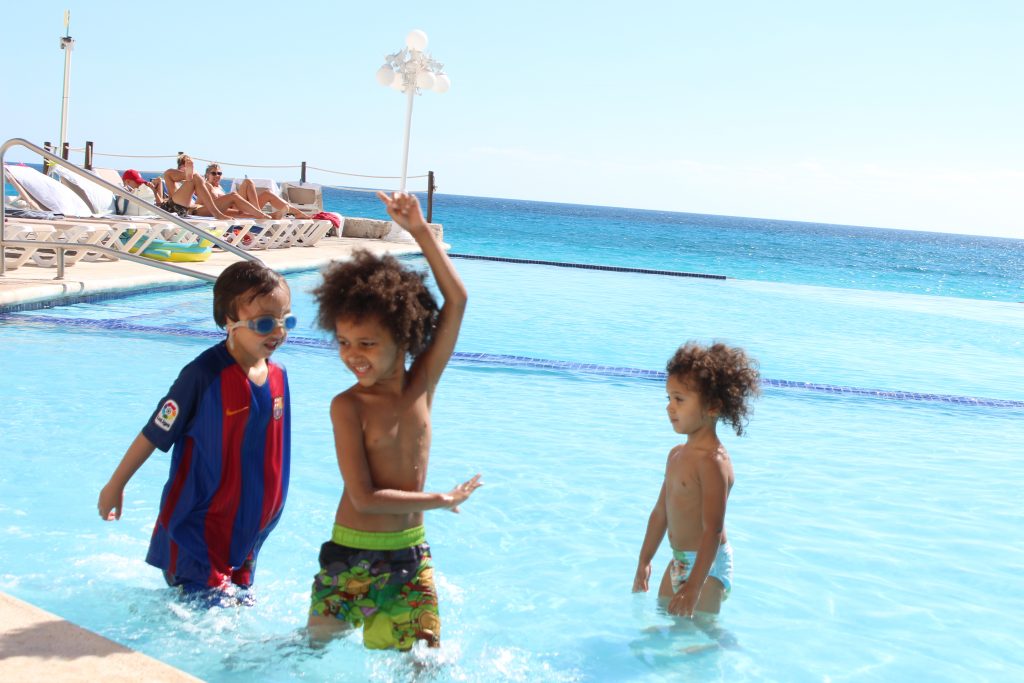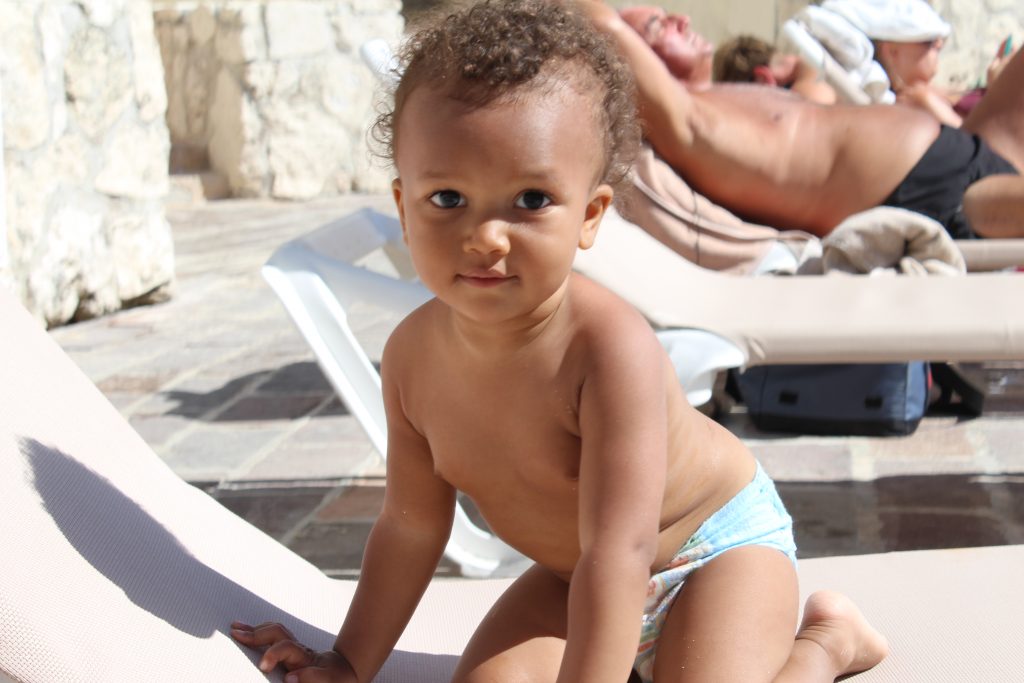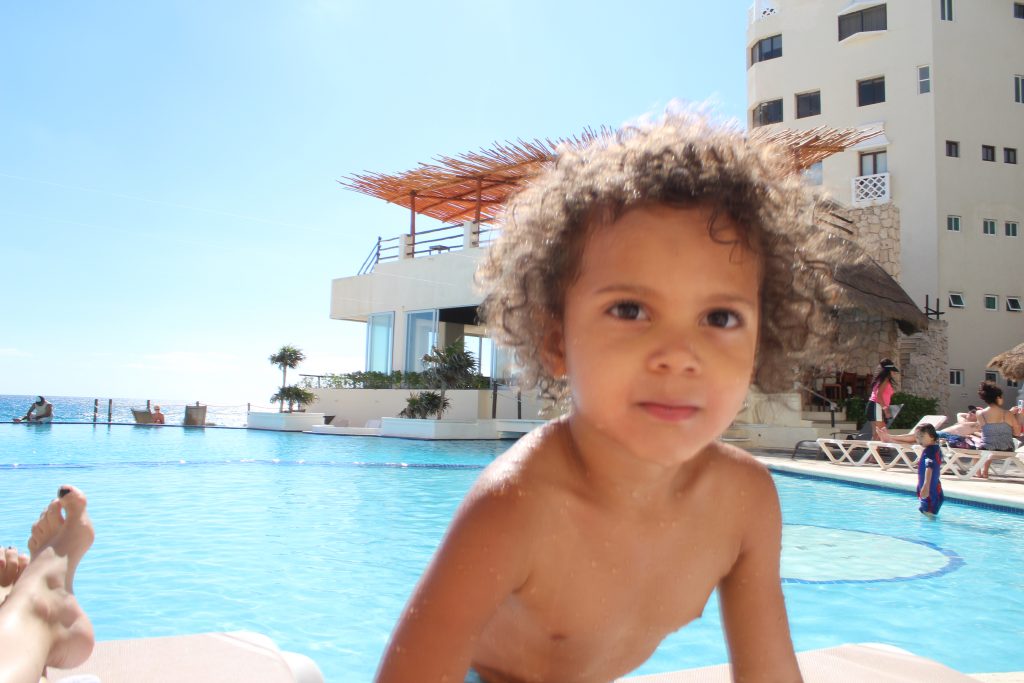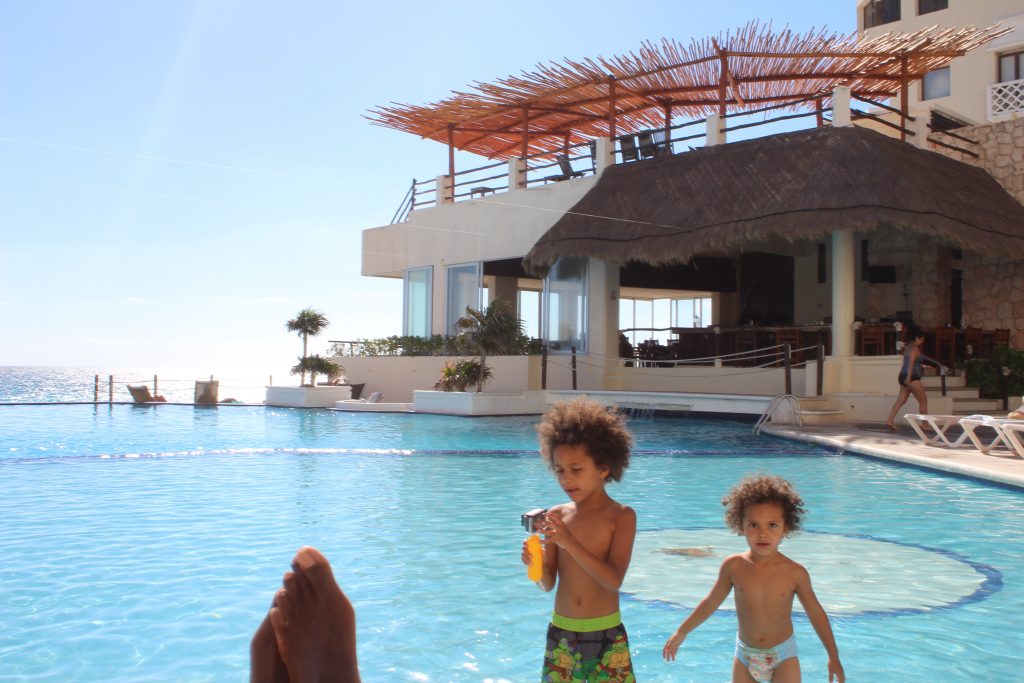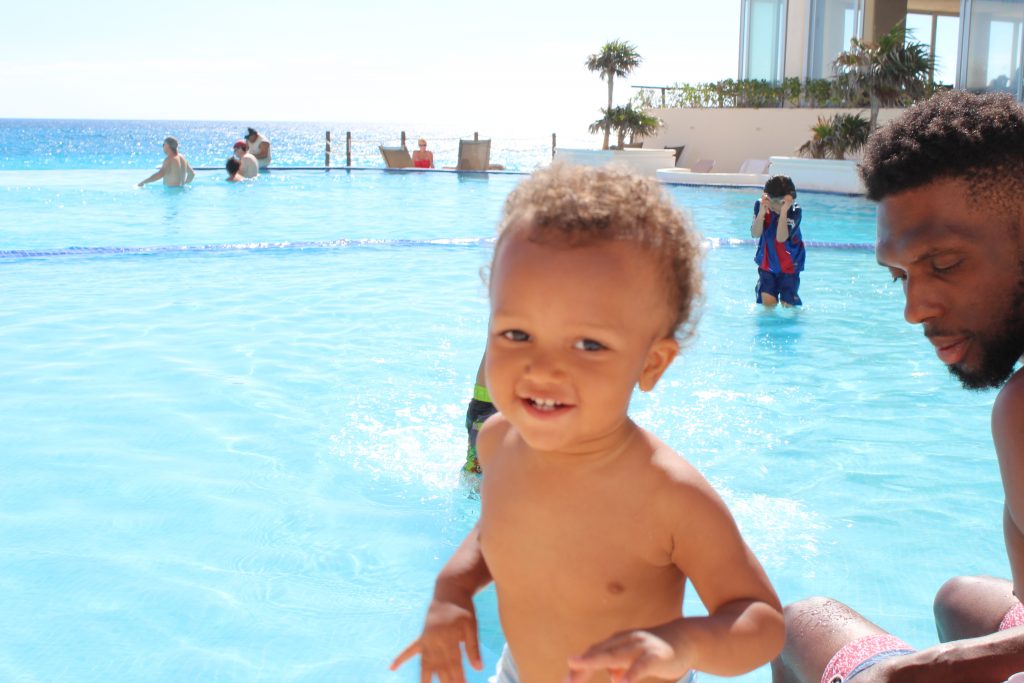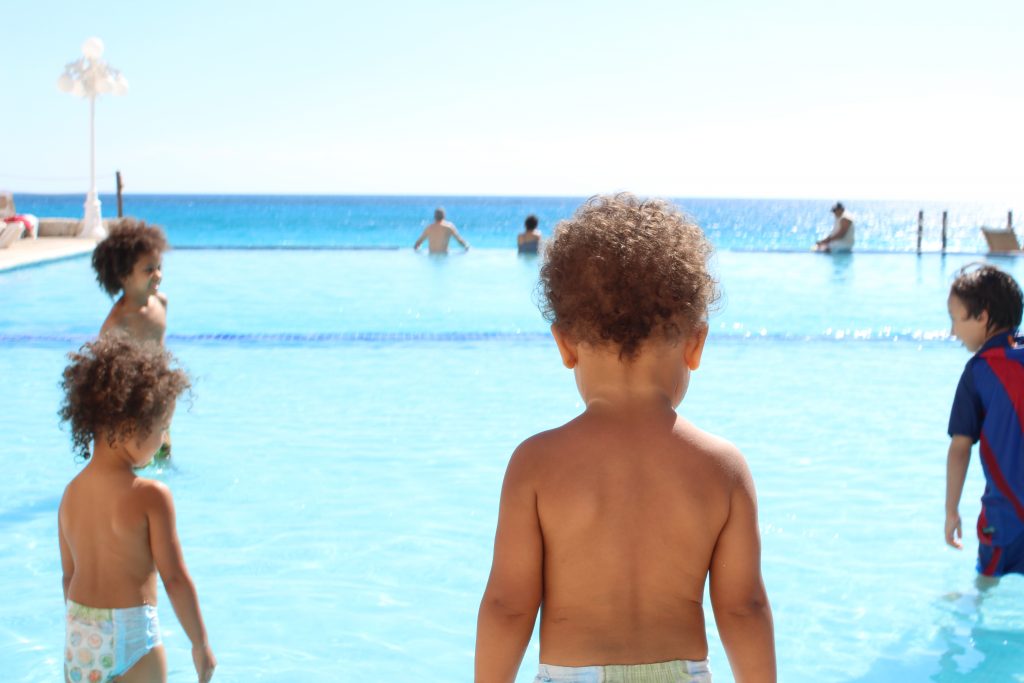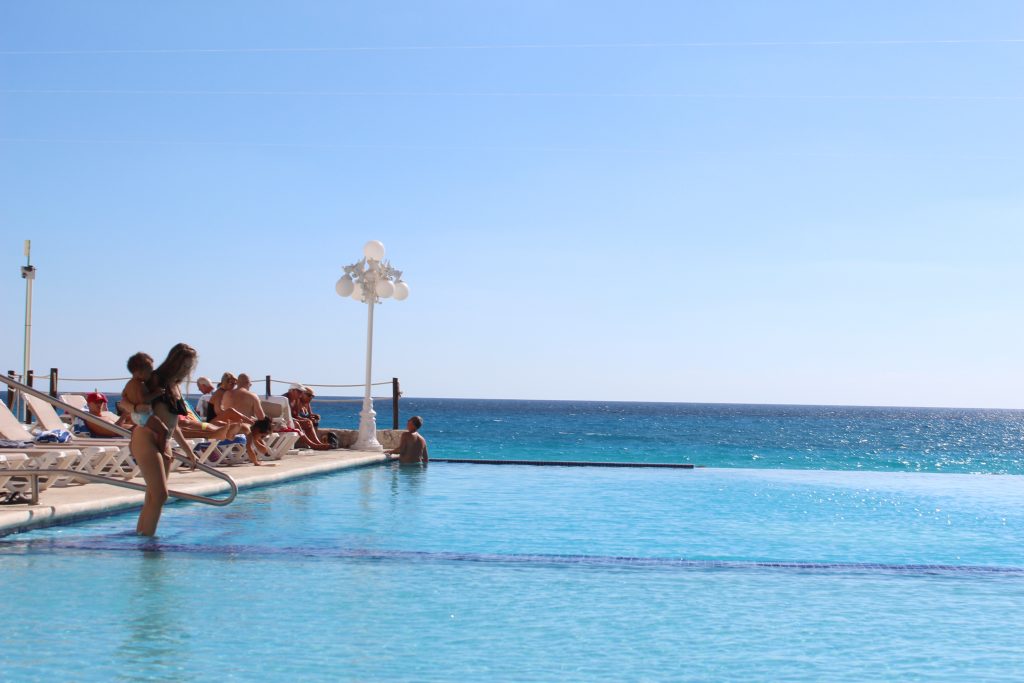 After a few hours at the pool, we checked out and looked for a place to clean all the sand out of the car before bringing it back to the rental office. Clay took the car to clean it at a local shopping center and me and the boys walked around and settled in at a Starbucks.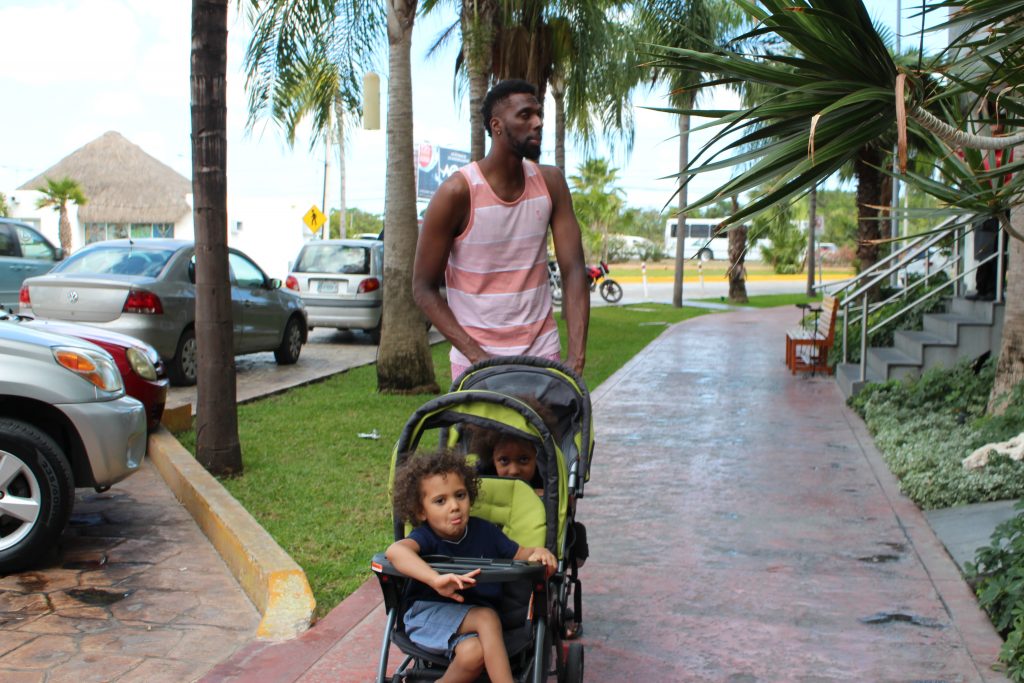 After the car was cleaned we were basically home free, we could get some food and then head to the car rental drop off spot and get our shuttle to the airport.
 
   
We found a nice little shopping mall with a cute little Waffle Restaurant we decided to eat at. I ordered the chilquiles, this time with verde salsa and a green sauce.
 Of course all the fellas got pancakes and waffles and Clay also ordered a monster salad.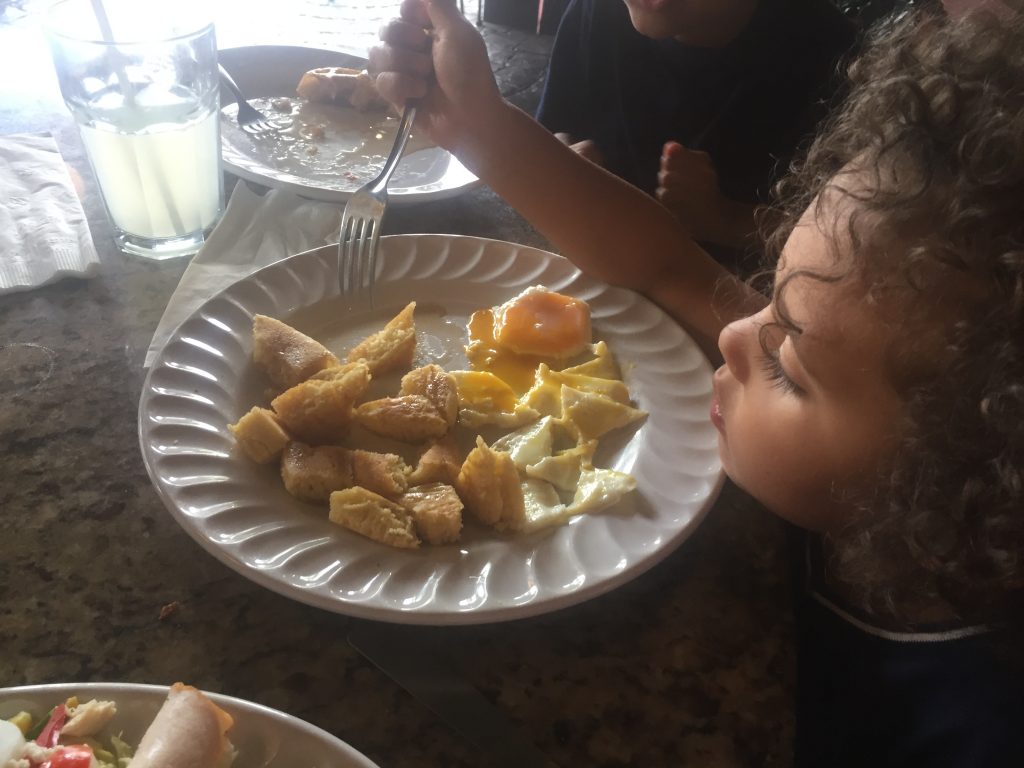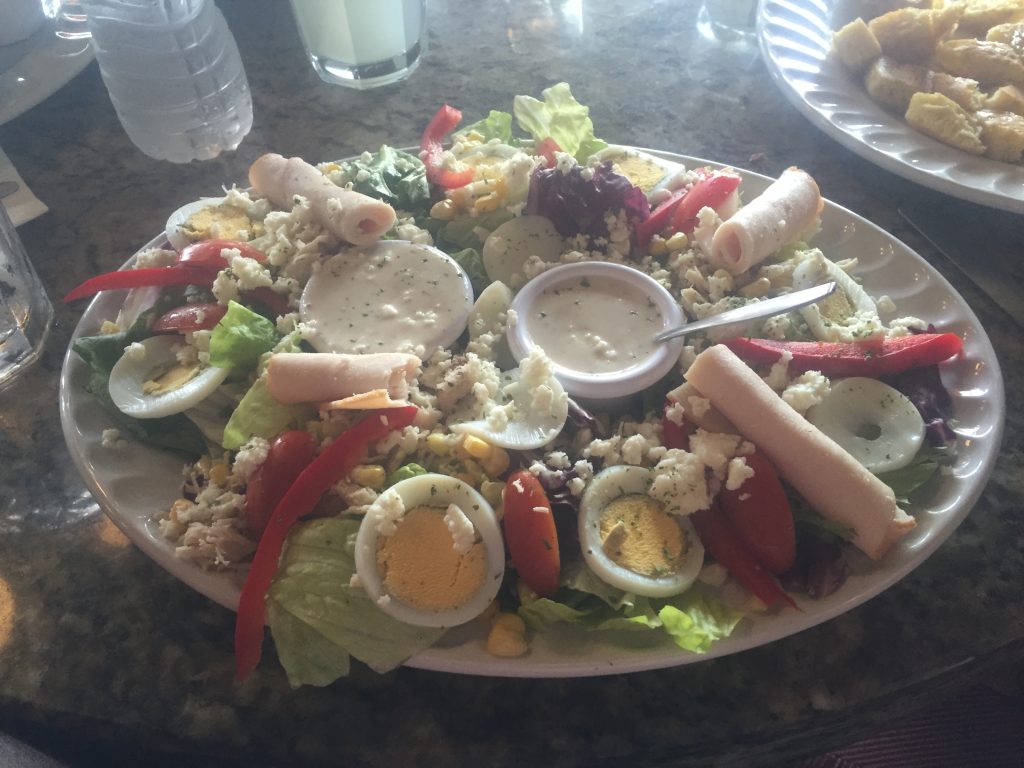 It was really a nice spot, they had a table you could sit at that had these swinging chairs, unfortunately for us it was only a two-seater so we had to just settle for a few pics.

Once the boys were done eating they had a huge pretend house that had two floors where the boys could play house.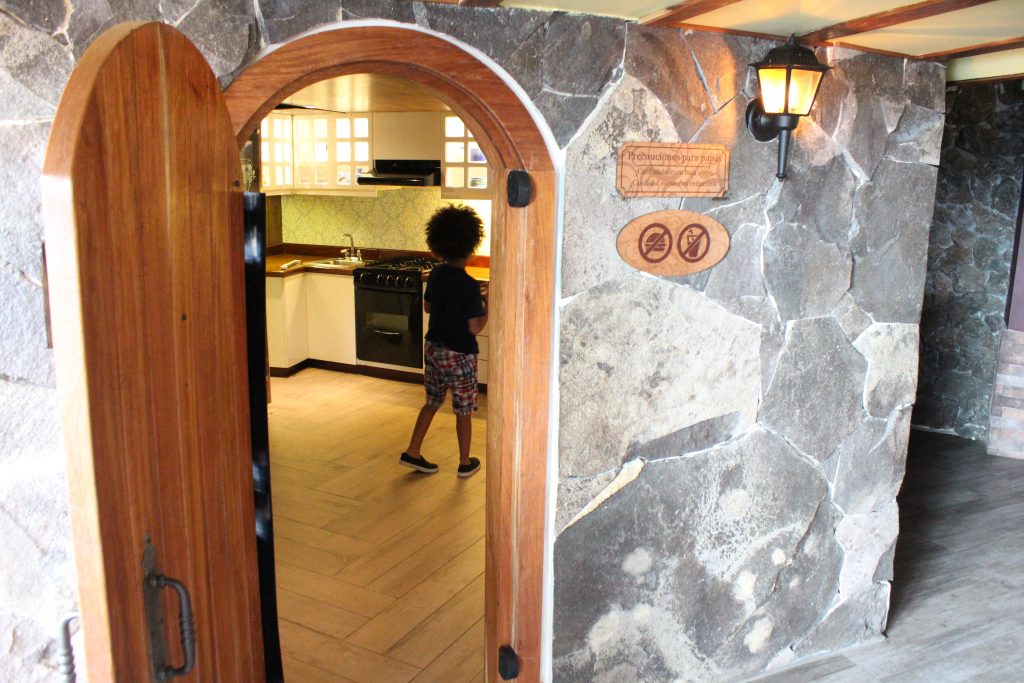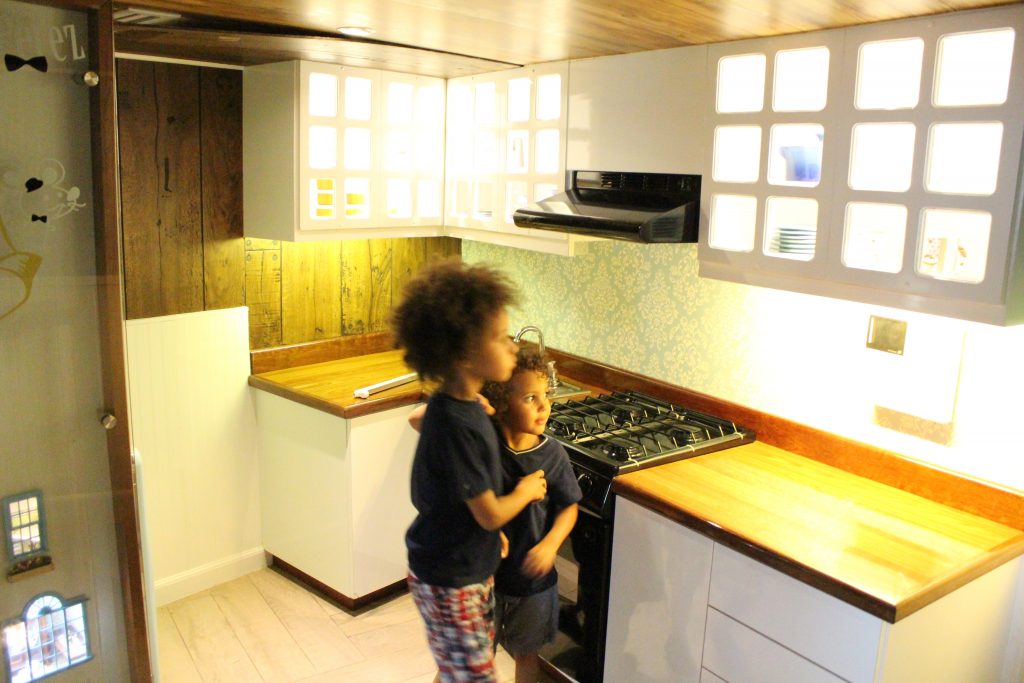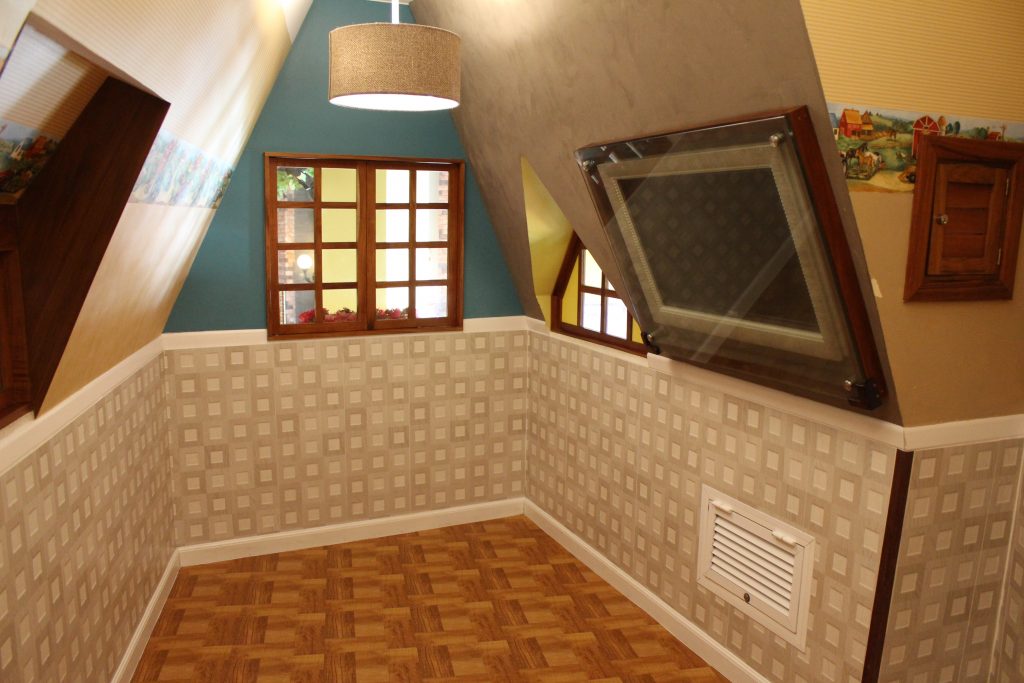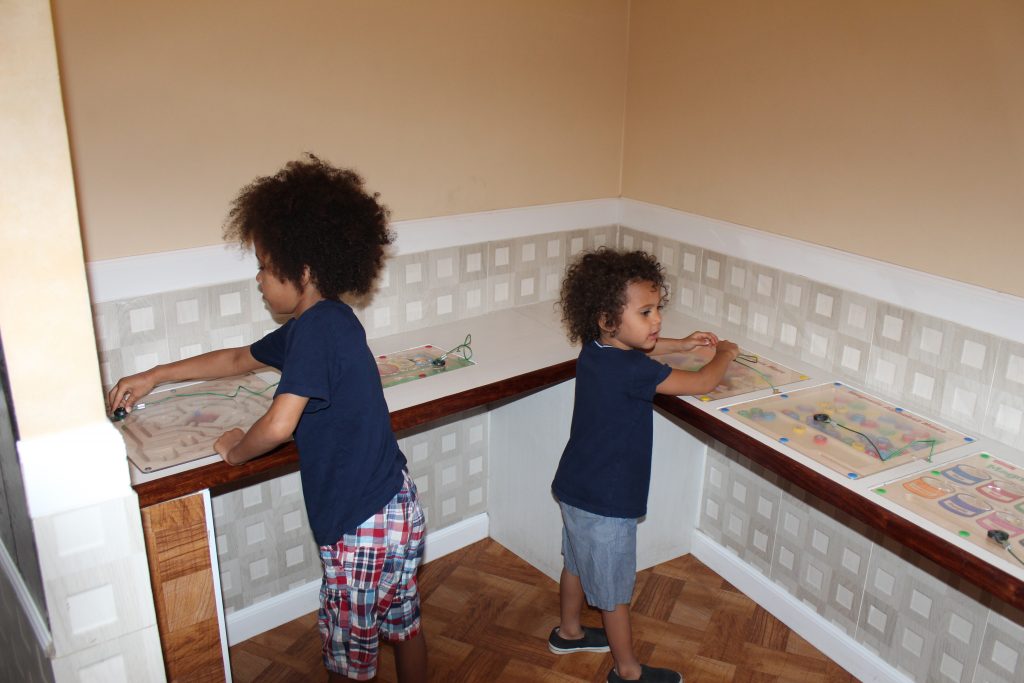 It was a complete replica, it had a  kitchen, a living room, and a play room upstairs with a TV on the wall.
The time was growing neigh. From there we took our car to America Car Rental  and waited for the shuttle for the airport. We breezed through airport security (maybe not a breeze but it wasn't that bad) and then we stopped for a couple gifts, then boarded our flight.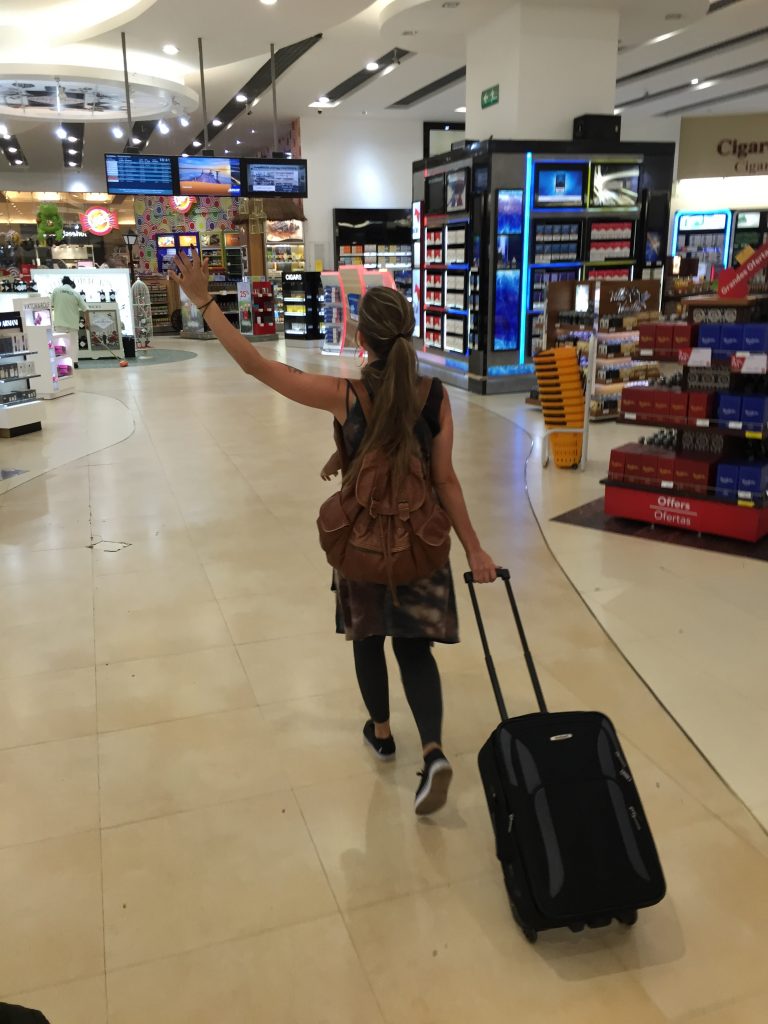 Neteur was already falling asleep in the boarding line and LaPharaoh followed shortly after. To our surprise Amoor stayed up the entire flight back. He was well behaved. He sat there and talked to mommy entertained with some preapproved games on the tablet. Clay and I barely closed our eyes although the plan was for him to take a nap while I kept the boys in order. Clay was opposed to getting another hotel in Jersey, he was determined to wake up in our own beds. We touched down around 11 o'clock at night. Once we made our way through customs we had to wait around because the airport shuttles were out of service. Our main focus was getting to the hotel where we stowed our car for the week. After waiting around for about 30 minutes our shuttle finally arrived and transported us back to the parking garage. We loaded the car up and hit the road, next stop Albany. This was the longest ride home everrrrrr. Apparently there was a mini storm so the road conditions were a little bit iffy. We took our time and made it back safe at around 5am. We did not wake up until about 1pm that day. Another trip in the books, one we'll remember forever. We Trip…We Tribe…We Vibe. Until next time, Tschuess!
Save
Save
Save
Save
Save
Save
Save
Save
Save
We Trip ⧫ We Tribe ⧫ We Vibe