I've been living in the Capital District region of New York for so long people often think I'm born and raised, Au contraire!  I was born and raised in Rochester, New York, and although I've been gone for the better part of a decade it always feels great to pop in town to see the family and friends when I can. Trips home, (yes I will forever refer to it as home) usually consist of the family piling into our Jeep and making the 3.5hr drive West on Route 90. Typically we try to steer clear of the Western NY winters, they ain't nothing nice, but weather permitting Rochester is a pretty chill place to be.Summertime is particularly nice. I love taking Hannah and the boys to the beach and giving tours around the city of some of my favorite places to eat. Rochester, New York will always be one of my favorite places to visit. I must admit, I am partially biased due to the fact It was my birthplace and I have so many great memories there. Nonetheless, Rochester is a very cultured city with a storied history and a great deal to see and do.
Here are 5 of my favorite things to do in summer while visiting Rochester, New York.
(Charlotte Beach, Museum of Play, Hedonist, Frog Pond, Sinbad's)
1. Ontario Beach Park

Summertime in Rochester is quite pleasant. When the weather is permitting there are some local beaches that are ideal for a good picnic/play date with the family.

Ontario Beach Park is one of my favorite places to take the family on a nice day. We really enjoy taking walks along the pier, the boys get a kick out of watching the boats and jet skis race by.

Ontario Beach Park is open from 7 a.m to 11 p.m so with the beach, the park, pavilions, and grills, all of which are available for public use, the activities are endless. We have spent hours letting the boys get their energy out kicking the ball around or playing tag.
If you work up a hunger there are some restaurants right on the beach. Here is a list of some of the restaurants you can find on the beach. Our favorite place to eat at the beach is California Rollin'- we love sushi! *Side note, for a nice date night or just some fun with friends California Rolling offers sushi making classes on the beach. Be sure to check the class times and availability as these tend to fill up rather quickly. So if you are in Rochester, New York and have a day to enjoy being out in nature, Ontario Beach Park is a great option. For a real treat check the local paper to find the exact time of sunset. Western New York has some of the most amazing sunsets and watching the sun disappear below the horizon of one of this countries Great Lakes is a quite the site to see. Have your camera ready you won't want to miss these shots.
2.Hedonist

If you ever find yourself in Rochester on a hot midsummer's day and you're looking for a unique ice cream experience you have to check out Hedonist! http://www.hedonisticecream.com/ Hedonist is located just outside the downtown area and they are well known for their small batches of uniquely flavored ice cream and sorbets using local and natural ingredients only.
Baklava, Whiskey Fig Goat Cheese, Lemon Grass with Candied Ginger, Chai with Chocolate Swirl, Coconut Curry, and my personal favorite Matcha Green Tea are just a few of their adventurous flavors. Hedonist keeps it fresh and often provide us with new flavors although they do keep a stable of common flavors like vanilla, chocolate, and strawberry in the rotation. Their sorbets are usually made with seasonal fruits. Their current sorbet offers a chocolate and blueberry hibiscus. Each and every flavor, even their regular ones, take your ice cream tasting pleasure to the next level. For example, their chocolate chip mint is made with spearmint and is not green because there is no artificial coloring in their ice creams.
Their sorbets are dairy free so this makes this a great place for vegans to get their ice cream fix in the summer as well. They will let you taste any flavor you desire to test it before you buy a cone full. Next door they have a shop filled with their in-house homemade artisan chocolates.
 The inside of Hedonist is quaint and small inside with just a couple of tables to stand at, so it's not a big dessert dine in place.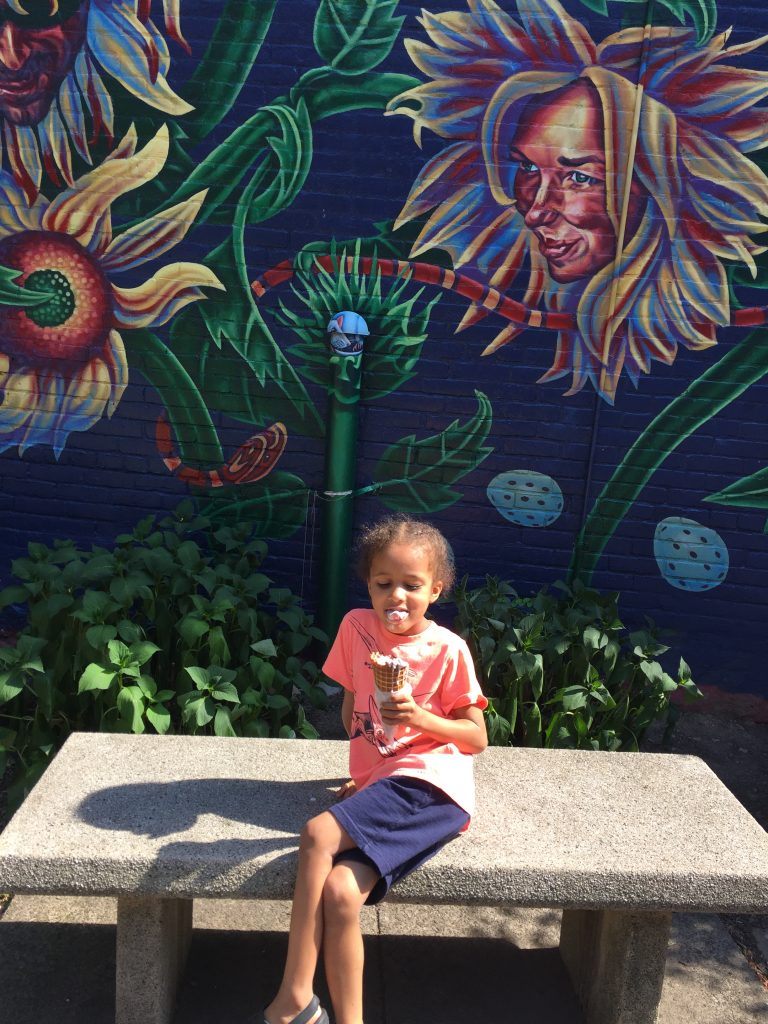 Nothing to fear, a few doors down there is an open area with picnic tables and some tree shade that provides an ample opportunity to enjoy your ice cream. I absolutely love this place and highly recommend it to anyone looking for a great next level ice cream adventure!
3. Museum of Play
 
Rochester's Museum of Play is a real treat especially for those families with young children. The Museum of Play has gained nationwide popularity and people from all over the country have made it their mission to make the trip to Rochester to experience it first hand. Located in the Rochester's Historic Downtown area, Strong's Museum of Play provides a full day of play and learning for your little ones.

Based on our experience children ages 1-12 are best suited for the activities and exhibits hosted by the museum. From mini grocery stores to arcade areas, to neon colored, pressure sensitive dance floors, Strong's Museum of Play caters to your children's wildest imagination.
Make sure you plan accordingly though because the museum is HUGE! We have spent anywhere from 3 hours to 7 hours inside the museum as there is plenty to see and do. The tickets were a little on the pricey side as adults are required to pay admission as well, but the joy of seeing your children enjoying themselves and literally on cloud 9 all day is priceless.
4. Sinbad's
 
Sinbad's is a place we have seen and driven past a number of times but we never actually sat and ate there until recently. I actually feel a little cheated because we had such a great meal at Sinbad's I feel like we missed so many other opportunities to eat there while visiting home. Sinbad's is a Mediterranean restaurant located in the stoic Monroe Ave area which features a lot of little-hidden gems. You find some really cool shops, stores, and restaurants just taking a casual stroll down the block. We have always been a fan of food from all over the world. Sinbad gives us a taste of the Mediterranean culture with options like Stuffed Grape Leaves, Mediterranean Pizzas, Kabobs, Pitas, and Specialty plates. There was plenty of outside seating with the enough room for our family of 5 to feel comfortable.

The restaurant seemed to be very popular with the local community and we even saw people dine with their dogs present. This was a little odd at first but I do recall when I was living in Europe it was quite common to see dogs at restaurants with their owners. All in all one Sinbad's immediately has become one of my favorite places (outside of my mom's kitchen ;-)) to dine in all of Rochester.
5. Frog Pond

Frog Pond is another restaurant located in Rochester's East End. My younger sister Shanita actually put me on to this spot. She knows how much I love breakfast and she lobbed me this gem here so shouts out to her. The Frog Pond has a good breakfast menu and boasts these specialty pancakes that are to die for…actually in today's society that may be offensive to some :-/ let's just say they're very VERY good.
With a wide variety of options on the menu for lunch, and breakfast served all day, it's no wonder The Frog Pond is one of our favorite places to have brunch in Rochester. To top if off you can order mimosas that make a nice little addition to the meal. The Frog Pond has an open, friendly, laid-back atmosphere and we are always excited to come in for those caramel smothered pancakes…on our "cheat day" that is.
The Frog Pond rounds out our list of 5 of our favorite things to do in Rochester, New York. If you are up for it some of the places we listed are complementary so you can hit Ontario Beach then head in for some homemade Ice cream from Hedonist, or you could wake up and have some breakfast at The Frog Pond before going to spend the day at Strong's Museum of Play. Whether you're a family with young children or just looking to mix it up a bit Rochester has a little something for everyone. We really enjoyed all the places we listed and have not been paid to express our views here. If you do visit or have visited any of the places we've discussed please comment below we would love to hear about your experience. Did we miss one of your favorite places? Drop us a comment below, Our Trippy Tribe loves to explore new places.
Save
Save
Save
Save
Save
Save
Save
Save
Save
Save
Save
Save
Save
We Trip ⧫ We Tribe ⧫ We Vibe