One of the great things about Hannah working in the service industry is that she gets a chance to talk to so many people day in and day out. Beautifying woman on a daily basis takes time and during this time Hannah has a chance to talk about different fun things to do around town. Ellms Family Farm was one of the things that people were ranting and raving about so Our Trippy Tribe decided to give it a shot. Honestly going to a farm to do some pumpkin picking is something that has never come to my mind as being something "fun" to do. Hannah always cracks on me saying "you are so skeptical at times, and then once we get you there you have a GREAT time". Welp, what can I say…guilty as charged, once again! Originally we wanted to go to the pumpkin patch on Sunday but those plans fell through because I had 2 rec league basketball games and with the farm closing to the public at 6 pm there was no way we could make it work. So we took a rain check on Our Trippy Tribe's pumpkin picking adventure. Fast forward to Wednesday of the following week, it was a gorgeous 75 deg day out in Ballston Spa and we set out to Ellms Family Farm to see what all the buzz was about.
    Hannah did some research to get some of the particulars about Ellms Family Farm before arrived. We did find out that because it was during the week some of Ellm's most popular activities wouldn't be available to us on this beautiful Wednesday afternoon. During the week you miss out on Pumpkin Express, Shooting Galleries, Gemstone Mining, Challenge Course all of which are only available on the weekends.
 Honestly, we got there an hour after opening and stayed until closing and we still didn't get thru all the activities! We couldn't believe how much there was for the boys to enjoy even with some main attractions being not available! Check out Ellms Family Farm website for their hours and pricing for your visit. After we got our wristbands and tickets for the corn maze we made our way into the farm.
The first thing we pulled up on was a concession stand where they were selling popcorn, cider, and donuts. The boys wanted some donuts and cider so I waited in line and we sat down to have a quick snack.
The biggest mistake of the day was spawned in these moments.
There was a serious bees invasion, I don't quite know if you can invade your own territory but either way they created a severe annoyance. At any given time we had 3-4 bees on or around our stroller basically for our entire time there-the boys were not too thrilled about it.
Tip of the day wait until the end or finish cider on the spot before strolling thru the farm. If you have children who are allergic to bees I would say maaaaaybe skip the cider altogether.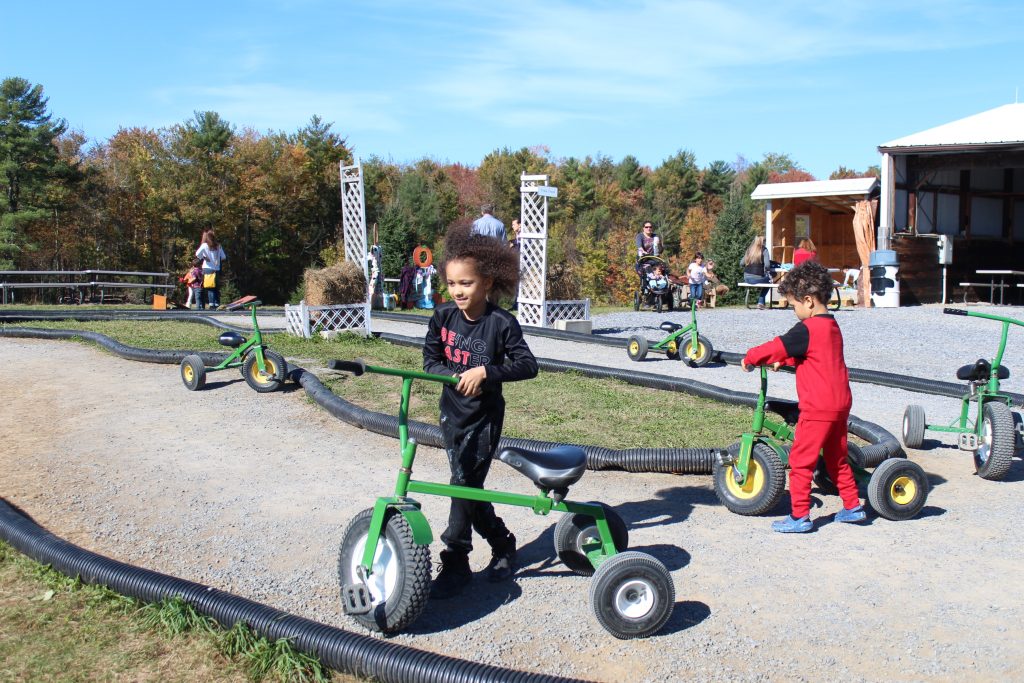 After having a few snacks and picking up some unwanted guests we made our way to our first activity-tricycles and slides.
The boys were having so much fun and we had literally just stepped into the place.
We allowed them to do their thing for about 15 minutes before pulling them away so we could move on.

I'm not quite sure what I expected on this little family field trip. Most likely I was thinking along the lines of; tons of dirt, bugs, pumpkins and a few activities for kids.
To my surprise this was actually some of the most fun the boys have had… maybe EVER, and we didn't even get a chance to pick any pumpkins!!! LaPharaoh (5), Amoor (4), and Neteur (1) had such an amazing time it was almost like Ellms Family Farm was specifically made for them.
We spent our entire time (from 11:00 am-2:00 pm when they closed) in one area of the farm that was perfectly suited for that 2-7-year-old age group.
The boys had their fair share of slides, bouncy bounces, bike races, and zip lines before we closed this place out.
We spent 3 hours there and only saw a very small portion of this place.

We actually had to rush thru the family peddle karts, the sports area, pumpkin maze, and we skipped the corn maze in favor of hitting the zip lines before we made our exit.
Ellms Family Farm had goats, pigs, and chickens that we had to drag Neteur away from so they could close up shop!
The boy's favorite things were these plastic cars they used to race each other down the hill.
We didn't find the zip line until about 15 minutes before closing and that could have easily taken up 45 minutes of our days trip. 
Unfortunately, due to scheduling conflicts, we won't have an opportunity to visit the Ellms Family Farm on any of the peak days (Saturday & Sunday) where all the activities are open to the public. Although we didn't see the whole farm and missed out on some of the key features they advertise we had such an amazing time and will definitely be back again this season.

If you have young children or family members this is an ideal place to go spend some quality time, watch out for the bees though!
Comment Below and let us know if you love Ellms Family Farm as much as we did!
Save
Save
Save
Save
We Trip ⧫ We Tribe ⧫ We Vibe