Playing ball in Spain was the best of times and the worst of times but one thing's for certain I could not WAIT to get home to be with my newly crafted family. First line of business was planning a much needed family vacation. We were very close to just booking a flight for Hannah and baby LaPharaoh to fly out to me in Spain but after some further deliberation we decided to go with Hawaii instead.
After all that time apart we didn't just want your average vacation we wanted a special trip, something exotic. True to our trippy tribe vibe, our plan was to fly out to San Fran, rent a car, drive down the Pacific Coast Highway to Los Angeles and fly to Hawaii for a week.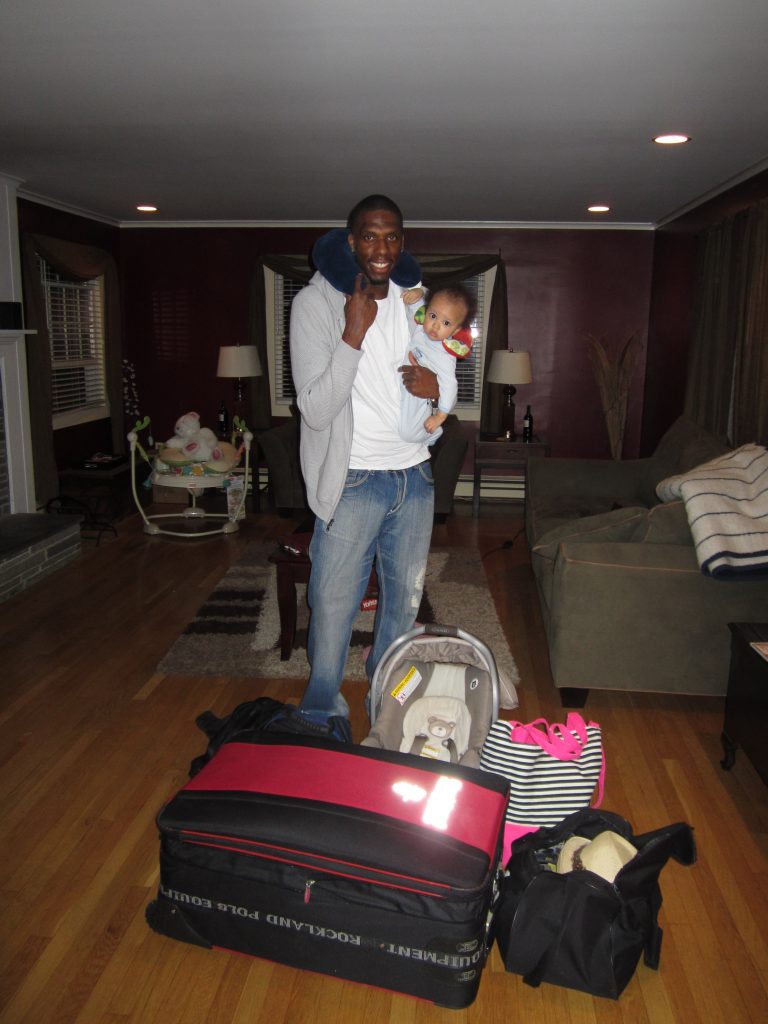 On paper it was a fantastic idea! Check out San Fran, Monterey, Big Sur and drive along the awe inspiring Pacific Coast all in route to our island oasis. The trip began at 3:30am with us calling for a taxi to the airport. We arrived, checked in, were on time, and in route to San Fran. After a short layover in Chicago, we arrived in Frisco, picked up the rental, grabbed some lunch, and hit the road down to Monterey.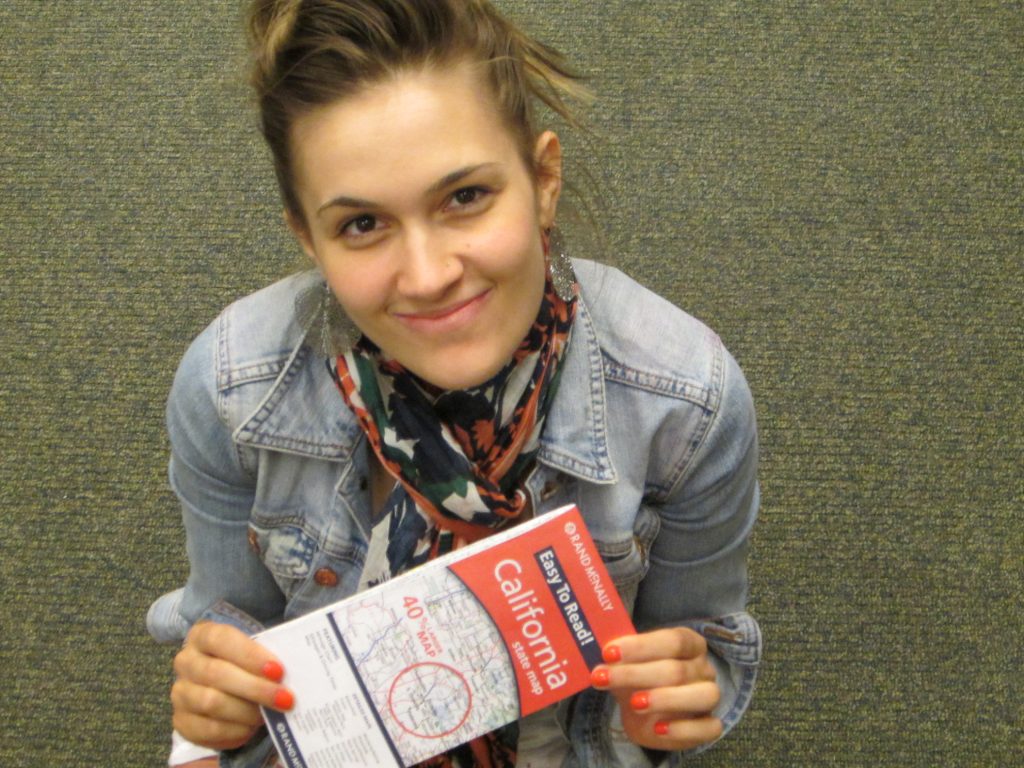 We enjoyed our short time in Monterey. We did a wine tasting, walked the pier and even caught a glimpse of some seals hanging out on the rocks baskin in the sun.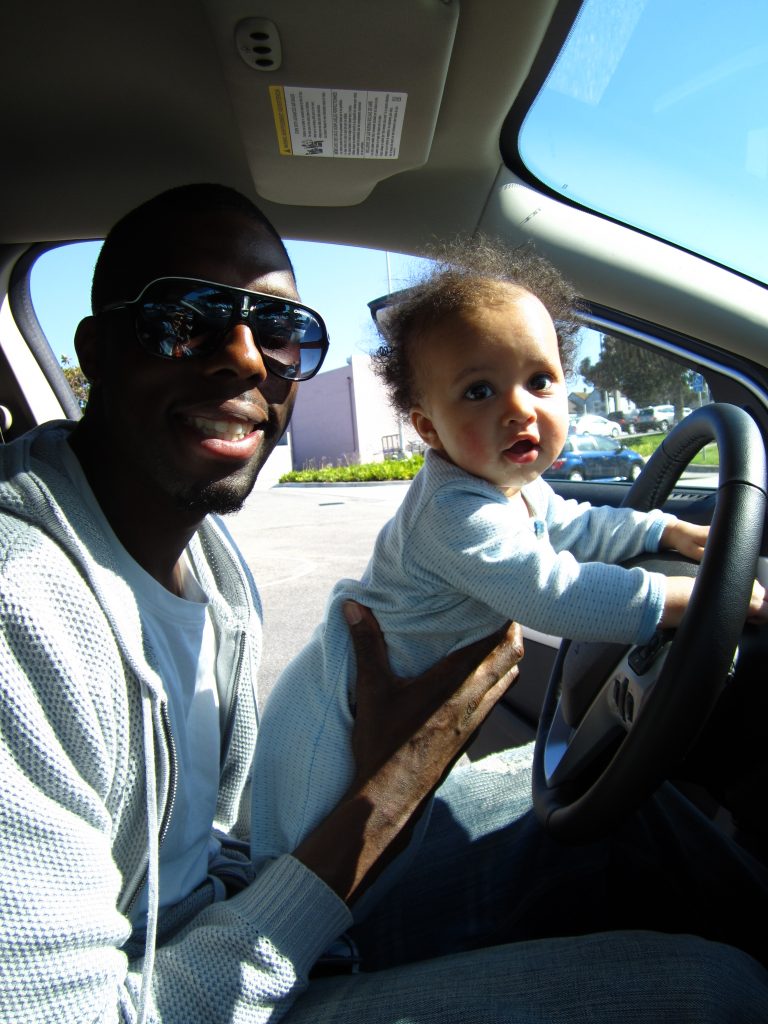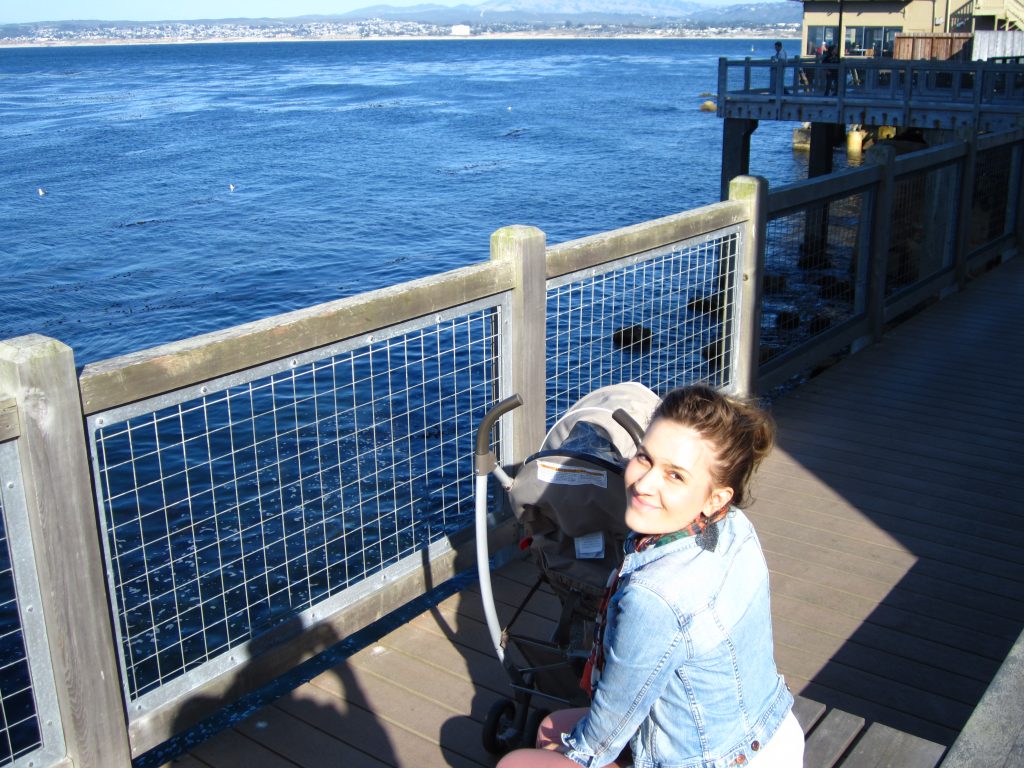 As we moved further along on our journey we came up on Big Sur. What an amazing site to see. This is actually on our bucket list to get back to, we need to spend some proper quality time there. The huge redwood trees towering over us,the rays from the sun peeking through the leaves, and the ocean waves crashing on the rocks below, the vibe was perfect.
Up until this point the trip was great, LaPharaoh was at peace, Hannah was happy, I'm good….we gooood, it was completely stress free. Boy o boy did that change!  Little did we know this was not your typical ride. Night time driving the Pacific Coast Highway especially with a schedule to keep is a TERRIBLE idea. First of all there was very little lighting on the roads and we didn't have the benefit of the moonlight to help guide our path. Normally this wouldn't be a problem, cars have headlights right? Well this ride has crazy winding roads where the speed limit was 15 mph. Typically when you see a speed limit sign it's more of a 'suggestion' but 15 mph was literally the speed I had to drive so we didn't fly off the cliff. This was a scary ride and I was up against the clock. Our plane was scheduled to leave LAX to Hawaii at 8:00 am, and here we were 11 o'clock at night, GPS is saying 7 hrs away, we're losing service, time is ticking and I'm starting to think we're never gonna make it. Our only option was to get off the Pacific Coast Highway and head for an interstate thruway where we could move much faster and more freely in an attempt to make our flight.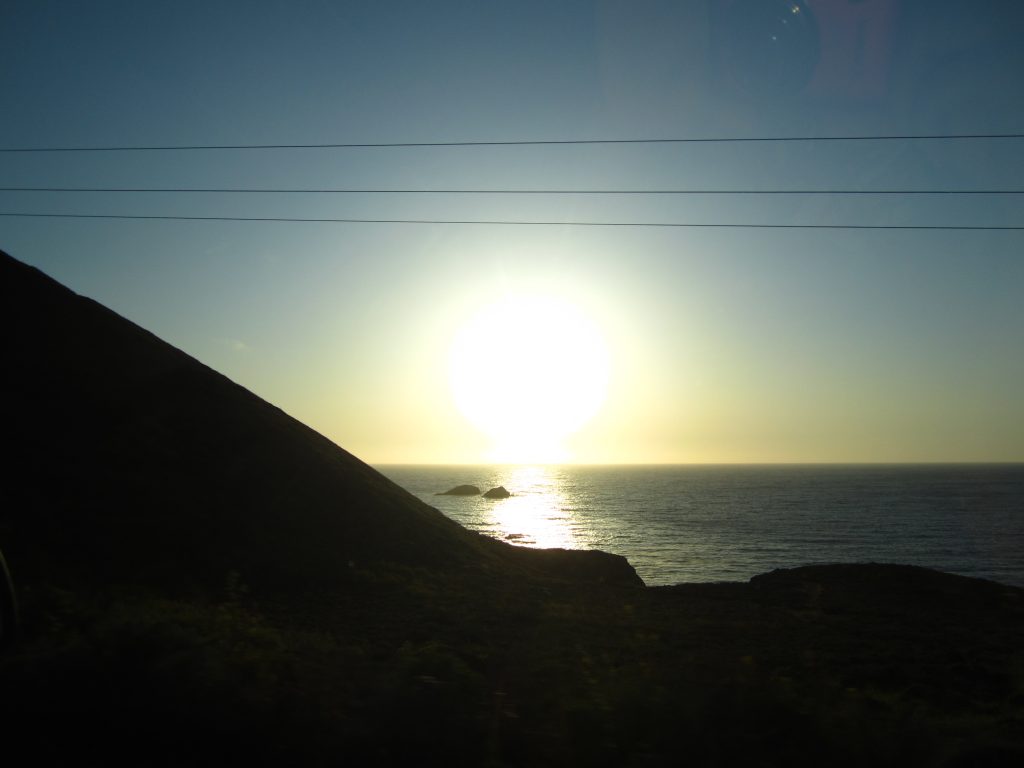 Fast forward through the random stops for 5 hour energy and coffee, returning the rental, and catching the shuttle, we arrive at the airport feeling safe and sound just to find out that they had moved our flight time up. So here we are thinking we can finally exhale just to find out that our flight is leaving sooner than expected…the hits just keep on comin'!  We hustled through customs and security. We did end up just barely making our flight on time. After wrecking my nerves for the past eight hours I was more than welcoming of the uncomfortable airplane seats, I was due for some much needed shut eye. The peace of mind of having my family safe and sound on our flight was everything.  Deuces…Next stop Waikiki.
Flying over the waters has always been something Ive really enjoyed. Usually I'm flying over the Atlantic but flying over the Pacific was nice for a change. It's very difficult for words to do Hawaii justice, there's something really special about this place.

When we touched down we purchased a shuttle service that would take us to our hotel and back to the airport for our return flight. Hannah arranged accommodations for the week at The Waikiki Grand Hotel. 
The beach was literally a 5 minute stroll away.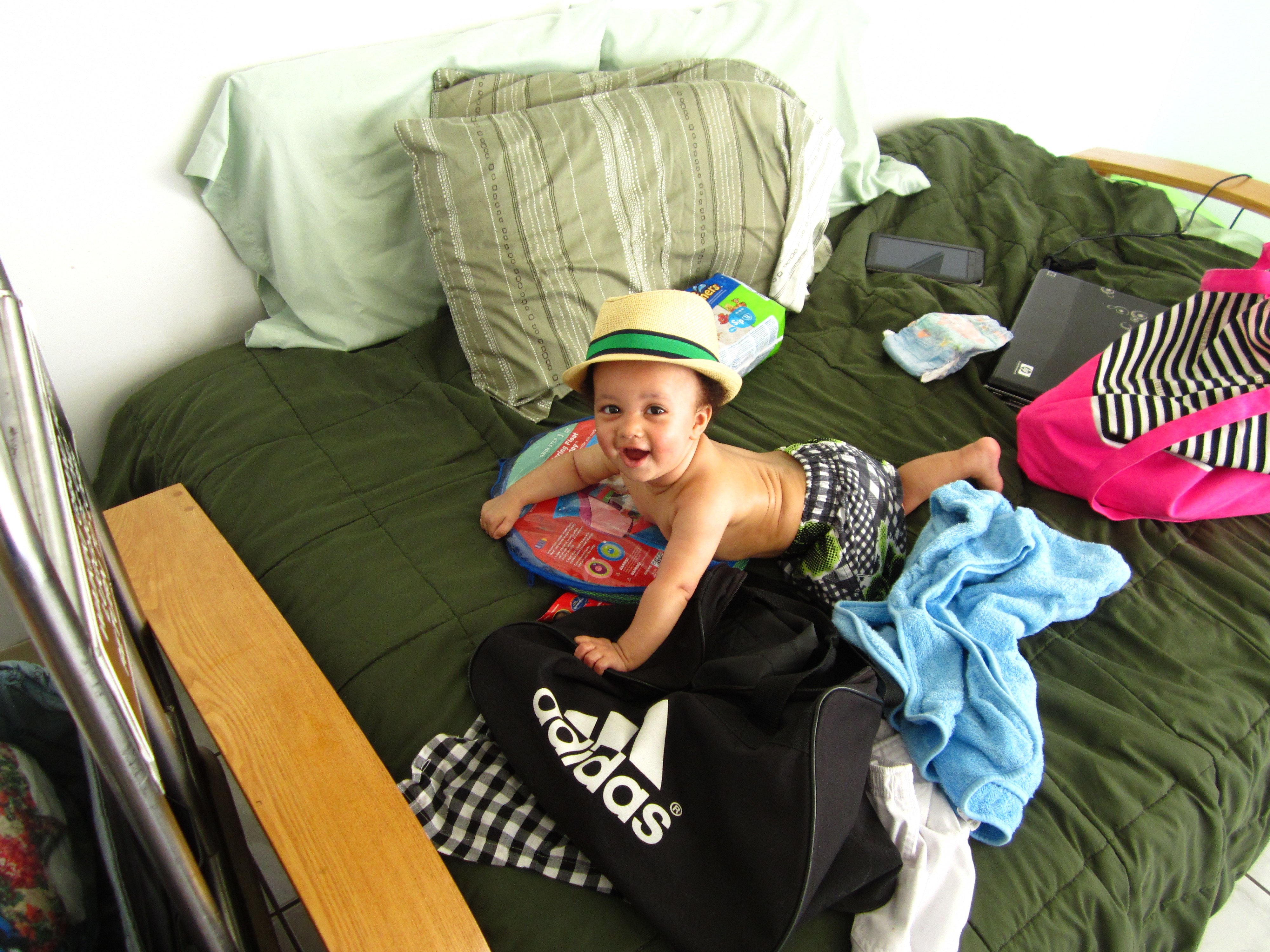 We dropped our stuff off at the hotel and ran out as fast as we could to find some food and explore the beach! We just walked around the corner and up the block to one of the first places we saw Cheeseburger in Paradise couldn't pass that up!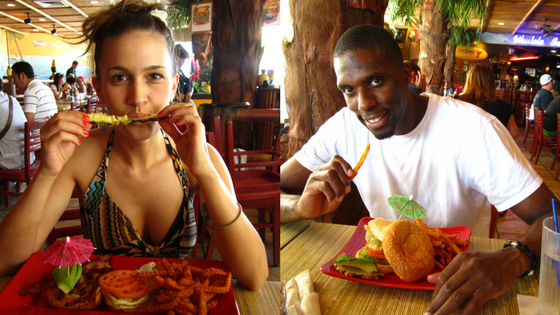 Hannah is the QUEEN of travel research so she already had a few activities planned out for us. After a long day of travel we deemed it best fit to just spend that first day on the beach taking in the Waikiki sun.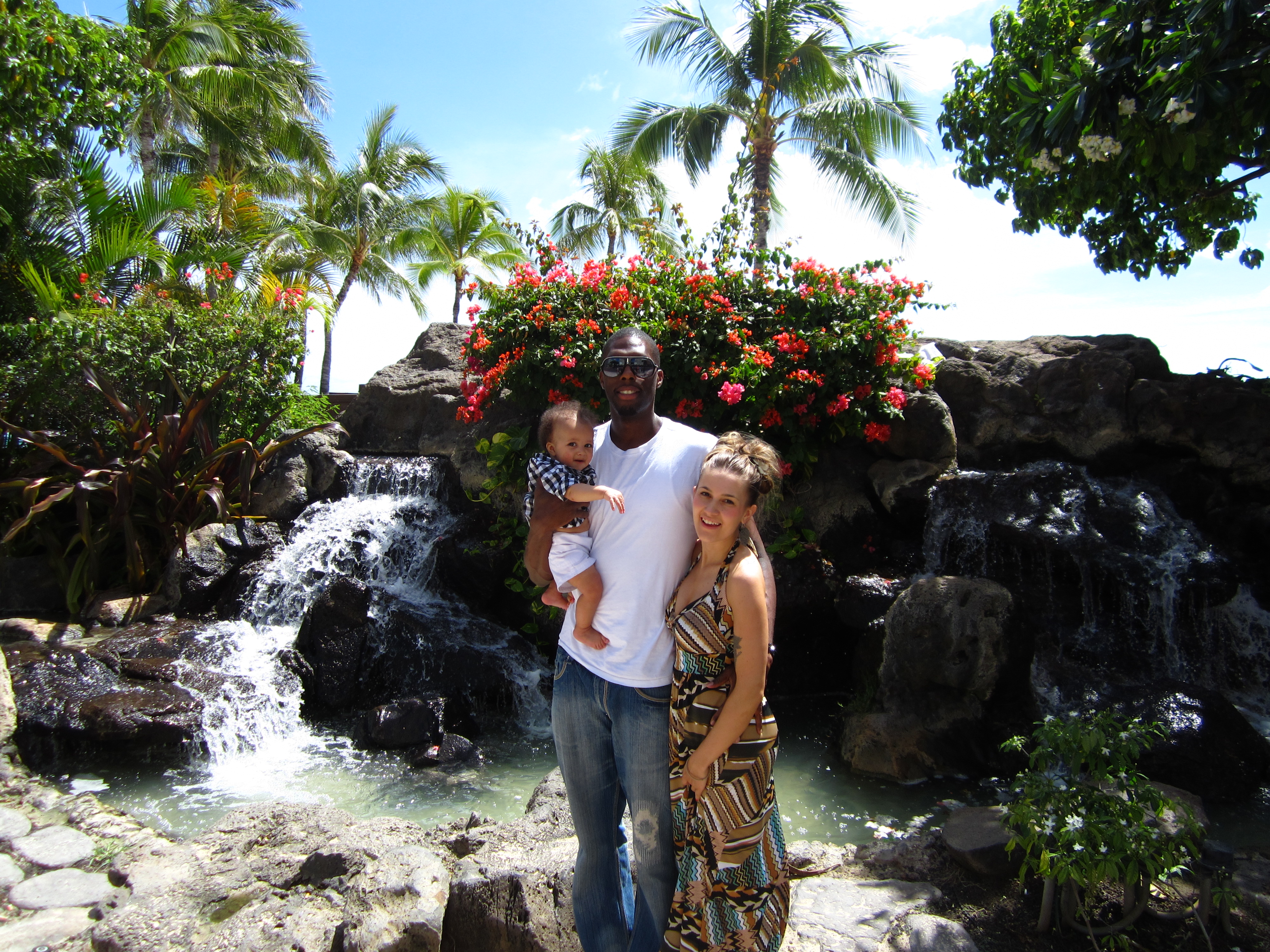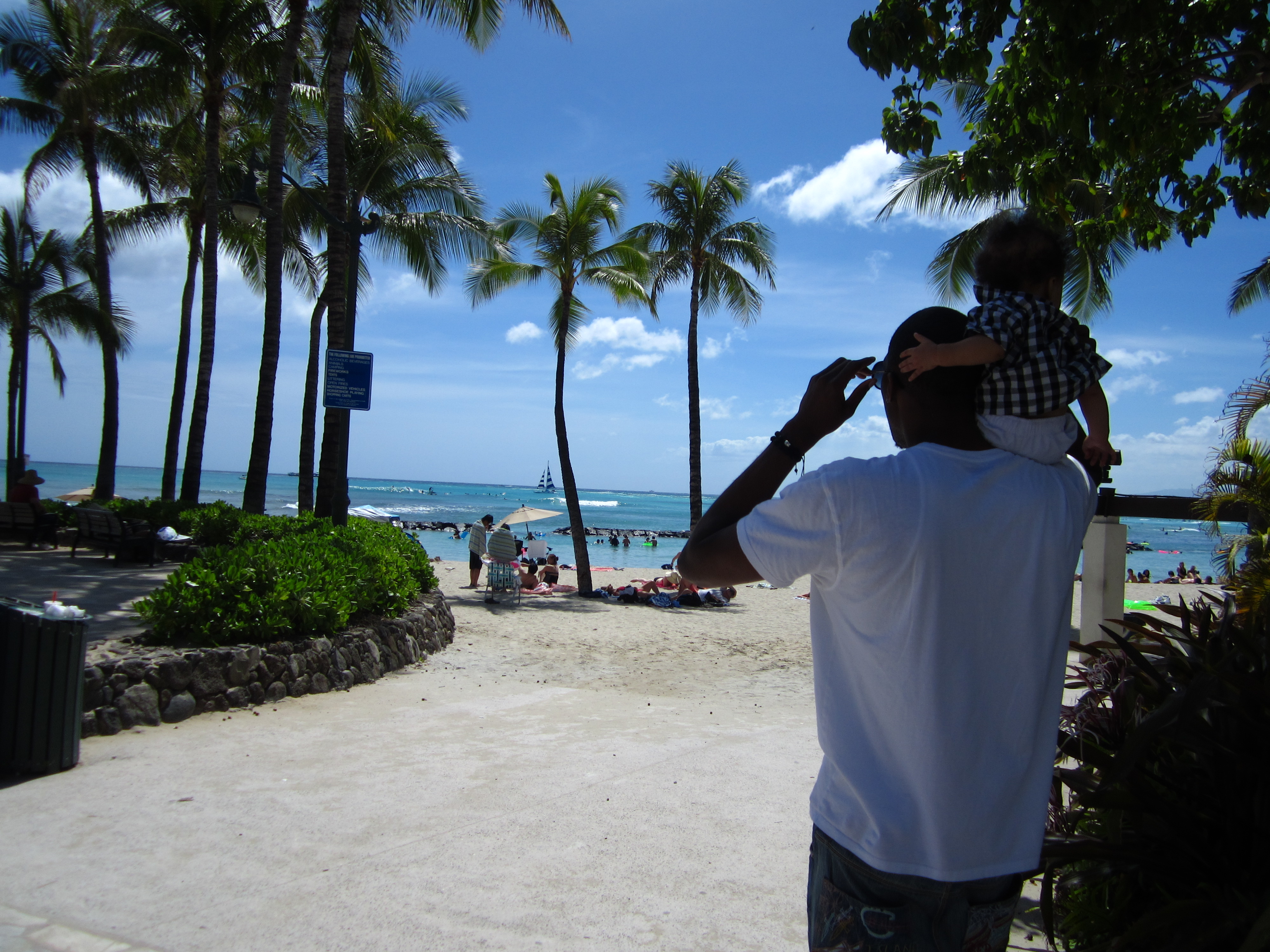 The Next morning we stopped at LuLu's a nice little restaurant we refueled up at before our day's adventure. It was located between our hotel and the beach, so naturally we frequented Lulu's a number of times.
Today's trip included a hike along the Kaiwi State Scenic Shoreline. We found a local bus that let us out right at the shoreline. The Makapu'u Lighthouse Trail was a nice family friendly hike, some of our favorite pictures came from this 3.3 mile trek. LaPharaoh was such a good sport.



We had no problems out of him while he was being chauffeured around courtesy of  the pack (baby bjorn).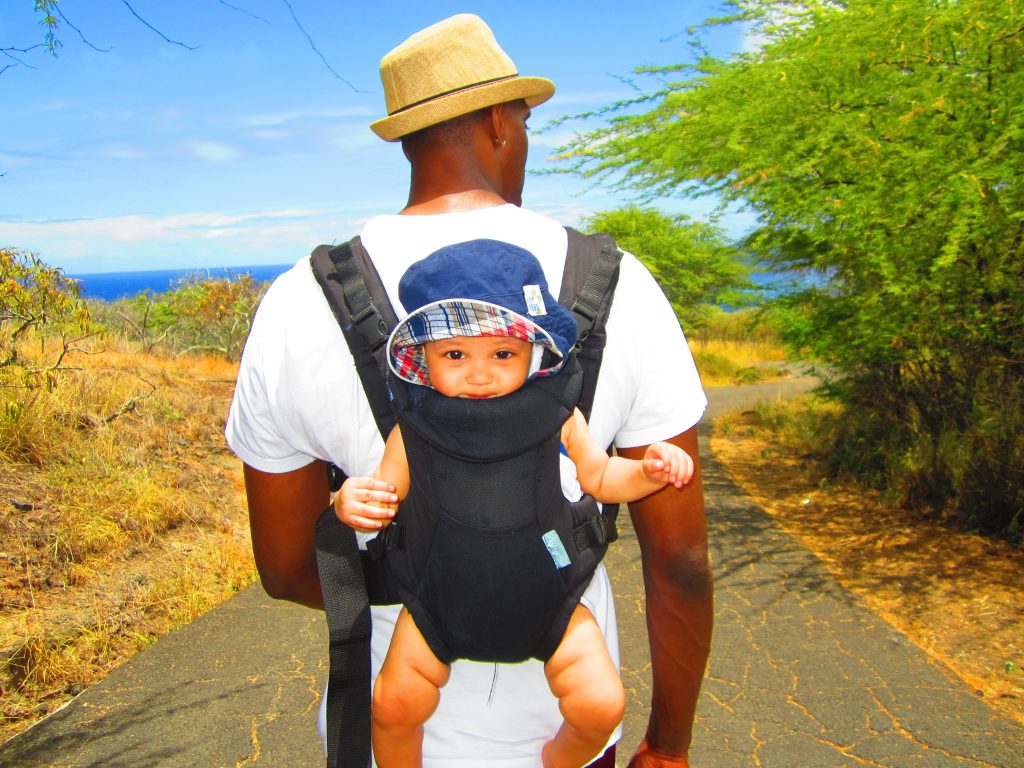 After hiking and capturing some great moments we decided to cool off at the Makapu'u Beach we found nearby.
 
After our rendezvous at the beach we caught the bus back to downtown Waikiki and sat down for lunch at the Da Big Kahuna.

We had a couple drinks, enjoyed some good food and caught some of the Celtics/Heat Playoff Game…we even squeezed in a couple games of rummy, what more can a man ask for!?
After our dinner we walked along the beach and called it a night, tomorrow would be an early day.

The next day we woke up early in an attempt to find the Haiku Stairs.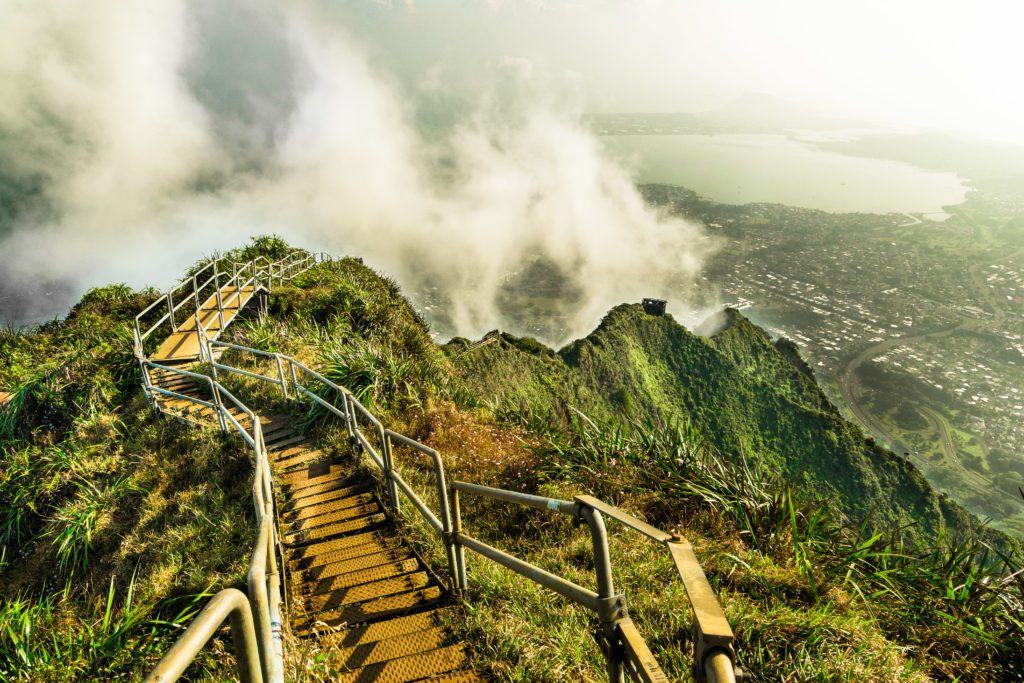 We had been reading about the "staircase to heaven" a popular tourist attraction recommended for those who were active and adventurous. We were on a mission to find it. We traveled all over the island looking for this place. We used GPS, asked guest services, interrogated bus and taxi drivers, it felt like we asked any and everyone, but to no avail. In hindsight I take it as a sign that this was not an excursion that was exactly ''family" friendly. After returning from our trip we talked to some friends who had made the climb and they said in no way shape or form would you be able to carry a baby and make the climb.

Big gulps ay (pause)…Welp, there's always the beach and that's exactly what we did. We returned to our hotel got beach ready and spent the rest of the afternoon maxing and relaxing on the beach.

The water was perfect, nice and warm just like I like it. LaPharaoh even got a chance to test out his little floating baby raft or whatever you wanna call it.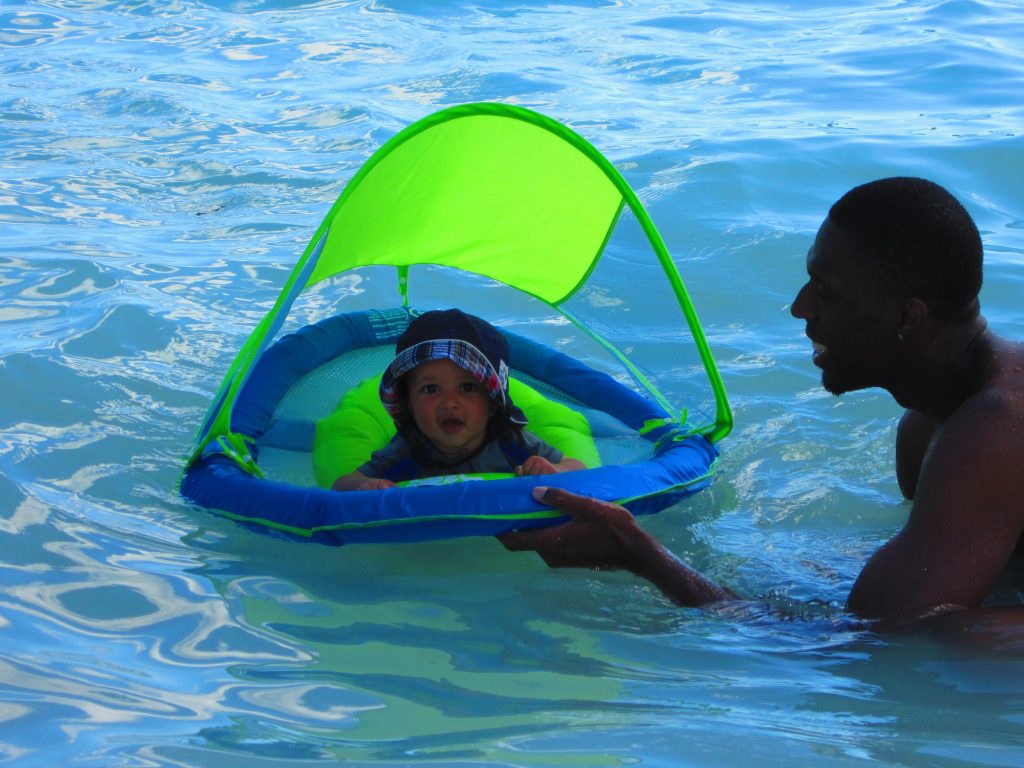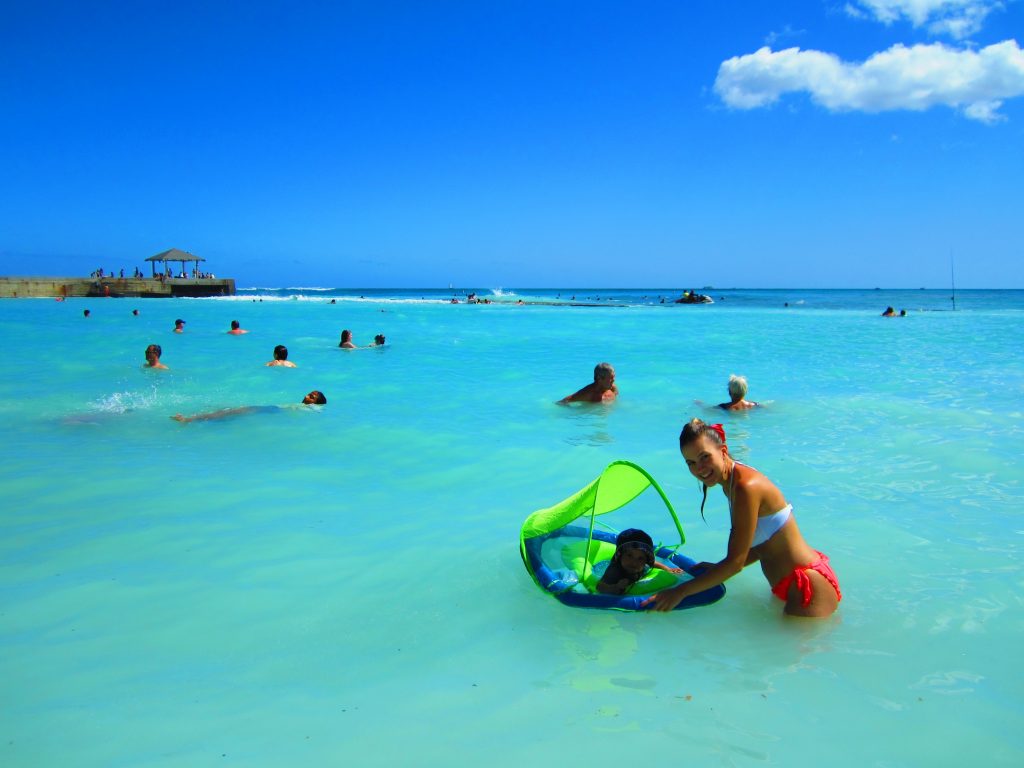 We stayed long enough to catch the beautiful Hawaiian sunset, it was an ideal way to end the day. We grabbed some food to go from Lulu's and headed to our room.  Tomorrow would be another early morning.

We arose with the sun the next morning. Today's excursion was snorkeling at Hanauma Bay. We found a bus that let us out right at Hanauma Bay. Upon arriving and purchasing our tickets we watched an instructional video about how to swim properly so we wouldn't damage the coral reef. There were also charts that detailed some of the different species of plant and animal life we could encounter.
We were really hoping to see some of the baby sea turtles that were known to frequent the Bay. We had a fantastic time snorkeling and relaxing on the beach, but it was bittersweet.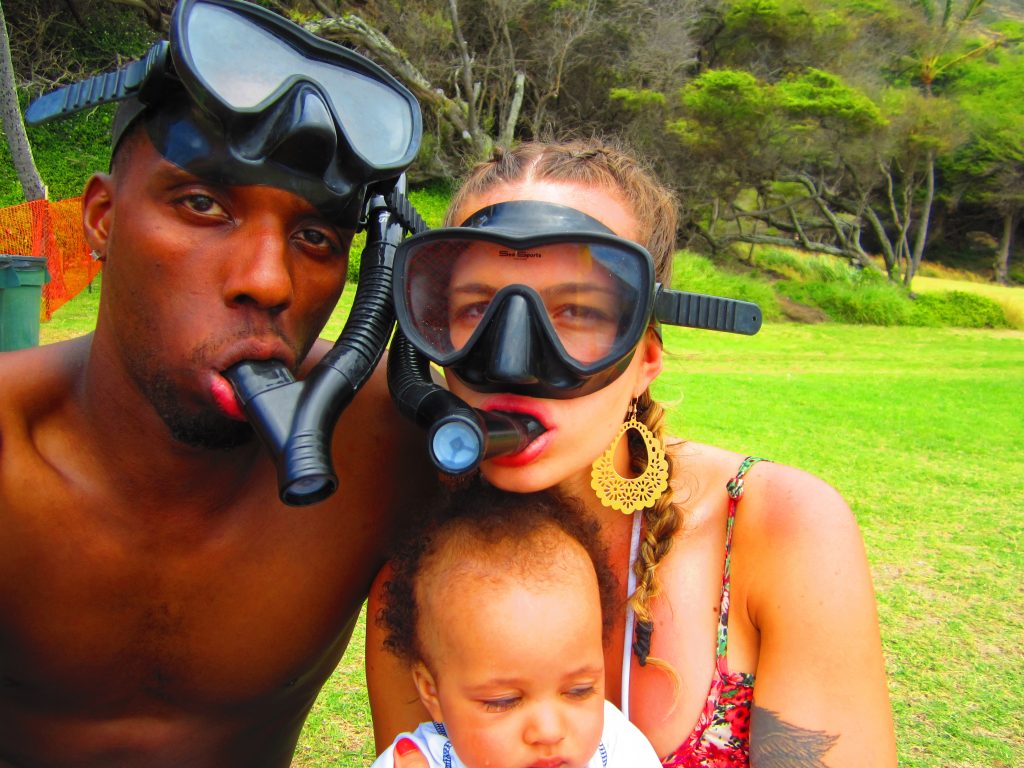 We could tell all the tourism was taking a toll on all the marine animals. The reef and the supporting wildlife just weren't what they used to be. Mongooses everywhere, apparently they ran things on the island. I am a bit of a animal nerd, and didn't recall the mongoose being native to Hawaii. Upon further investigation we found out the mongoose was brought to Hawaii to help combat the growing mice population. The experiment did control the mice population but the mongoose thrived and became the new problem species. They were literally everywhere.

 It was still a great day trip with the family and we met some really interesting people. The condition of the reef left a bad taste in our mouths and we were somewhat dissatisfied with Hanauma Bay, but to it's defense it was more circumstantial than anything else.
 After Hanauma Bay it was lunch time, we found this amazing Korean restaurant called Marukame Udon. Now the lines for this place were all the way out the door and down the block. We had actually saw it the day before because it was right across the street from Da Big Kahuna…it had a line then too. Me personally I didn't want any parts of this place. Wait in a line… and I gotta give you my money?…This was something I would normally avoid. Hannah 'The food addict' was so freakin' adamant about this place I had to yield. I admit her logic was sound, long lines both days people must be waiting for a good reason. So we stood in line for about 25 minutes and placed our order. The other great thing about this place is you are moving with your tray in kinda a lunch line method but all along the way you get to customize your order while watching someone making fresh udon noodles! 
This was probably the freshest and best tasting noodles I've ever had in my life. Great call by Hannah not only was the food bangin' it was worth the wait and it was even reasonably priced. After we ate we walked around and peeked into the local business and little shops in the downtown Waikiki area. One of the things I really enjoyed about the island of Oahu was how it had many layers to it. I spent a couple months living in Spain's Canary Islands (Las Palmas) and it was a really small island where I felt a bit trapped. Maybe I was suffering a mild case of Island fever or something but Oahu was different, it was much bigger. We could enjoy a private beach in a secluded part of the island, plush with nature and wildlife… then take a 30 minute bus ride and be right smack in the middle of a booming metropolis with some common stores like Walmart and H & M. It was like the best of both worlds.

Later that evening we took a stroll down Waikiki's strip and decided to eat at this fascinating restaurant called Hai Tree Lenau.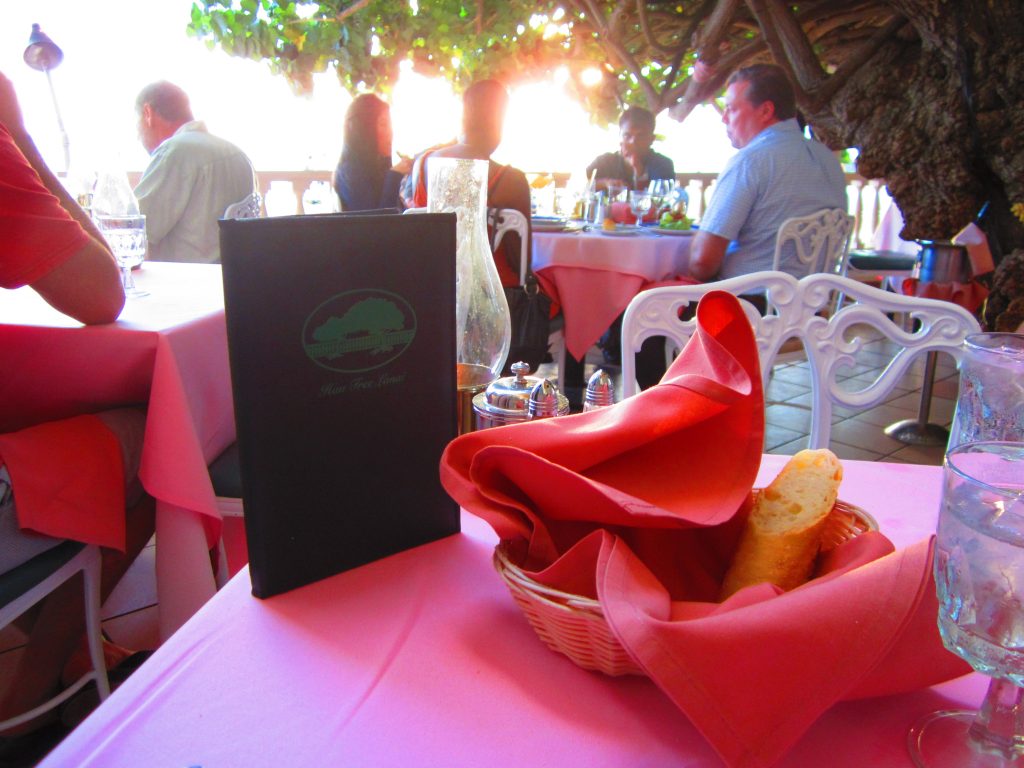 The food and the view were incredible! This place was one of the most unique places we've ever eaten because it literally had a huge tree growing through the middle of the restaurant. This was definitely the luxury meal of our trip and we enjoyed it right on beach. Hawaii was all we thought it would be and more.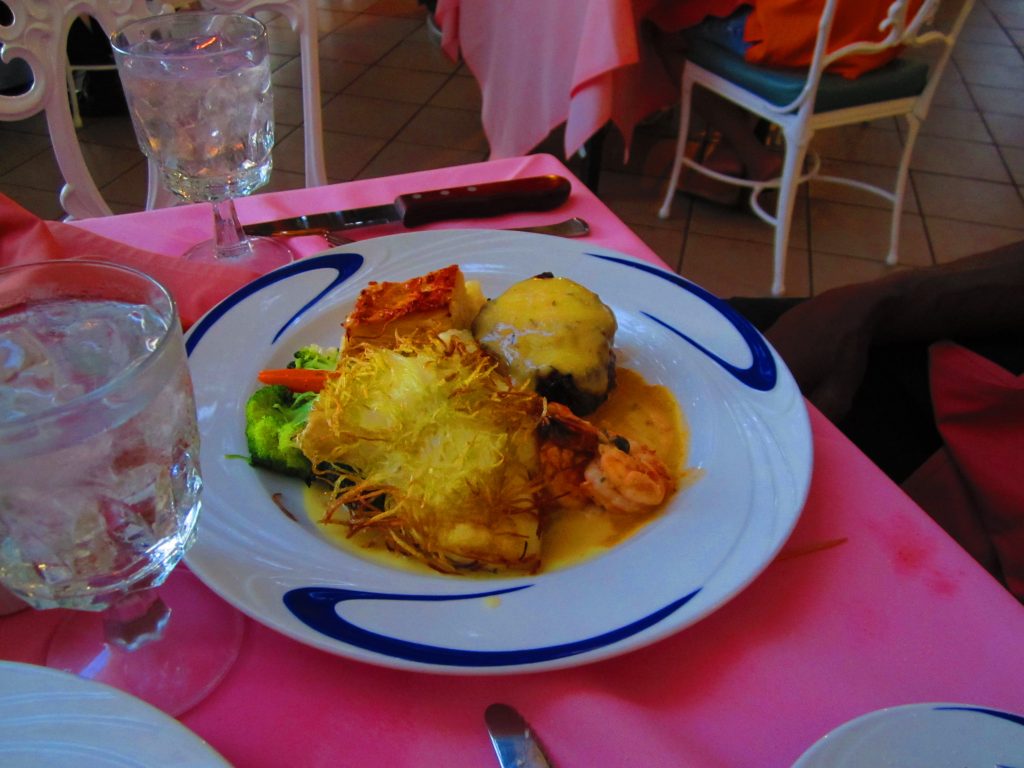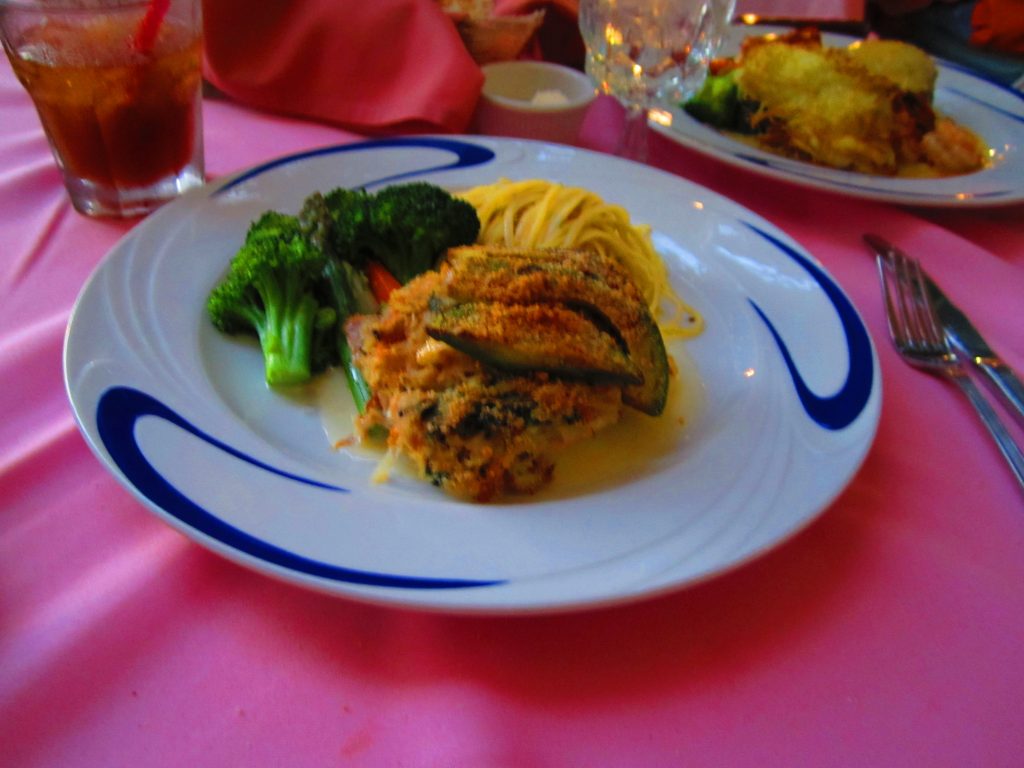 After dinner we took a night stroll, watched some live music and street performers. Then returned to our hotel where we enjoyed a glass of wine and took in the views of the palm trees and the ocean under the light of the full moon. PRICELESS!

By far my favorite part of our Hawaiian vacation was swimming with dolphins. Now swimming with dolphins is always a big deal but this was extra special and adventurous because we would be swimming with wild dolphins in their natural habitat. The dolphin excursion was something on our list of things to do but as we got closer and closer to the end of our trip it seemed less and less likely that it would happen. After eating lunch at (BURGER JOINT) one day we walked into a travel agency and inquired about swimming with dolphins. To our luck there was an available spot for Hannah, LaPharaoh and I the following day at 530am. The following morning we showed up at the meeting place to catch the shuttle to the dock for our Eo Waianae dolphin tour.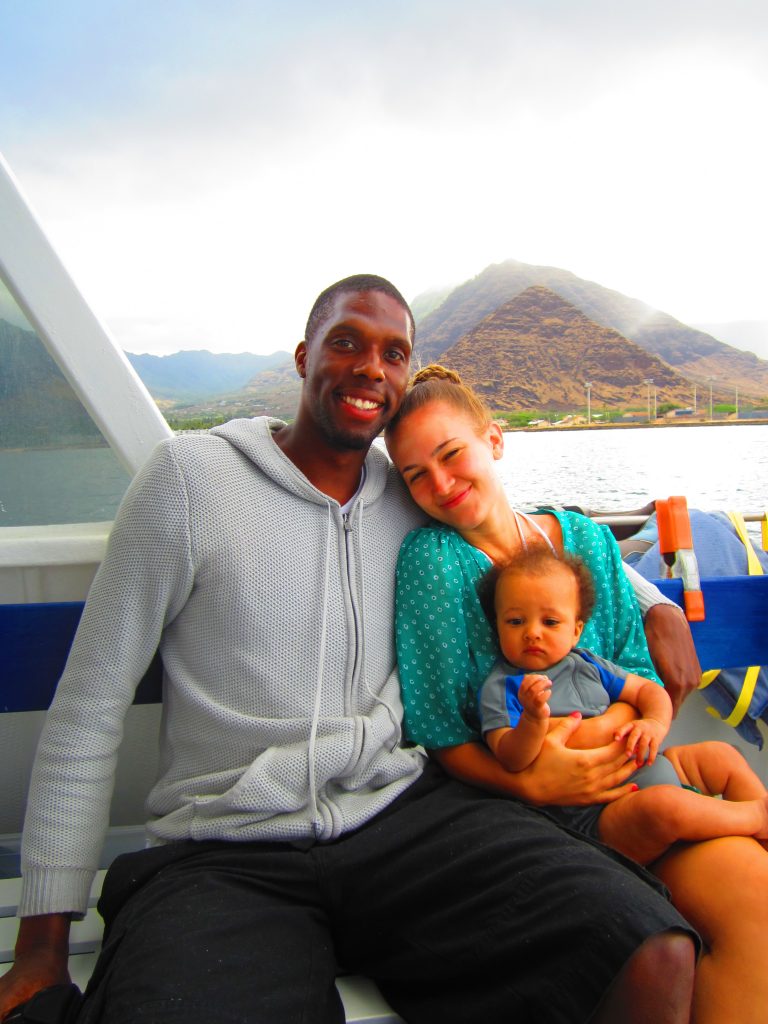 Once we arrived to the docks we took a 45 minutes boat ride to the locations where the wild dolphins were known to hang out. The boat ride was great, we had music, drinks, snacks, and our hosts were entertaining and friendly. The first attempt was a swing and a miss, the dolphins weren't there, but another 20 minute boat ride would put us right where we needed to be. Although this was a family friendly trip where children LaPharaoh's age and younger were safe to get in the water, we actually lucked out. Right as we were slowing to a halt LaPharaoh had just finished nursing and was down for the count.

Now Hannah and I could be in the water at the same time and try out our underwater camera. There was a large pod of dolphins that greeted us, It was crazy how big they were. There had to be like 20-40 of them and we saw a bunch of sea turtles as well, it was incredible. These were spinner dolphins and they were fast, they looked like a blur moving through the water.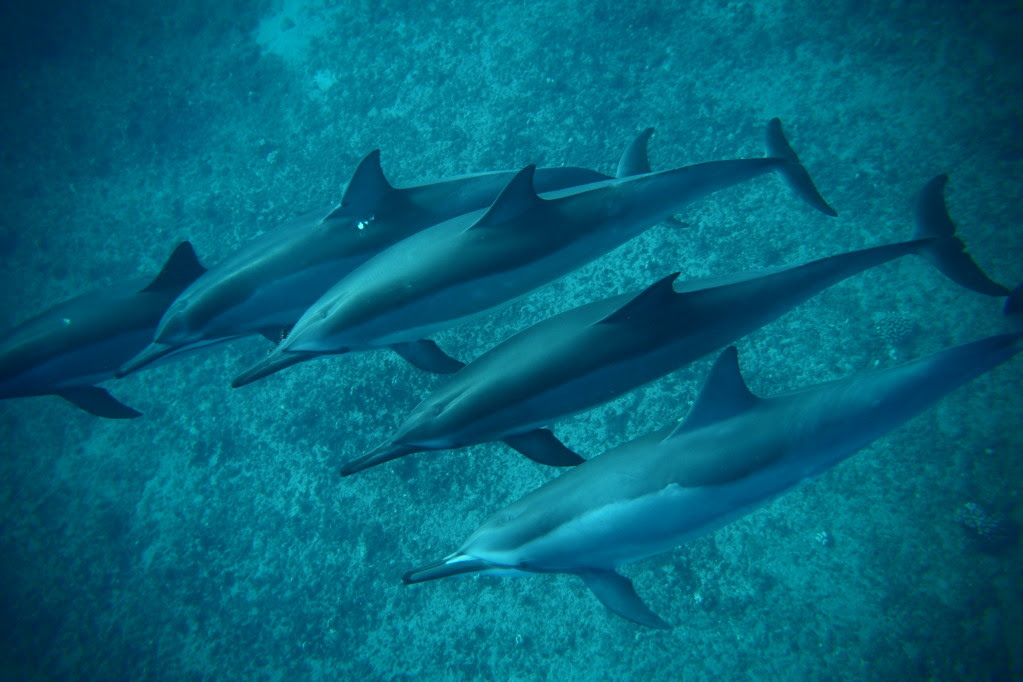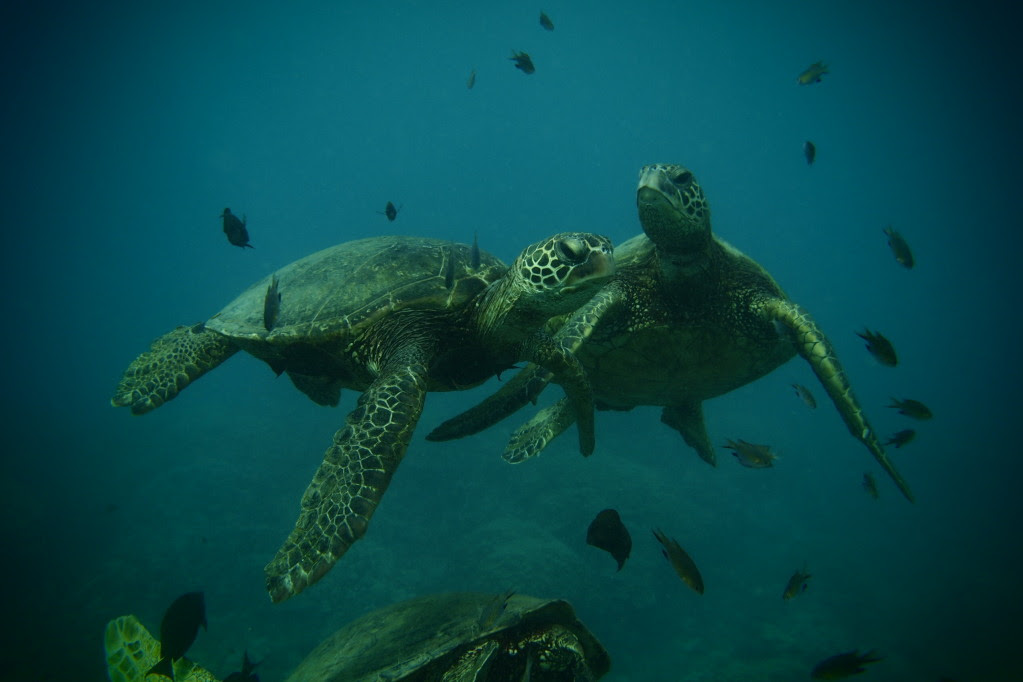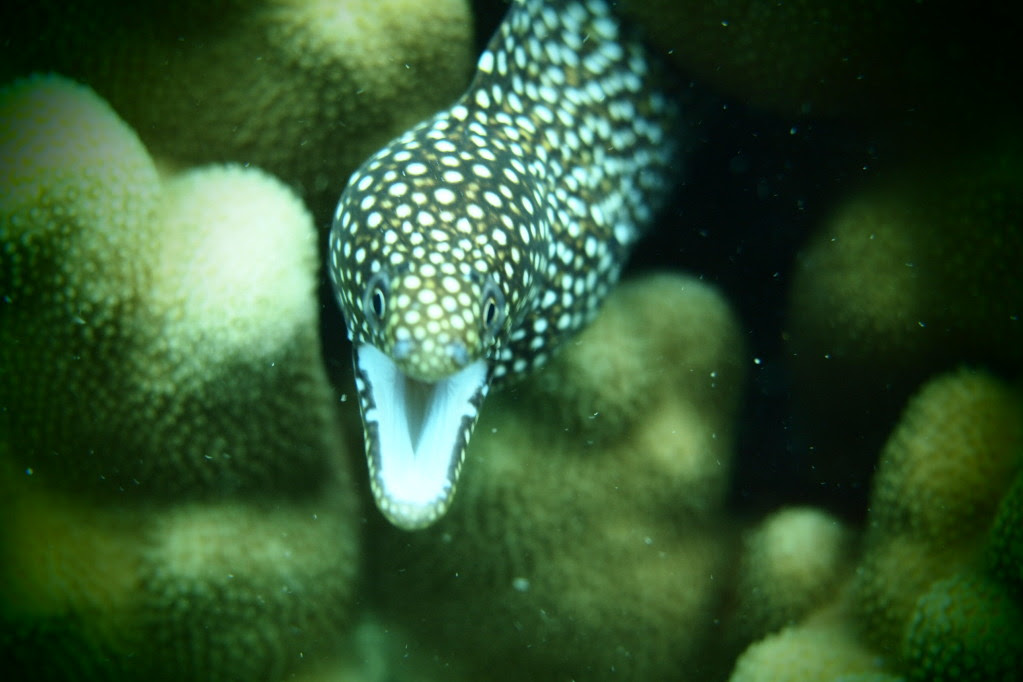 They were jumping up out the water and spinning in the air, just like flipper. They were coming right up to Hannah, so close it was hard not to be a little nervous. If you let her tell it she swears she's the dolphin whisperer or something.

We were in the water for about 30 minutes, I tried to snap the best pictures I could. It was so surreal, we truly feel blessed to have partaken in such an amazing experience, to this day it's still hard to believe. After the dolphins got bored with us they disappeared as gracefully as they appeared. We all felt quite satisfied got back on the boat and went for another 20 minute ride where we were able to do some swimming and paddle boarding.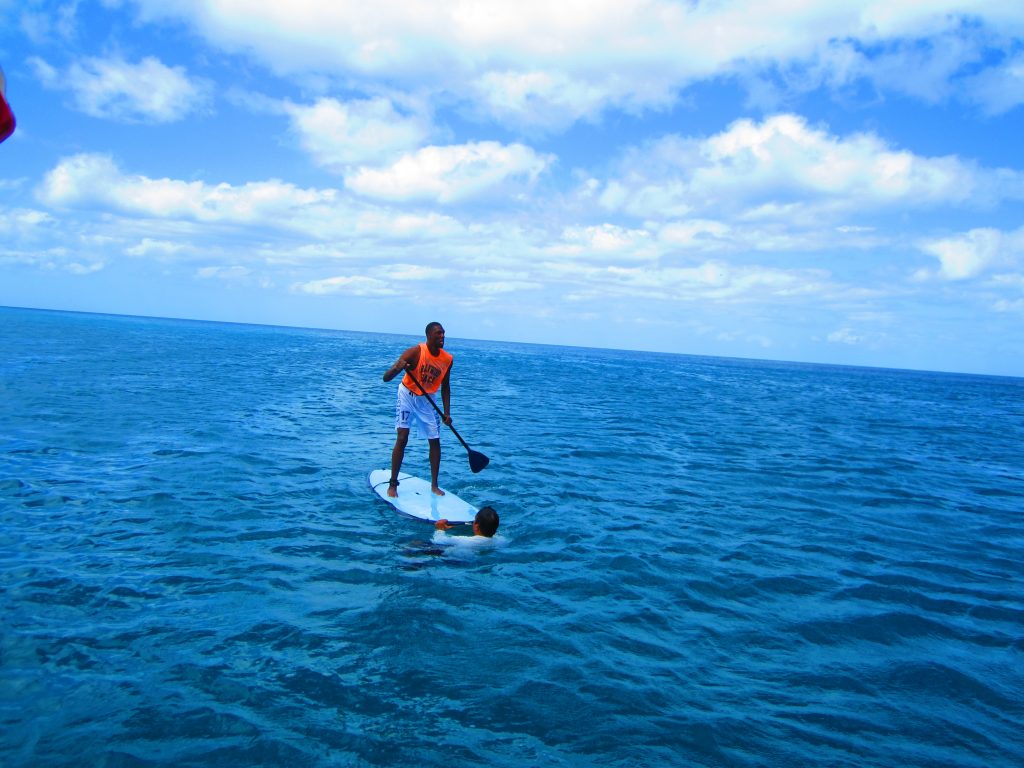 Paddle boarding is definitely harder than it looks.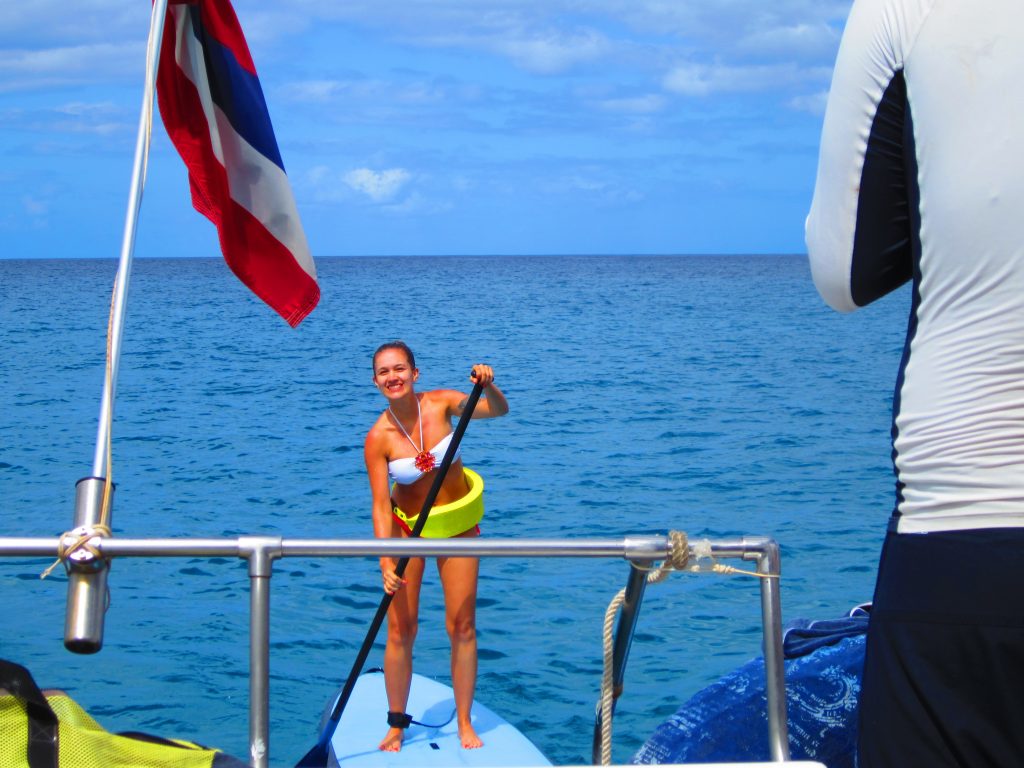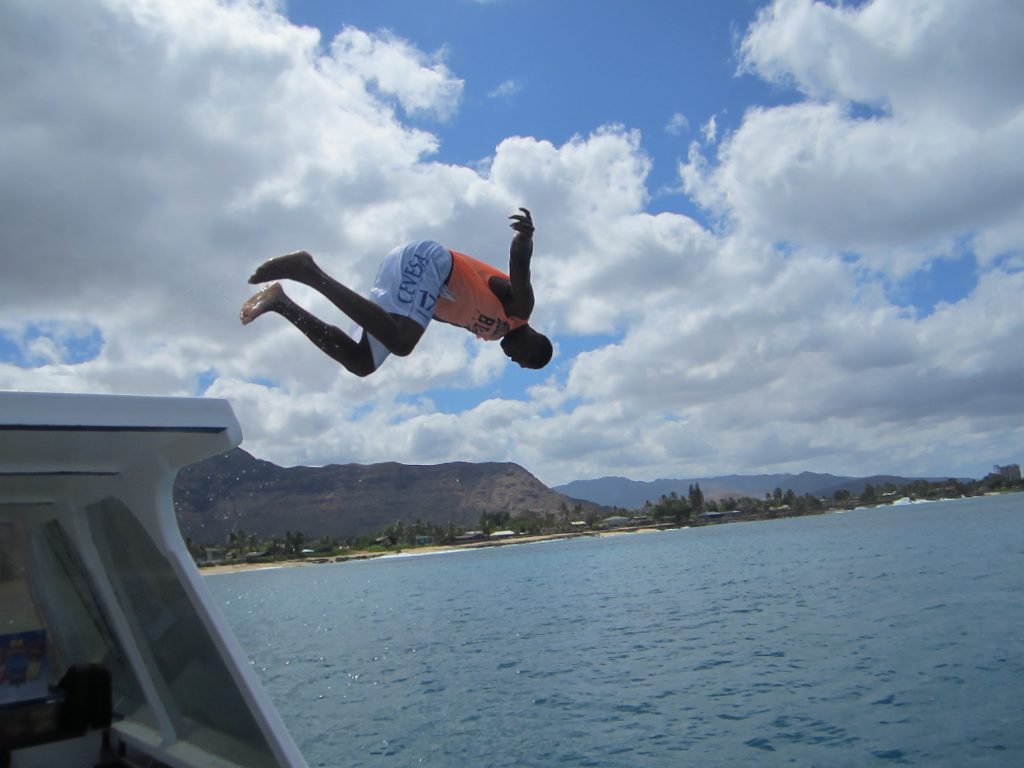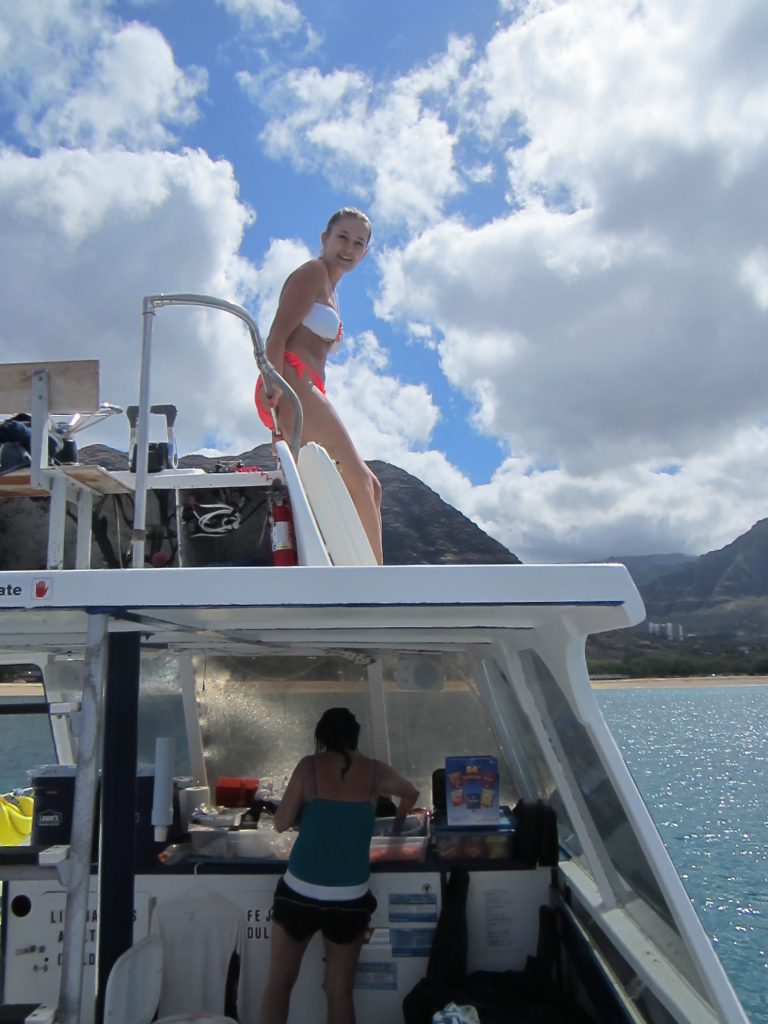 All in all our dolphin excursion was about 4 hours long and not only was it the highlight of our trip, it was one of the highlights of our lives. We plan on swimming with wild dolphins again given the first chance we get.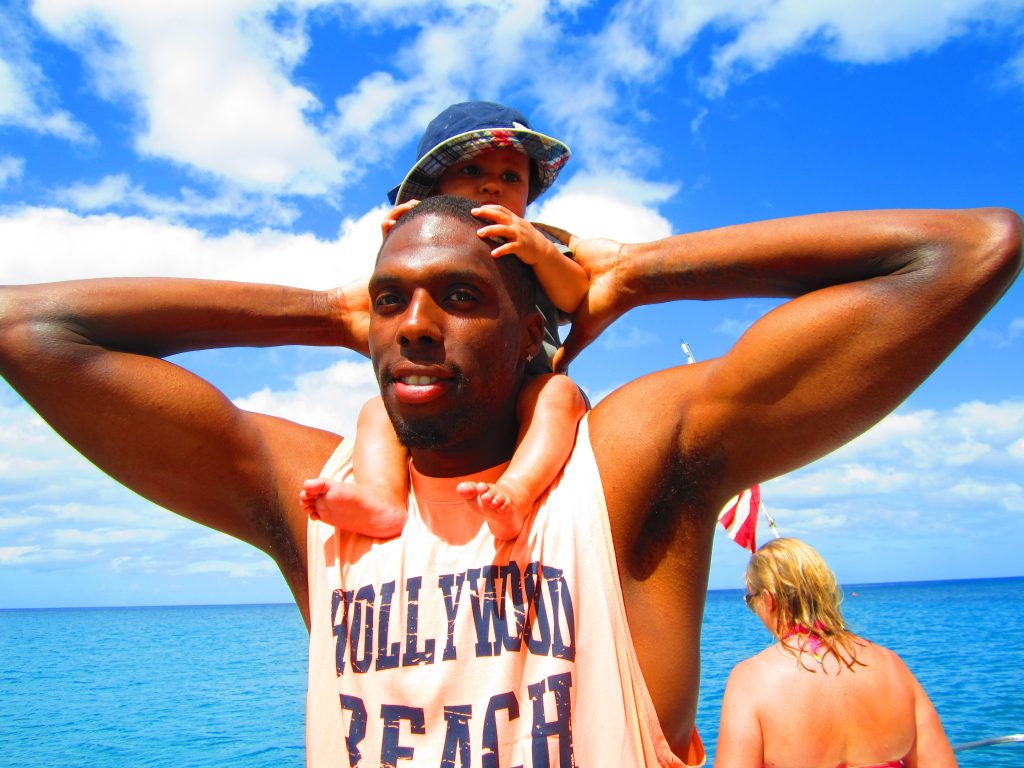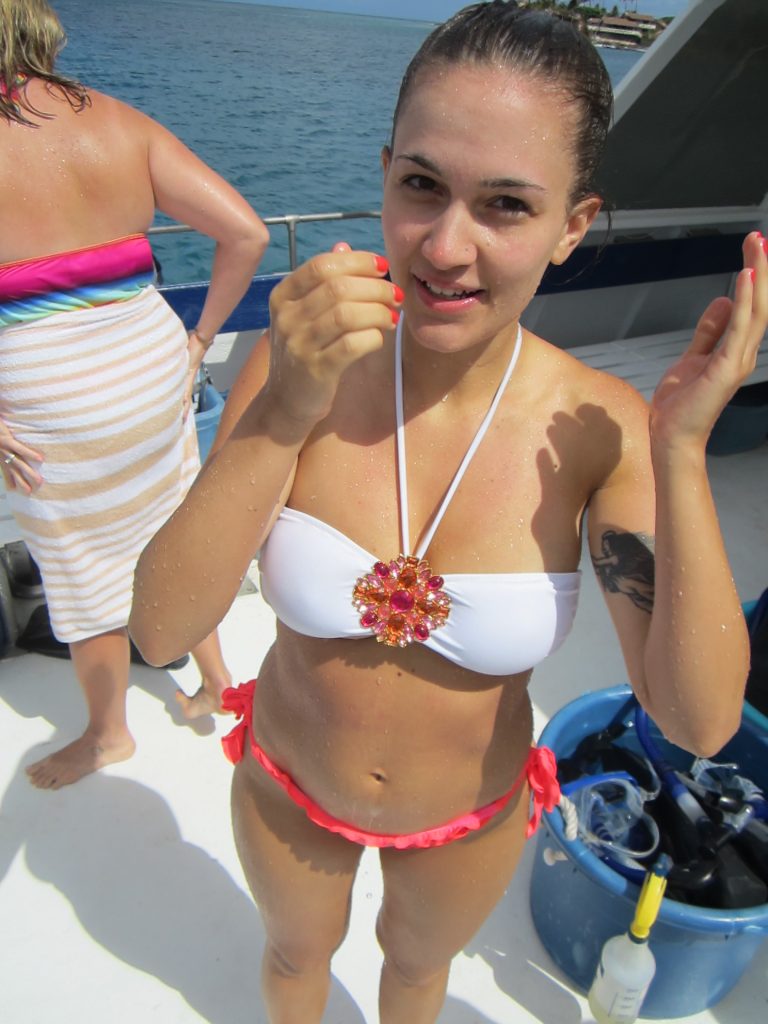 Our last day we had arrangements to go to the North Shore with a military friend who was stationed in Hawaii. The North Shore was supposed to be one of the most beautiful parts of Oahu and it was the location where they did a lot of filming for one of our all time favorite TV series "Lost". Unfortunately something came up and we weren't able to make the 3 hour drive to the North Shore…we were probably overdue for a chill day before we headed back home anyways. Our last day was spent checking out the local shops and getting some souvenirs for our friends and family.

Leaving was one of the hardest things but having enjoyed a very eventful and outstanding vacation we were grateful. Wheels up…it was time to take flight, next stop New York. Peace.
Save
Save
Save
Save
Save
Save
Save
Save
We Trip ⧫ We Tribe ⧫ We Vibe