Maine was just a short drive from Albany, NY and gave us a perfect opportunity for a little weekend getaway. This was a spur of the moment trip so we didn't stay at an airbnb. It's was all good though, a small local hotel would suffice for our weekend stay in Maine. This was our first family trip to Maine, Hannah was able to find some fun things for us to do, and places to see while we were there.

Upon arriving in Ogunquit, Maine we wasted no time, not even to unpack the car. We paid to park, grabbed some food and drinks from Amores Breakfast and Cafe(https://www.amorebreakfast.com/), got our stroller and made our way to Ogunquit Beach.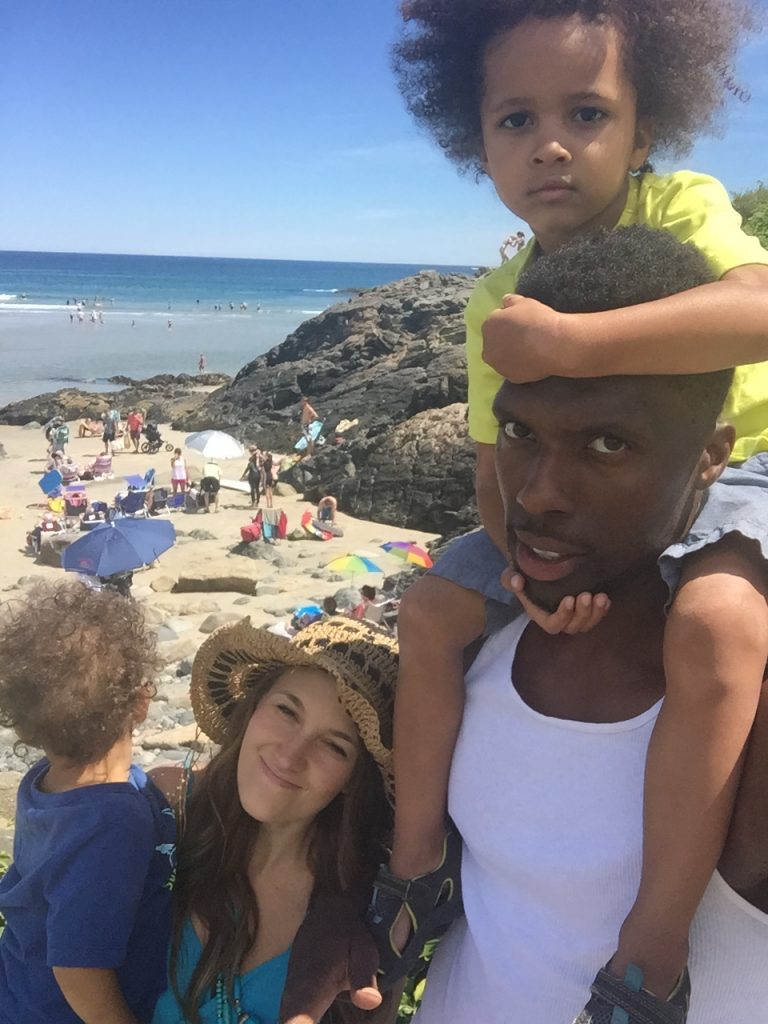 The beach was beautiful and stretched as far as the eye could see. There were plenty of families there with small children. The boys had a blast in the natural mini pools that formed in the sand up on the beach.

It was August and there was a huuuuuge difference in the water temperature from these little pools compared to the ocean. I was actually glad the boys wanted no parts of the cold ocean water. If they did want to go in it would've been all Hannah. We spent a couple hours playing in the water with the boys and taking in the some much needed sunlight. The sun is good for you, ya know! Once we got the boys tired out we packed up our things and walked in to town to find some food. There were plenty of options but we settled in at Cornerstone Pizza

We enjoyed drinks and some fresh homemade stone oven-fried pizza outside on the patio.  The food was great!  After we stuffed ourselves with pizza, we decided to walk it off a bit. We remembered seeing a sign for a trail on the way in that would take us on a walk along the coast, it was called The Marginal Way.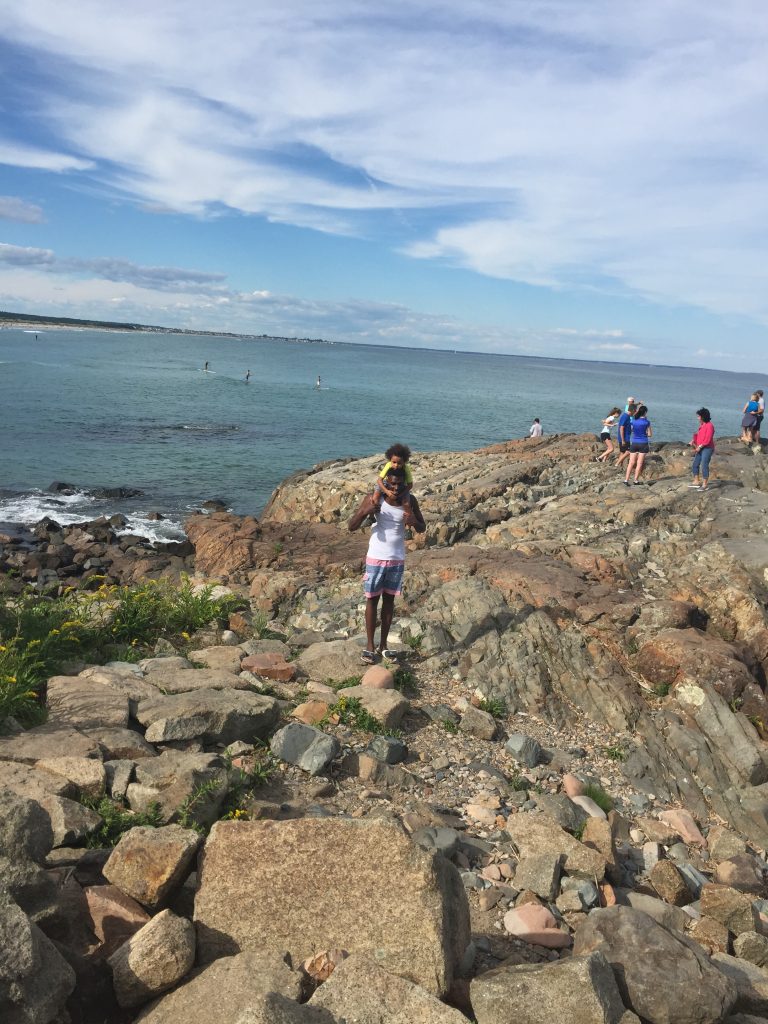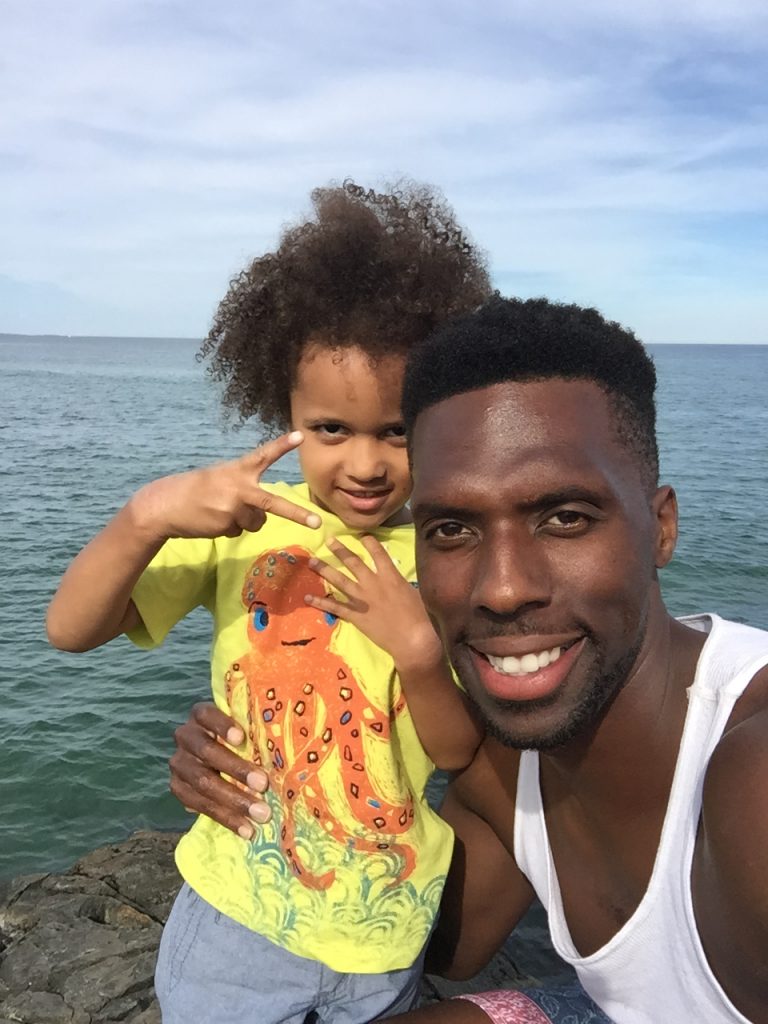 The Marginal Way was an amazing scenic trail along the coast. It took us the better part of an hour to walk the trail. Some spots were more stroller friendly than others but all in all it was a nice walk. We were able to capture some cool pictures along the way including the lighthouse, which was the landmark highlight of the trail.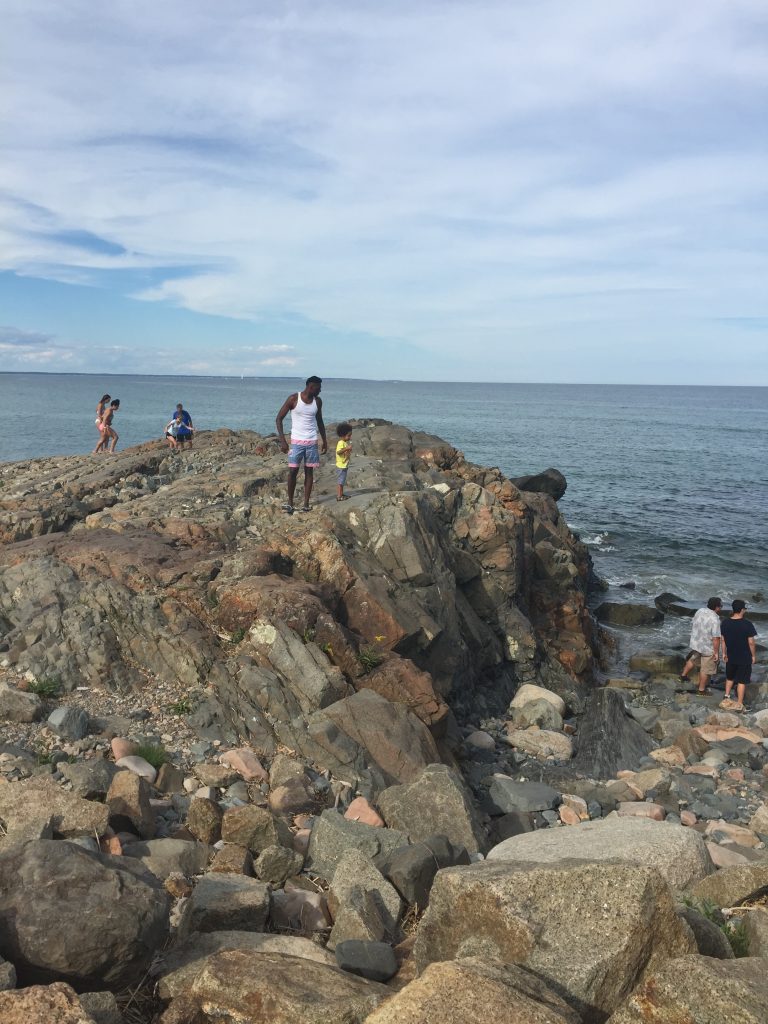 After our little walk we figured it was probably time to Actually go check in to our hotel and get these guys down for a nap. We stayed at the Tallwood Motel in Wells, Maine, it was about a 20 minute drive from the beach. It was a modest place to stay for a little weekend trip on a whim. Check in was smooth, we unpacked, got the boys settled and relaxed for a few hours.
I considered myself quite the seafood connoisseur, so I was hyped about tasting their world famous lobster sandwiches and crab legs. Some of the restaurants we dined at were even featured on popular food networks shows (Diners, Drive-Ins, and Dives).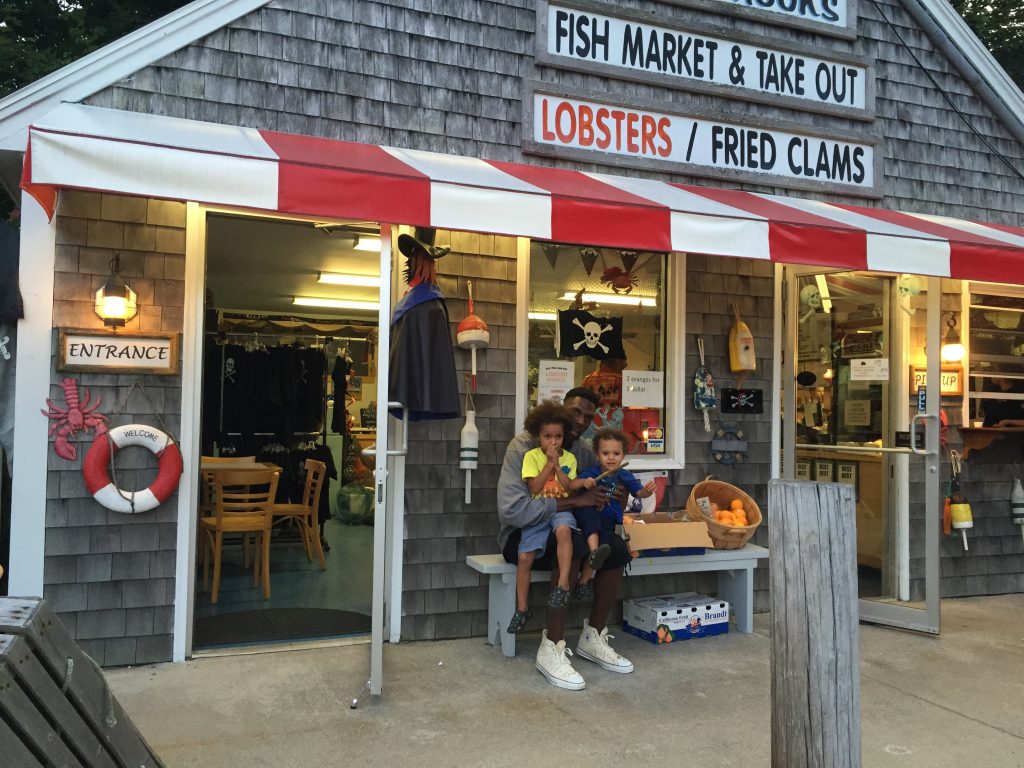 Not far away from our hotel was as good of an opportunity as any to take my first crack 😉 at some proper seafood. It was an on-the-go seafood restaurant called Captain Hook's Fish Market. We ordered lobster rolls, clams, fish & chips and sat outside to eat our meal. The food was decent. I wasn't too thrilled with my lobster roll but to their defense my expectations were sky high. The boys saw the huge ice cream sign on the way to Captain Hook's so we promised if they did a good job eating we could stop there on the walk back…it gets em every time! As promised once we finished eating we made our way to Big Daddy's Ice Cream Shop .

Hannah is more adventurous than I, she'll try new and exciting flavors. Me,not so much I don't waver, I'm a chocolate chip cookie dough type'a guy and the boys, forget about it; they'll eat anything. We scarfed down our ice cream because it was nighttime and the mosquitoes were out in numbers. As much as I love summer I never quite get use to the bugs. We made our way back to our hotel room. Time to get some rest, Whale Watching bright and early in the morning.
The next morning we woke up, grabbed out gear, scooped up some breakfast sandwiches from HP Provisions and made the 10 minute drive to Kennebunkport. We had to meet up  at the docks at 10:00am.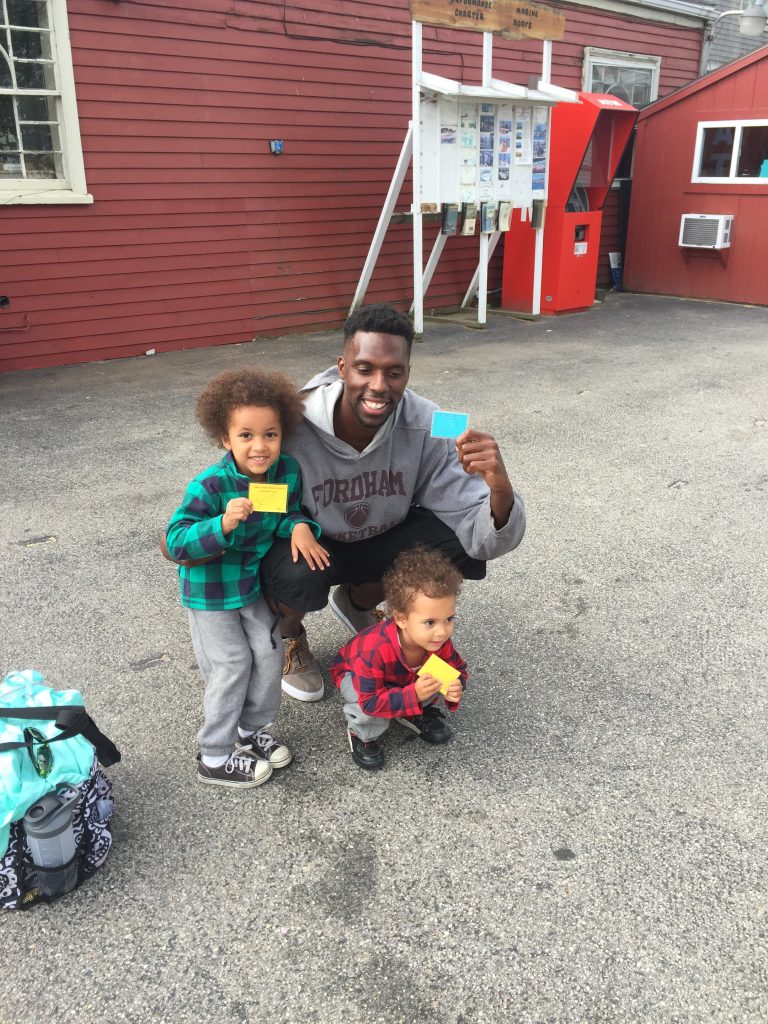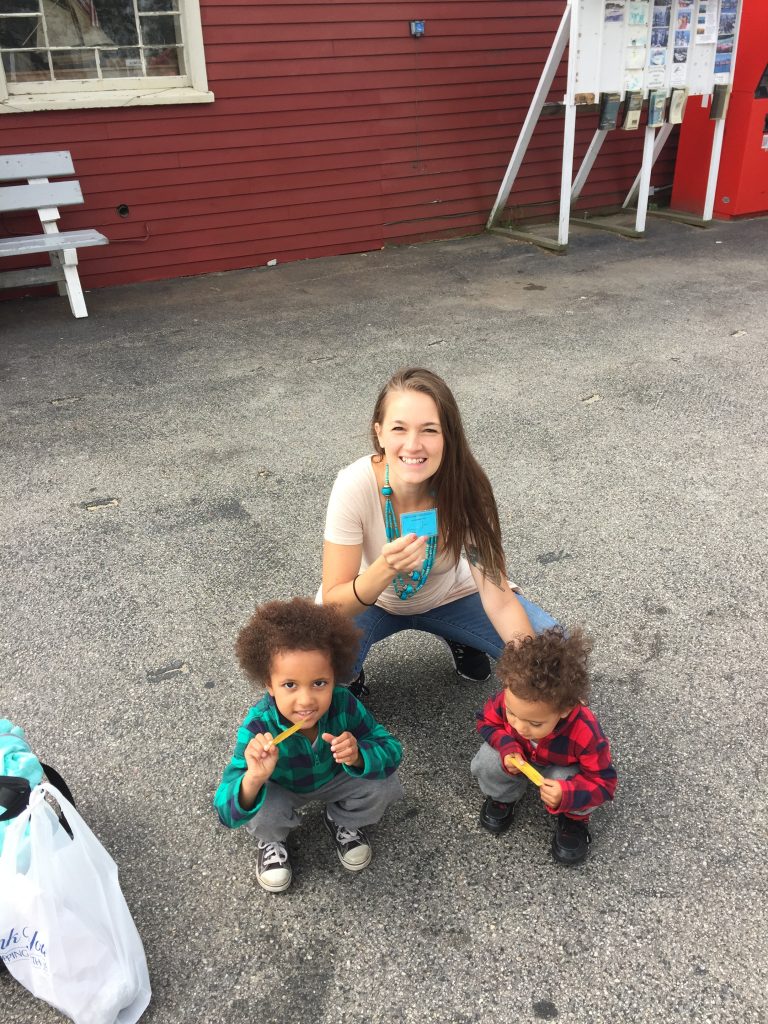 We chose First Chance Whale Watch for our family's whale watching expedition. Glass containers or coolers were not permitted aboard the boat. The boat was good sized, it had a main deck and an upper deck and multiple bathrooms. There was a decent group of people on the boat, id say about 25.

It took us roughly 30 minutes to get to our first stop where the captain pointed out a famous lighthouse, George Bush's vacation home, and some seals perching on the rocks nearby.

The power of the ocean was crazy. Being surrounded by the forceful ocean waves showed us just how much we were at the mercy of mother nature. It was cold and windy as we made our journey further and further away from land. The boat ride wasn't too rocky but I do recall one of the passengers getting a little sea sick which put one of the bathrooms out of commission for the remainder of our trip.

The total time for our trip was 4.5 hrs and to our dismay and that of the captain, we did not see one single whale. The captain said in all his years of doing the trips only two other times were there absolutely no whale sightings. We were all pretty bummed, whale watching was basically the main purpose for us coming to Maine.

Whales have always been one of LaPharaoh's favorite animals. When we saw the opportunity to see the largest animal on the planet up close and personal we just had to jump at it. The silver lining was once we got back to the docks everyone  on board was given free passes for another whale watching trip. The tickets were good 'until redeemed' so they didn't expire which was cool, No Harm No Foul. The docks were right next to one of Maine's premier food spots "The Clam Shack", after we made our way back to land we went to get some much needed lunch.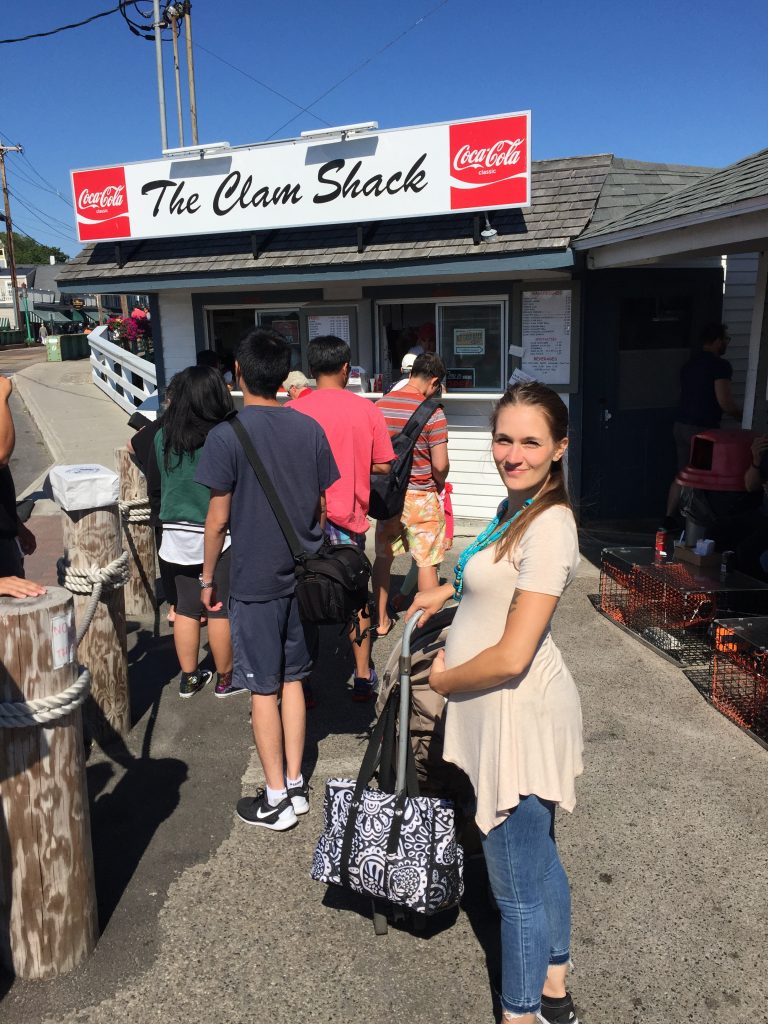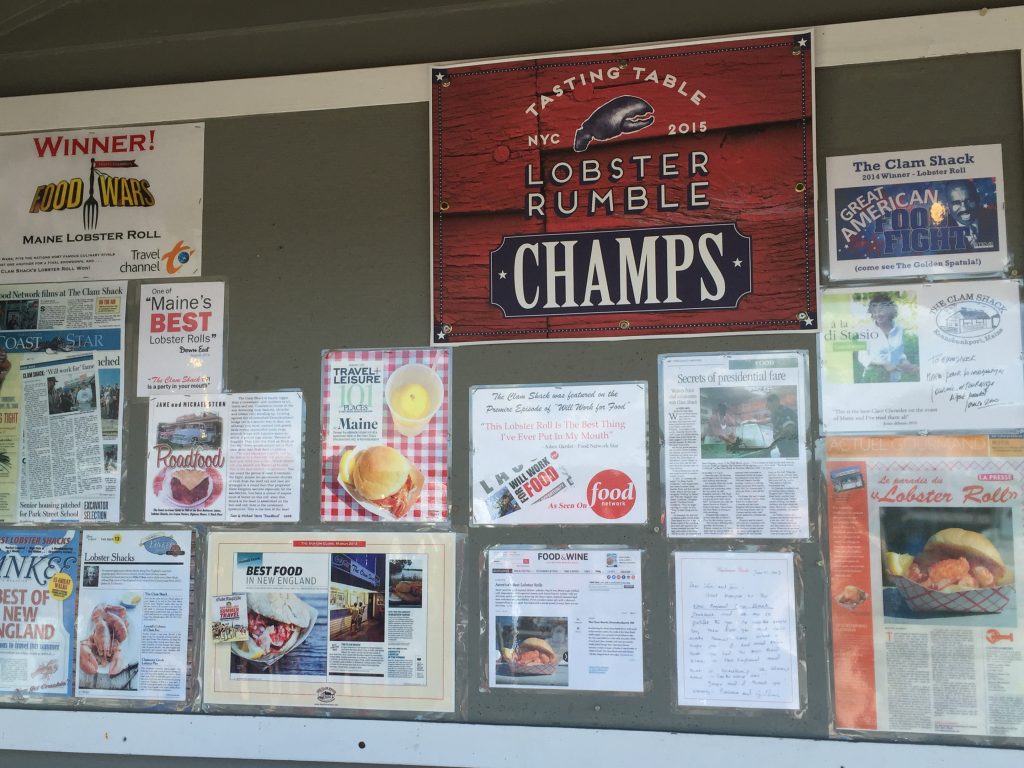 The food was really good, the best we'd had since we got to Maine. My clam sandwich was off the chain and the fries were A ONE. We washed our meal down with some all natural fresh lemonade from the stand right out front.

We always meet very interesting people when traveling. They seem to like us and often we find ourselves on the receiving end of  some valuable information about things to check out in the area. We met a woman who lived in Kennebunkport and she was just raving about this Mother's Beach. She told us it was a 30 minute walk and gave us a little map that detailed how to get there. We continued on our way and walked around looking at the local shops and discussing whether we wanted to make this walk to mother's beach or drive back to the beach from the day before. We feel like our decision was kind of made for us because we walked right up on a rent-a-bike store. They even had the attachment for kids to ride too.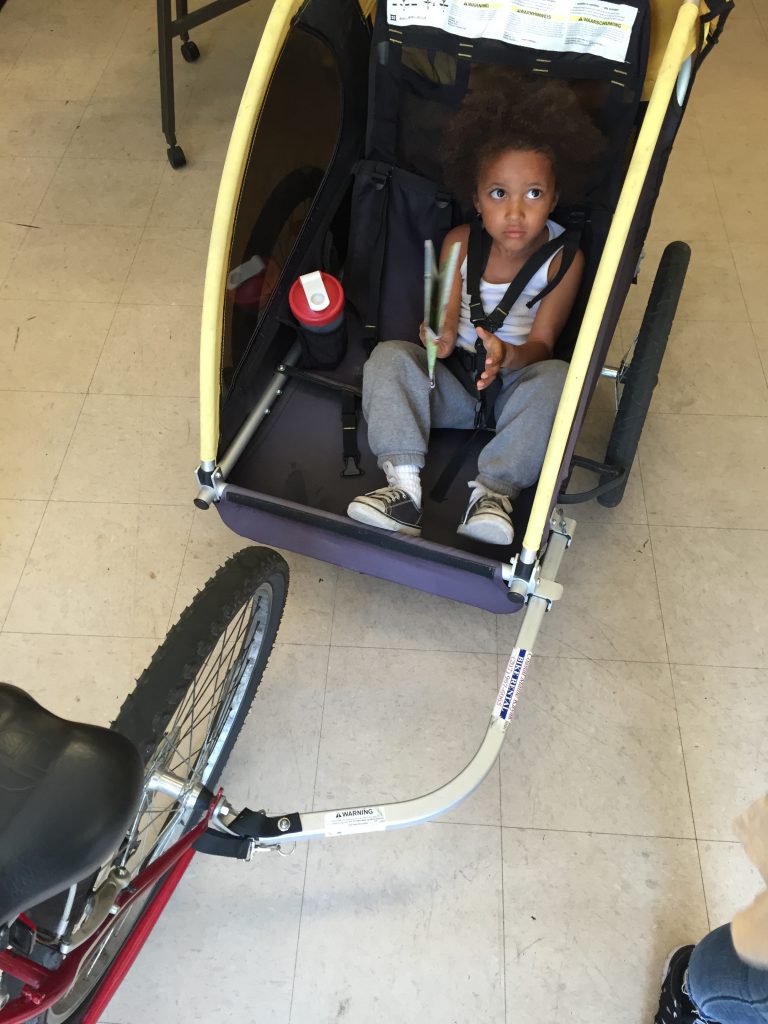 I was all too excited to get on a bike again and go for a nice little ride. It took the workers about 15 minutes to get us set up with bikes, helmets, and assemble our bikes.

Mother's Beach was about a 10 minute bike ride. Personally this was the highlight of my trip. Cruising down the street, sun on my face, wind on my back, family in tow AND the beach, right there, a rocks throw away… what can i say, illertimes indeed. Mother's Beach was a stretch of beach that was accompanied by a big playground.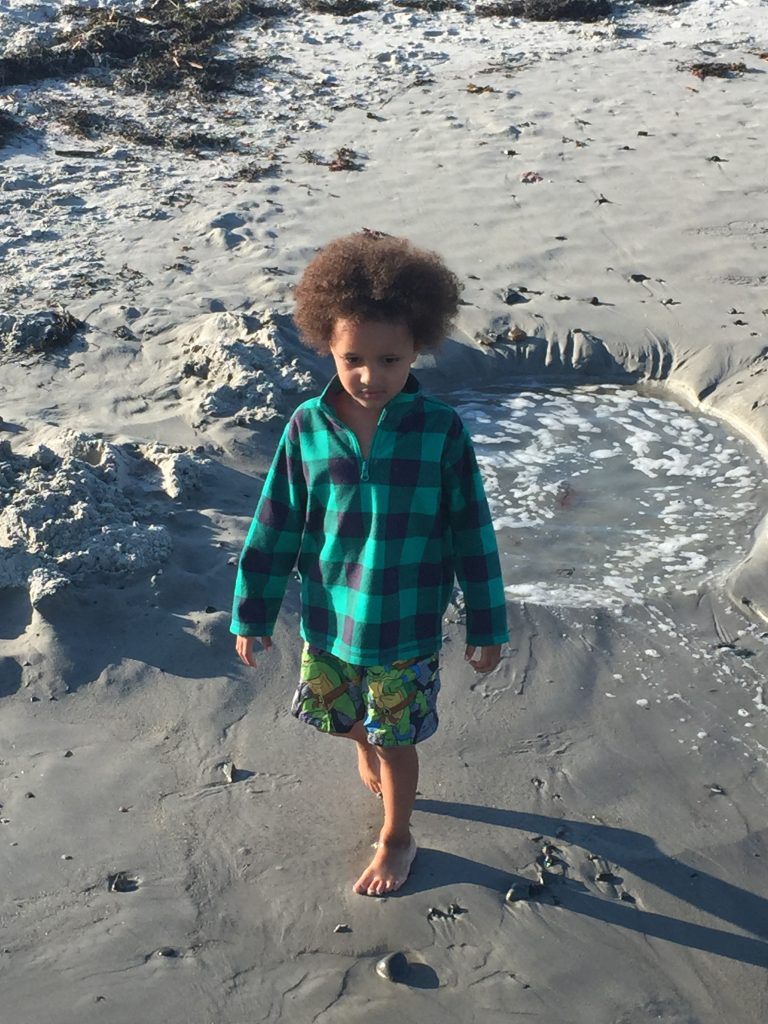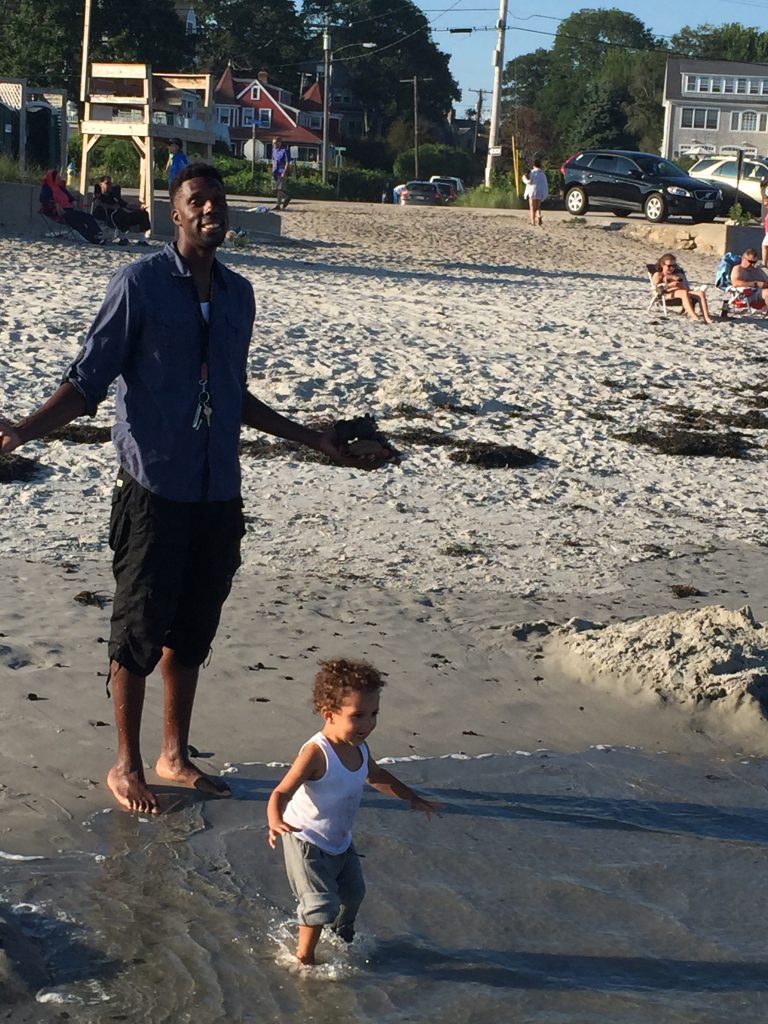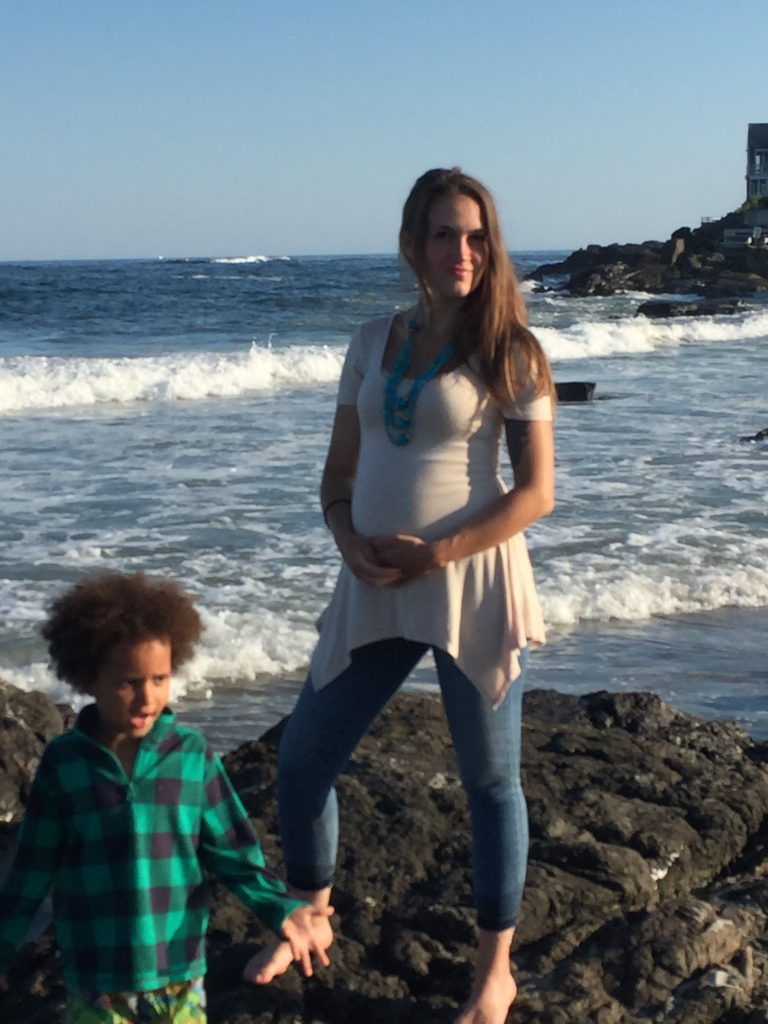 It was great to be that close to the ocean and also have the playground as an option for the boys when they wanted to switch it up. The boys got a kick out of running in and out of the waves coming up on the shore. We rented the bikes for 3 hours, so after our fun in the sun we took our ride back to the store to drop the bikes off.
By this time everyone was running on fumes. We got our car and picked up some food from this Mexican Restaurant called Pedro's, (shout out to my personal trainer and mentor Pedro, totally irrelevant plug but oh well, that's my guy) Pedro's was live and poppin'. There was live music and the patio was full, it was a perfect night. The boys were passed out and Hannah and I just sat there waiting, day dreaming about going inside to have a couple margaritas and hitting some moves on the dance floor. Times like this we wish we had a traveling nanny (we're open to taking applications, haha). We got our food and reluctantly left back to our hotel. It was a long day, we ate our dinner and got some much needed sleep.

The next morning we didn't exactly have set plans things were still kinda up in the air. It was our last day in Maine so we knew we had to pack up and check out soon. Hannah found a blog that cataloged Maine's top restaurants.

High on the list for breakfast was Maine Diner which was touted as "World Famous Food Like Grandma Used to Make". This was an award winning diner and was featured on many popular network food shows. Personally speaking, I thought it was highly overrated! Hannah and the boys enjoyed their food but Hannah basically shared my same sentiment. OVERRATED! My Expectations were high but seriously, how hard can it be to make good pancakes. Our food felt rushed and lackluster but the service was good and the workers friendly. We discussed, over breakfast, what we would do today. We decided we would go back to Ogunquit Beach, give the boys another chance to enjoy the baby wading pools that formed up on the sand.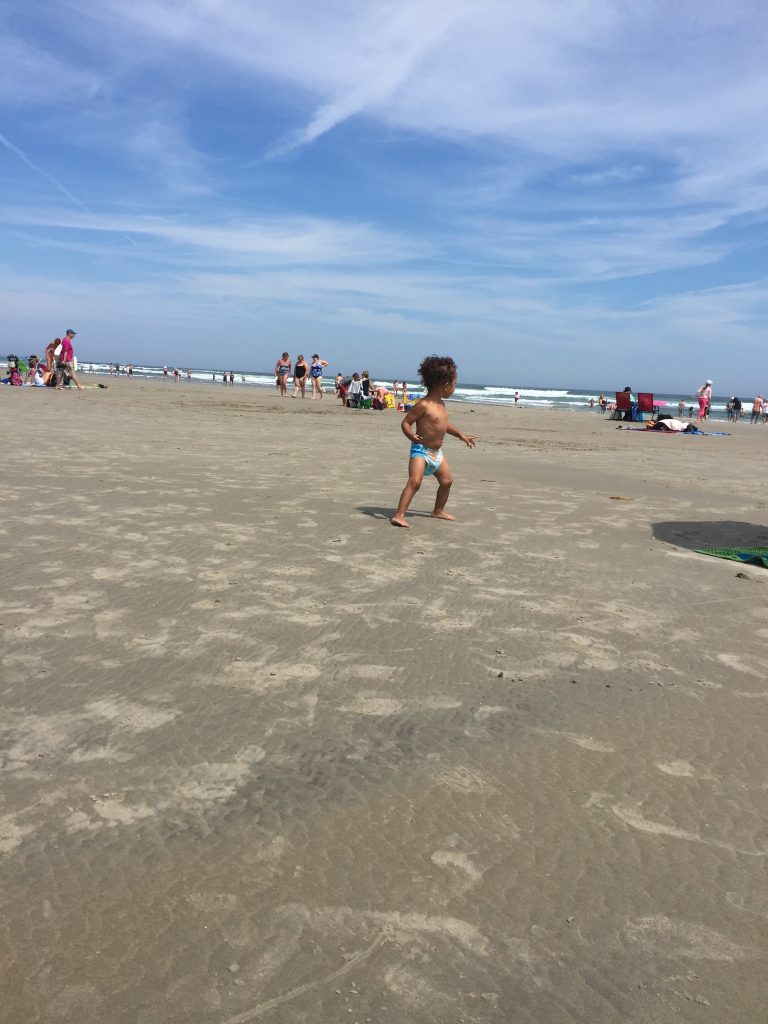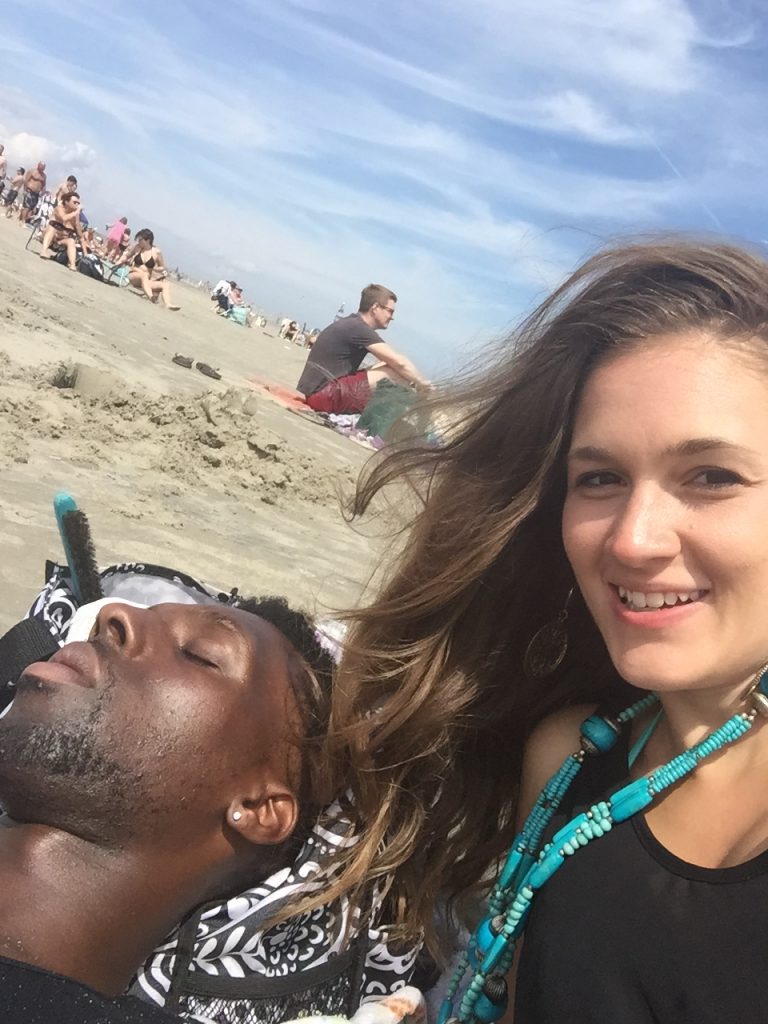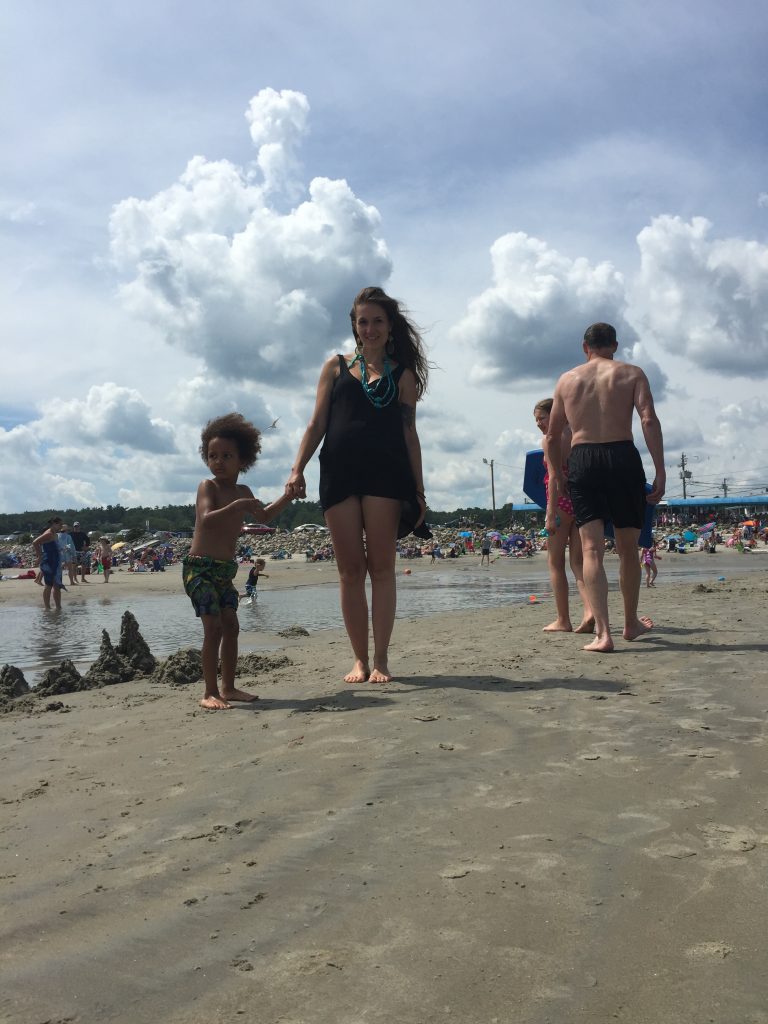 It was a perfect day, sunny about 88 and there was a pleasant ocean breeze.

We let the boys run free until they showed their tell tale signs of being tired. We really enjoyed Cornerstone Pizza so after the beach we grabbed some food from there and made our way to our car. Hannah and the boys bribed me into stopping at Ben & Jerry's which was conveniently located in a storefront next to where we parked. We grabbed some cups and cones to go and piled in the car. It was time to head back home, and although we didn't see any whales we had a fantastic time in Maine and we will definitely be back again. A trip we would recommend to everyone, hands down.

Whether you have children or not, there is something for everyone in Maine- The Pole Star State.
Save
Save
Save
Save
Save
Save
Save
Save
We Trip ⧫ We Tribe ⧫ We Vibe